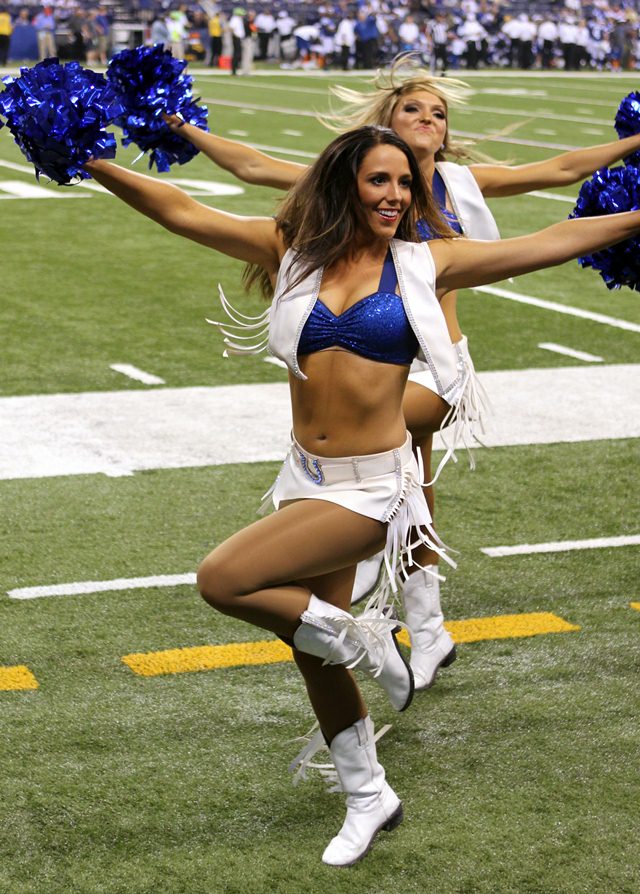 So if you had an NFL cheerleader as your fourth grade student teacher, it would be way cool; and it also would give the kids the chance to make some interesting observations. Colts Cheerleader Kristine is student teaching a fourth grade class, and, as she describes, "I take a lot of pride in being able to throw a football, so naturally, at recess I love playing catch with the kids on the playground. One time I threw a ball and I overheard a boy say to one of his friends, 'Wow did you see that throw?' to which the other kid responded, 'Well, yeah! She watches Andrew Luck play football EVERYDAY!'"
No doubt! And after four seasons observing from the Colts sidelines, I bet Kristine certainly can haul in a pass like Reggie Wayne, outmaneuver blockers like Dwight Freeney, and place kick on target like Adam Vinatieri. Kristine returned to graduate school after working in advertising because she decided teaching was her calling. Kristine shared with UltimateCheerleaders the decisions that lead up to her taking on this noble cause, and also her pre-Colts background as an AFL all-star cheerleader who represented her team at the Arena Bowl, and why if she continues making the same New Year's resolution, she will eventually transform into some infinitely hilarious, mighty comedic-a-saurus.
Until Kristine became a Colts Cheerleader, she was a lifelong Michigan-der. "I was born in Grand Rapids, Michigan, and raised in Greenville, Michigan until I moved away to college," Kristine recalls. "I have one brother, who is three years older than me and owns a personal training company in Grand Rapids. My family and I have always loved sports and I grew up playing catch with my dad and brother in the yard or a game of one-on-one basketball in the driveway. Of course, my mom always had out our video camera and I never missed a moment to perform a new dance or skit that my brother and I had created."
And the dance part of Kristine's life started young, but when she saw a dance team associated with sports, Kristine's future dance path was solidified. "I was four years old when I began taking tap, jazz, and ballet classes at a local dance studio in Greenville," Kristine recalls. "I will never forget when I saw the Greenville High School Dance Team perform for the first time. Their uniforms were so flashy and their moves were fast and precise; I knew from the moment I saw them that I wanted to be on the dance team. There is something about dancing in front of a crowd at a sporting event that makes the performance unlike any other, and I went on to dance on the GHS Varsity Dance Team for four years."
After high school, Kristine continued to combine her enthusiasm for participating in both sports and dance (and, hey, playground kid, I think she could throw a ball way before she ever watched Andrew Luck). "After I graduated from high school, I attended Grand Rapids Community College, where I was a pitcher and first baseman on their softball team," says Kristine. "In my second season at GRCC, I began dancing for the Arena Football League with the Grand Rapids Rampage's Rage Dance Team. After my second year at GRCC, I transferred to Grand Valley State University and continued dancing for the Rampage. In 2008 I was honored to be selected by AFL fans to represent the Rampage on 'Aaron's Dream Team' at the Arena Bowl in New Orleans. As I finished up my Bachelor's Degree at GVSU, I decided that it was time to work toward another goal and soon found myself in Indianapolis auditioning to cheer for the Colts as a 'Sweetheart of the Horseshoe'! "
With her degree in advertising completed and experience dancing in the AFL, Kristine was ready to make a move to the NFL. "I tried out for the Colts because, first and foremost, I love the Colts!" Kristine explains. "Indianapolis is convenient in proximity because it is not too far away from home, so I am able to drive to visit my family and friends anytime I would like. Also, my parents have been able to experience a lot of my dance career because Indy is not too far away and they have been Colts season ticket holders for the past four years. Really though, who wouldn't want to cheer for the Indianapolis Colts?!," Kristine smiles.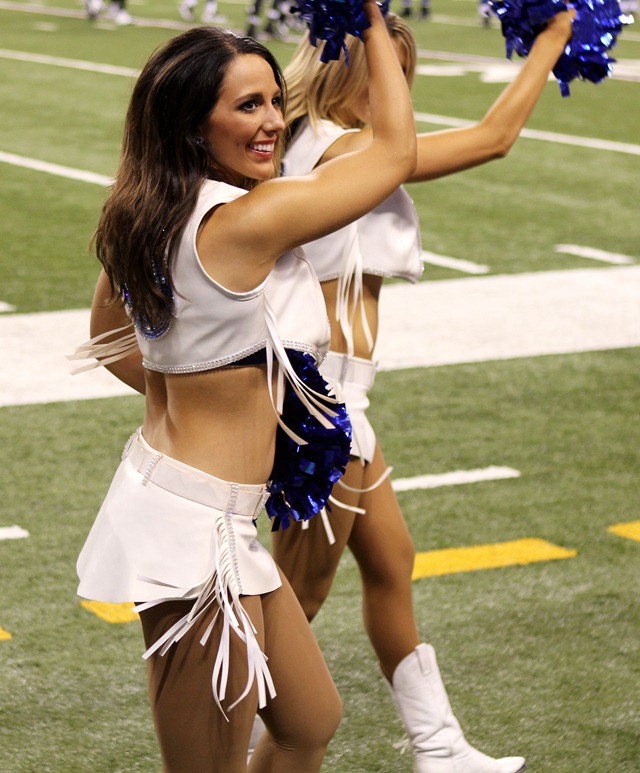 But even though Michigan somewhat in the proximity if Indianapolis, it still requires a lot of travel and effort to try-out for a team hundreds of miles from home. "As I mentioned before, I was living in Michigan when I decided to try-out for the Colts, so my mom and I drove down to Indy for the first weekend of auditions," Kristine remembers. "As I continued to make it further through the try-out process, I would drive down to Indy from Grand Rapids and stay in a hotel every Tuesday through Thursday for three weeks. It became a little bit lonely driving down from Michigan and staying by myself, but I knew it would be worth it! When my name was called at the final audition, I ran up on stage with my new teammates and, with a permanent grin on my face; I just kept repeating in my mind, 'I'm an Indianapolis Colts Cheerleader. I'm an Indianapolis Colts Cheerleader!' After I made the team, I drove back to Michigan, packed up my things and I have been living as a Hoosier ever since!"
In her fourth season with the Colts Cheerleaders, Kristine expresses its importance in her life as, "I absolutely love being a Colts Cheerleader, and each year my passion to perform and my love for the Colts are what keep me coming back. I have had an amazing four years here in Indy and I would not trade them for anything."
Though Kristine can dance and cheer on the sidelines for home games, I was curious about how she acts when watching a road Colts game on TV. For instance, what did Kristine do in the recent game when the game ended with Andrew Luck throwing a pass to win the game in Detroit on the last play? "Even though I would rather be on the sidelines for all of the Colts games, watching the away games on TV can be fun too!, " Kristine explains. "Being from Michigan, I know quite a few Lions fans, so you can only imagine how happy I was in those last few seconds of the Lions versus Colts game. I was with some of my teammates watching the game and, as soon as we scored that last touchdown, we all threw our arms in the air and started cheering!"
Continue reading Colts Cheerleader Kristine progresses from "AFL Dream Teamer" to elementary "Dream Teacher"