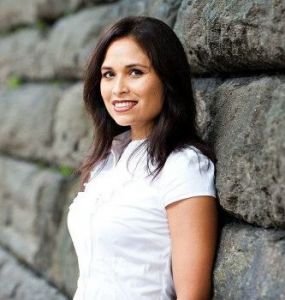 After earning a BA (summa cum laude) in History and English from York University (1998),  Theresa Runstedtler spent a few years working as a professional dancer, model, and actress in Toronto, Canada. She had already been performing professionally since her junior year in college, splitting her time between studies as a scholarship student, dancing  for the Toronto Raptors Dance Pak and other freelance gigs. She says it was such an interesting time to be a part of the scene in "Hollywood North."
Although she loved the creative energy and camaraderie of working with other performers, Theresa decided to go back to school for radio and television production at Ryerson University in the hopes of establishing a more lucrative and "legitimate" career on the other side of the camera. (Her parents and former professors were very skeptical about my work as an entertainer, so she was searching for something more "respectable" to make them proud.) However, realizing that she lacked the passion for media production, she dropped out of Ryerson and spent a year working in the public relations department of what was then CTV Sportsnet (now Rogers Sportsnet).
Still in search of her dream job, Theresa left Canada in 2001 and returned to school, earning a PhD in African American studies and History from Yale University. During her grad school years, she was a proud member of GESO. Since 2007 Theresa has  been an Assistant Professor of American studies at the University at Buffalo (SUNY). For the 2011-2012 academic year she will be a Mellon postdoctoral fellow at the University of Pennsylvania.
And now she's  the author of a new book:
Jack Johnson, Rebel Sojourner: Boxing in the Shadow of the Global Color Line
In his day, Jack Johnson–born in Texas, the son of former slaves–was the most famous black man on the planet. As the first African American World Heavyweight Champion (1908-1915), he publicly challenged white supremacy at home and abroad, enjoying the same audacious lifestyle of conspicuous consumption, masculine bravado, and interracial love wherever he traveled. Jack Johnson, Rebel Sojourner provides the first in-depth exploration of Johnson's battles against the color line in places as far-flung as Sydney, London, Cape Town, Paris, Havana, and Mexico City. In relating this dramatic story, Theresa Runstedtler constructs a global history of race, gender, and empire in the early twentieth century.