The Louisiana Swashbucklers of the Southern Indoor Football League announces final tryouts for the FirstMates cheerleading squad for the 2010 season.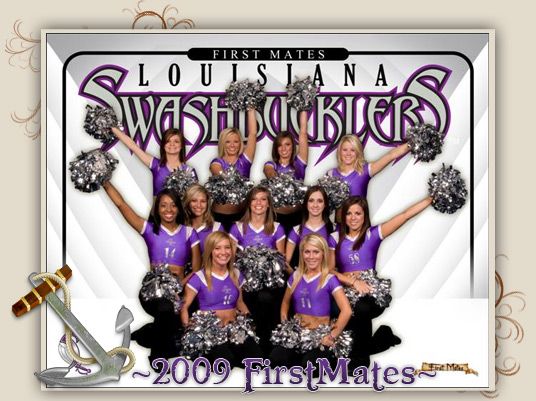 Clinics to learn tryout material will be held on Thursday, January 7 and Friday, January 8th from 6:30 – 8:30 p.m. at Guzzy's Gymnasium on 5th Avenue in Lake Charles.
Tryouts will be conducted on Saturday, January 9th, also at Guzzy's Gym with interviews to begin at 11:30 a.m.
Please bring your photo (B&W or color) along with a $20 dollar non-refundable processing fee. The fee can either be a check or a money order.
To be a FirstMates cheerleader, the requirements are:
1. You must be at least 18 years of age.
2. You must be a high school graduate or have a G.E.D.
3. You need to have a reliable means of transportation.
4. You must be able to attend all rehearsals and other related activities as specified by the cheerleading director.
For more information on Swashbucklers season tickets or FirstMates tryouts call the team office Monday -Friday 9 A.M. – 4 P.M. at 310-PASS (7277) or visit our website at www.labucs.com.