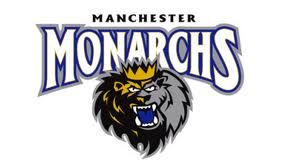 The Manchester Monarchs Hockey Organization, the AHL affiliate of the LA Kings, is proud to announce the creation of the NEW Manchester Monarchs Promo Squad! We are currently looking for a group of energetic, talented, outgoing, charismatic, and personable women to be a part of the Manchester Monarchs Promo Squad.
The New Promo Squad will be in attendance at the Manchester Monarchs home games and will be heavily involved in game day promotions and activities while interacting directly with and motivating fans and creating the ultimate fan experience. Mirroring the likes of the LA Kings Ice Crew, the Promo Squad will be assisting in on-ice and off-ice promotions and will have the opportunity to represent the Manchester Monarchs organization throughout the community and become ambassadors for the Monarchs organization.
Auditions for the NEW Promo Squad will be held on Sunday, January 19, 2014, at the Executive Health and Sports Center in Manchester, NH. Registration will begin at 9:30 a.m.
Michelle Gagnon joins the Manchester Monarchs as the Director of the New Manchester Monarchs Promo Squad. No stranger to the entertainment world, she has studied dance with schools such as Dance Visions Network in Manchester, NH and has attended classes at the Boston Ballet School. Michelle has been teaching dance for over 15 years around New England.
Michelle is a former New England Patriots Cheerleader, where she was also a member of the Patriots Cheerleaders Show Troupe, traveling to and performing at military bases across the country. While a member of the Cheerleaders, she had the honor of performing at Super Bowl XXXVI, helping the Patriots to their first Super Bowl win. In addition, Michelle is a former Captain and Director of the Manchester Wolves Arena Football Dance Team. For the past 3 years, Michelle has been the head coach and choreographer for the competitive Southern New Hampshire University Dance Team.
Outside of dance, Michelle has a Bachelor's Degree in Business Administration from Southern New Hampshire University where she graduated Summa Cum Laude and a member of the National Business Honor Society. Michelle currently works as the Northeast Style Pro for Angela King Designs, Inc. and Go Wild! Wear providing custom costumes and uniforms for dancers and professional dance and cheer teams throughout the Northeast United States. She is also a consultant with Going Pro Entertainment, providing consulting and training for those who wish to pursue college or professional cheerleading and/or dancing. Michelle also teaches dance at Dance Etc. in Billerica, MA.
If you are interested, or know someone who is interested in auditioning for the NEW Manchester Monarchs Promo Squad, please contact the Promo Squad Director, Michelle Gagnon at MichelleGagnon12@outlook.com for more information. Please also visit us at www.ManchesterMonarchs.com for audition information and paperwork.
[Monarchs Promo Squad on Facebook]