Last month, as a part of budget cuts, Florida International University eliminate the school's cheerleading team. The good news is the squad is coming back, but will have to rely on private donations for funding.
The Miami Herald reports that the squad is teaming up with Miami's Professional Soccer team:
Miami FC is partnering with FIU's recently defunded cheerleading team to help the nationally ranked group raise the money needed to keep the program alive.

The team will sell Blues tickets both on campus and in the community, and will keep a portion of the proceeds. In return, 15 members of the team will be Miami FC Cheerleaders for the rest of the season.
The FIU Cheerleaders are under the direction of Maria George.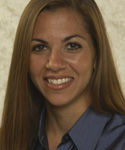 Most currently, Maria was a Professional Cheerleader for the National Football League with the Miami Dolphins. A member of this elite cheerleading squad and organization (98-00), she was chosen as a member of the selective "show team" (travel squad) performing all over the world, in addition to, on the sidelines where she was a team co-captain.  She is now benefiting from her time with the Dolphins, as a member of the professional cheerleaders alumni. The PCA is a new organization consisting of alumni cheerleaders from the NFL and NBA, who raise money for women and children's charities. Also an entrepreneur, she is a partner in a planning and public relations company.
A collegiate cheerleader with the impressive Division I University of Pittsburgh Panthers, she was active with the dance team, Pantherette program and an instructor & trainer with the Elite cheerleading organization. On the cheerleading circuit, she was also chosen Division I-A All America.
After receiving a B.A. in communications from Pitt, Maria started her own cheer/dance school in western Pennsylvania where her all-star competition squads were created. The Mon Valley All Stars and Steele City All Stars have captured numerous local, state, regional, and national titles under her direction.