By MICHELLE BRUNETTI POST, Staff Writer
Press of Atlantic City
Sun Oct 16, 2011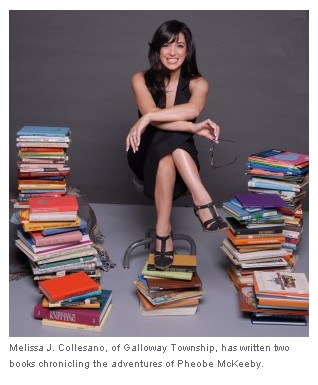 When Melissa J. Collesano, of Galloway Township, was a professional dancer and cheerleader for sports teams such as the New Jersey Nets, fans were often shocked to learn about her day job.
"Here I am in my glitter and pompoms," Collesano said of times when she talked to fans and signed autographs. "They couldn't believe I was actually a librarian."
So when she started a business to promote reading, and the children's books she's written, she wanted to make it fun and show her "sassy side." And the Book Babe website and blog were born, she said.
Collesano, 39, has written, illustrated, and self-published two books: "Pheobe McKeeby's Garden Apartment," about generosity, and "Pheobe McKeeby in 'I Promise I'll Take Care of the Dog,'" about responsibility. The librarian at Fernwood Avenue Middle School in Egg Harbor Township since 2005 also plans a series of character trait books.
Collesano began cheering in second grade and was the first cheerleader inducted into her hometown's athletic hall of fame in Elmwood Park, Bergen County, she said. Her husband, Pete, is a gym teacher at Eagle Academy in Egg Harbor Township. They met when he was the football coach and she was the cheerleading coach at a high school in North Jersey. They have a 1-year-old son.
She will be featured in Authors' Alley during the 2011 New Jersey Education Association Convention, Nov. 10 to 11 at the Atlantic City Convention Center.
Walking for the cure
Southern Regional High School special education/English teacher Dawn Bischoff, of the Manahawkin section of Stafford Township, is walking 60 miles this weekend in the Susan G. Komen 3-Day Walk for the Cure, which started Saturday. She and two other women on her Soul Sistas team will join thousands of women walking through Philadelphia, sleeping along the route. Bischoff's team has already raised more than $7,726 for Komen's programs to help women with breast cancer.
Everyone Has a Story appears Sundays, Mondays, and Wednesdays.
Contact Michelle Brunetti Post:
609-272-7219, Michelle.Post@pressofac.com
'The Book Babe'
For information on Melissa J. Collesano's books and her blog, visit www.bookbabe.net