They are the year-round face of the franchise and favorites of the fans of the United Football League and this coming weekend the search for the Omaha Nighthawks cheerleading class of 2011 reaches its climax.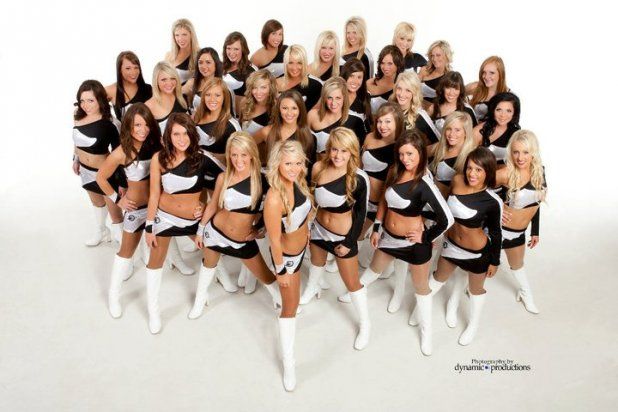 The Nighthawks will hold the team's cheerleading tryouts final at the Nebraska Furniture Mart at 11am on Saturday, April 23 as a group 34 finalists compete for a spot on the 2011 Omaha Nighthawks Cheer squad. The tryouts will be held center stage in the Mega Mart Building.
The road to the finals kicked off back in early March when prep classes and a three-day preliminary tryouts put the cheerleader hopefuls through their paces and the group was narrowed down to the finalists – nineteen of which were on the 2010 Nighthawks squad.
"I can't describe how good these girls are," Shan Stavropoulous, the Omaha Nighthawks cheerleading / dance Director said of the finalists. "They were not only super-talented, but all of them are beautiful and were sweet to each other. Everybody gelled and clicked. All 34 are phenomenal. I wish I could to take them all for the team."
The final tryouts will feature the finalists split up into groups of four for dance "A" and another group of two for dance "B" which they can rehearse, manipulate and choreograph to increase skill difficulty and get creative with group costuming. The candidates will also learn an opening number and perform altogether.
Media and fans are welcome to attend the final tryouts at the Nebraska Furniture Mart. Fans will not only get the opportunity to meet the 2011 Omaha Nighthawks cheerleaders, but can also participate in trivia contests and receive gift cards and Nighthawks gifts.
Two people among the judging panel are Andrea Leesley and Ali Schwalb. Lessley is a native of Omaha and has many years of dance experience including the Regina Williams Dance Company and on the television shows "The Parkers" and "The Tracy Morgan Show." She currently is head coach of Papillion La Vista South Dance Team. Schwalb is a recent Saint Louis University graduate and is currently the Millard West Varsity Dance Team Assistant Coach and Omaha Nighthawks Assistant Dance Coach.
Each of the five UFL franchises in Hartford, Las Vegas, Omaha, Sacramento and Virginia are building dance teams who will take part in community appearances, represent their teams during the offseason, and of course wow fans in the stadium on game day.