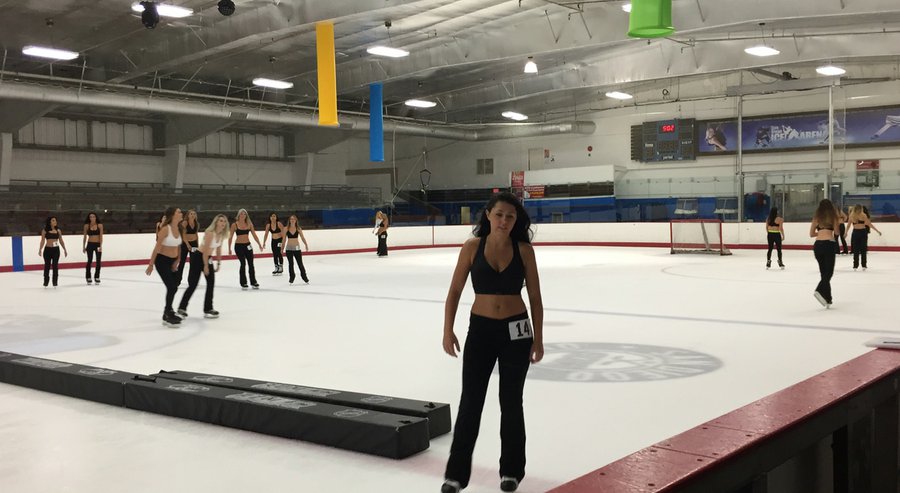 There were 25 hopefuls at San Diego Ice Arena vying to be part of AHL team's inaugural season
By Kirk Kenney

August 15, 2015
With temperatures in the 90s around the county, the San Diego Ice Arena was a pretty cool place to be on Saturday afternoon.
And, what do you know, it just happened to coincide with the San Diego Gulls' audition for ice girls.
There are a number of tasks to tackle as the Gulls ramp up for their inaugural season in the American Hockey League.
Identifying ice girls was on Saturday's agenda, and 25 hopefuls gathered on the ice in Mira Mesa, each vying for one of the eight to 12 spots to be filled.
So what are the Gulls looking for in ice girls?
"We're looking for the bubbly personality and ones that are passionate about hockey as well," said Lacey O'Connor, who is Gulls marketing and social media producer.
O'Connor said it's important that they are good ambassadors for the team.
"They do a lot with the fans and a lot of community events as well, so we just want people who are interested in being the face of the brand," she said.
Ice girls will be a significant presence at home games, engaging with fans on ice and around the arena.
Part of their on-ice responsibilities include ice maintenance, so the audition included two cone drills — one to show skating ability and another to demonstrate ice-shoveling dexterity.
Most of those who attended the audition were college-age women. Before the on-ice portion of the audition, each was asked to introduce herself and provide a fun fact.
One woman said she had worked on Carnival Cruises, where, during a magic show, she was turned into a white tiger (she was in human form again for the audition). One was a bio chemistry major. One was an endurance skater from France. One said her last name means "family of wolves." And on and on.
There were several San Diego natives, while others' origins were Maine, Minnesota and points in between.
There was a wide range of skating skills, from those with wobbly ankles on the verge of losing their balance — one woman fell on her backside while trying to shovel, hurting her pride more than anything else — to those who had been skating for more than a decade. Several had hockey and/or figure skating backgrounds.
Kelsey Hannah displayed the best skating skills. In fact, it looked like she was tempted to knock a Gulls official into the boards as she finished the cone drill.
"I started skating when I was 5 years old at the rink in UTC," said Hannah, who grew up playing hockey on boys teams. She went away to boarding school in Indiana and played in a girls league before coming back home.
"Now I'm in men's beer leagues again where I started," she said.
Hannah grew up in Clairemont and attended Cal State San Marcos. She works now for a mediation firm. Asked what interested here about being an ice girl, Hannah said: "Why wouldn't I want to do this? Ice skating. I love ice hockey. When I go to games and see the girls getting the crowd excited, it just looks so fun."
Panda Wilson, a Granite Hills graduate who teaches figuring skating at the Kroc Center, grew up watching a earlier incarnation of the Gulls.
"I've been a figure skater forever and when we had the Gulls before I did halftime entertainment," Wilson said. "I've been a fan of the Gulls for a long time. I saw a flyer about the audition yesterday, and my mom was like, 'You have to do it.' So here I am."
Wilson was among those who have the bubbly personality the Gulls are looking for. And she has the ultimate ice-breaker — her first name.
"I was supposed to be a boy," Wilson explained. "When my parents found out I was a girl, they didn't have a name ready. I was a really big baby and all my relatives described me as a bear cub. My parents were thinking Amanda, then thought 'Oh, Panda!' "
Pandas have proven pretty popular in San Diego, so you have to like her chances.
O'Connor expects a final decision to be made within a week on the ice girls squad.
The Gulls plan to announce the 2015-16 schedule in late-August. The home opener is October 10.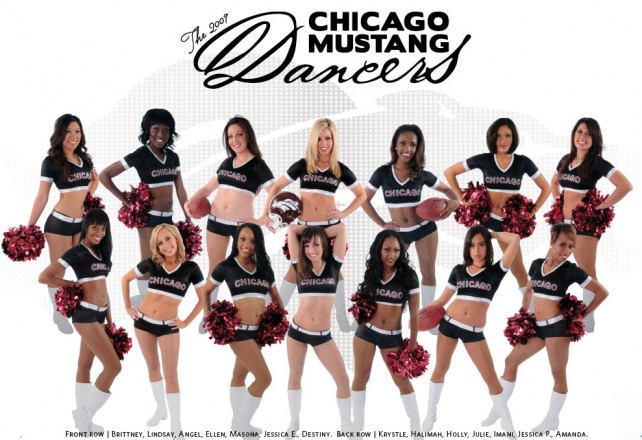 Former Chicago Luvabull and San Diego Gull Girl (and good friend of the blog) Robyn Villanueva dropped us a line to let us know that she's finished designing the website for her squad The Chicago Mustangs Dance Team.
One of her co-captain, Imani, is Miss Chicago and made the Luvabulls earlier this year. She's also designing outfits and the website for Luvabull Captain Shannon Lersch's latest advenutre: hosting a reality tv show in China about creating an NBA Dance Team.