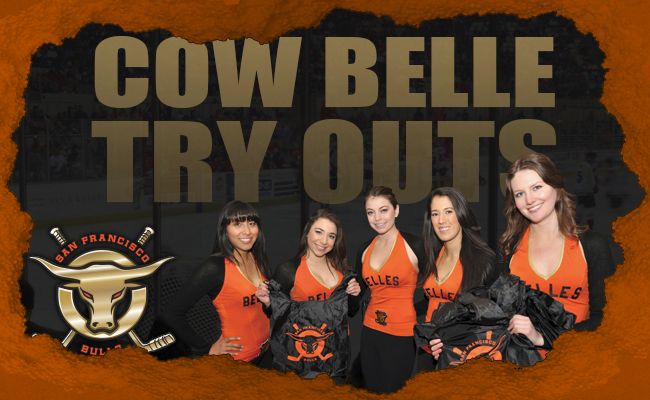 The San Francisco Bulls Professional Hockey Team, proud affiliate of the San Jose Sharks, are looking for energetic ice skaters and dancers to help excite the crowd for the 2013-14 season. SF Bulls Cow Belle (ice girl) tryouts are taking place at the Cow Palace on Saturday, October 5, beginning at 8:30 am. Both the Cow Belle Dance Team and The Ice Crew (skater) auditions will go from 8:30-noon. You may choose to audition for both positions, but can only be selected to one. The Bulls are searching for six skaters and six dancers for the upcoming season.
The Bulls are seeking energetic women that can ice skate or dance proficiently and are not shy in front of large crowds. The SF Bulls Cow Belles are a key component to the in-game entertainment at the Cow Palace during stoppages of play and in between periods. They also help to shovel the ice during TV timeouts, while ice skating. In addition, they will take to the stands to assist the in-game promotions. New to this year, the Arena Crew may be asked to perform dance routines. The Cow Belles also serve as representatives of the organization at community events throughout the year.
Tryouts for the SF Bulls Cow Belles will consist of interviews with the judges, on-ice skills (for the Ice Crew) and a dance performance (for the Arena Crew). Hopeful Ice Crew members are asked to bring their own skates to the audition.
To sign-up for the Cow Belle auditions, please fill out the following form. Upon completion, you will receive an e-mail shortly after with further information regarding the tryout.
The Cow Palace is located at 2600 Geneva Avenue in Daly City.
[Cow Belles Audition Registration]