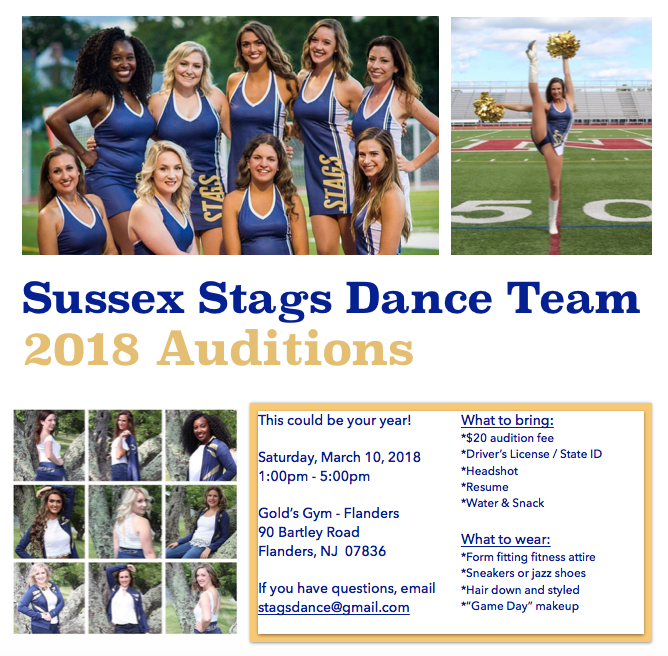 The Sussex Stags Dance Team of North Jersey is back for our 4th season! We proudly support the Sussex Stags Football Team of Major League Football!
Auditions:
Saturday, March 10, 2018 at 1:00pm
Gold's Gym Flanders
What to wear:
Form fitting fitness attire
Sneakers or jazz shoes
Hair down and styled
"Game Day" makeup
What to bring:
$20 audition fee
Driver's license
Headshot
Resume
Water and snacks
What to expect:
Dancers will warm up and go across the floor. After that, dancers will learn a technique combo, jazz combo, and pom combo. These will be performed in small groups for the judges. You will have practice time while each candidate has a brief personal interview with the judging panel. Dancers will then perform in groups and freestyle individually for about 20 seconds.
You do not need to prepare choreography in advance.
Dancers must be 18 years or older.
Auditions are closed to the general public.
Facebook event:
https://www.facebook.com/ events/1396114273844435
Application:
https://goo.gl/forms/ yFCHl7Su75oxhoAk2
FAQ:
What is the time commitment like?
Answer: The Sussex Stags Dance Team will rehearse on Thursday evenings from 7:30-10:00 at Gold's Gym Flanders. The team will perform at all Sussex Stags Football home games. The Major League Football season runs from July through October. The dance team members will also be expected to do community events and fundraisers throughout the season.
The fine print…
Participation in the Sussex Stags Dance Team is considered volunteer. No professional compensation will be provided. Dancers will purchase uniform dress. Dancers are required to supply white sneakers, tights, black leggings, appropriate undergarments, makeup, and earrings. All other items will be provided by the Sussex Stags, but will be cared for by the dancer. Dancers will be financially responsible for lost or damaged items.
We look forward to seeing you at auditions! Please feel free to reach out if you have any questions!
Be sure to follow us on Instagram @stagsdance and on Facebook at "Sussex Stags Dance Team"!
Cheers!
Kari Brantner – Director
Cory Holm – Assistant Director