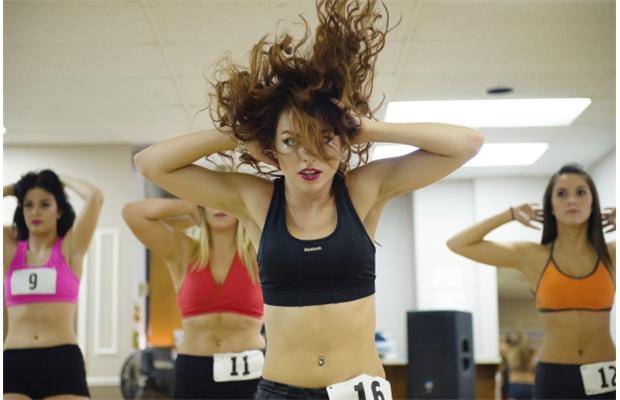 'My girls' shine as Vancouver Stealth's new Bombshells
by: Gord Kurenoff
Vancouver Sun
September 29, 2014
Not since Meg Ryan's OMG moment in When Harry Met Sally have you seen excitement reach this heightened level.
In fact, it was easily the most epic thing I did all month, but to keep peace at home I pulled a Pinocchio and told my wonderful wife it ranked a distant second!
When Jared Harman, the savvy director of business development at Langley's award-winning Events Centre, asked if yours truly would like to help select this season's Vancouver Stealth Bombshells, I was waiting for Ashton Kutcher to show up at any moment with his Punk'd camera crew.
So, let me get this straight — no joke intended: The National Lacrosse League team wants this Sun scribe to judge beautiful women while they dance right in front of me, in gym wear, for three or four hours?
Pausing just long enough to make it look like I have a life outside of work, yours truly said OK, hung up the phone, screamed "yahoo," did a few fist-pumps, back flips, cartwheels, hyperventilated — you know, all the typical things calm people do.
Fast forward to Saturday morning at Let's Dance Studio on Granville Street. Almost three dozen calendar-ready women are stretching and getting ready for dance team tryouts. They are so busy loosening up they don't notice me (smile) as I drool and strut by like a proud peacock to the judges' table where we will eventually have to inform almost half of this group to come back next year.
Stealth owner Denise Watkins, a mother of three and a whiz in sports management, explains that the Bombshells have to be respectful, friendly, team-oriented, and readily available to help at charity-fundraising events and committed to improving as a precision dancer and Stealth ambassador.
"To be clear, we aren't looking for strippers. We don't allow twerking or anything indecent," says Watkins matter-of-factly. "They can be sexy, but the Bombshells have to be family-acceptable and role models for young girls.
"They have to be able to mingle with fans and represent our team and city at minor lacrosse and community events. They have to be more than just a pretty face or pretty body. And they have to understand the market we're working and living in."
The NLL Colorado Mammoth, for example, has a sexed-up dance team called the WildBunch that arrives at Denver's Pepsi Center on Harleys. Not all of their body parts appear as natural as their megawatt smiles (judging by the glossy photos in my wallet), but what's not to like about a crew that does country and hip-hop routines? (And now that I have experience selecting dancers, I'm available to help out in the Mile High City. Just saying!)
So does that mean the tamer Bombshells will appear on tractors petting baby sheep in the more-conservative Langley area?
"You're going to be trouble today, right?" grins Watkins, who also flushed my ideas of introductory group hugs, parting hugs, kisses for the winners, one-on-one picnics, fantasy pools or runner-up adoptions.
The other male judges on the panel — Stealth coach Dan Perreault, president and GM Doug Locker, chief financial officer David Takata and TSN Radio anchor Matt Baker — seemed to like my ideas, but stopped very short of verbally endorsing them. (Likely just shy. First-timers, eh?!)
Bubbly Alexis Whatley, who danced with the Bombshells last season and is back as choreographer, put the women through their brisk paces. You soon realize this dance thing takes endurance, grace, physical fitness, coordination and learning on the fly.
Whatley, who is brilliant and exudes personality-plus, gave the dancers quick lessons in "hair-ography," shaking their bodies, proper breathing, smiling and groovin' to catchy tunes like Bang, Bang! You didn't need binoculars — I had them just in case — to recognize this was difficult work.
The toughest part of the afternoon was trimming the roster. Most of these 20-somethings have been dancing since they were five, and did this because they loved it. There was no mistaking the passion or natural talent.
One sweet girl, who just moved here from Houston — "the small one in Northern B.C., not the big one in Texas" she joked — was my top underdog pick. Her genuine enthusiasm, heart and personality were addictive. Unfortunately she didn't make the final cut and I was choked up watching her get choked up. Hopefully she keeps practising because I know Langley would love her spirit.
Watkins says she has an emotional attachment to her entire "Stealth family" and often calls the players "my boys."
I totally get it. Knowing I helped select the new Bombshells, and felt some sort of connection (even if they didn't), I left the Granville Street studio proud of "my girls." Otherwise known at home, around my wife, as "those girls."
See the Bombshells' tryout photo gallery by clicking HERE.