By Rich Mardekian, Editor
Community News (Fair Lawn Edition)
8/29/2011
When the National Football League (NFL) lockout ended in July the period that followed saw a frenzied time with scores of athletes leaving their old teams for new squads. The free agent players weren't the only ones changing teams – a cheerleader from Fair Lawn also decided it was time to make a move.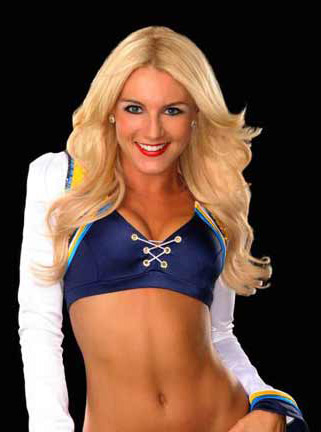 Christie Artinger, 26, a 2003 Fair Lawn High School graduate, has traded in the green and white of the New York Jets for the yellow lightning bolt of the San Diego Chargers. Artinger, a former member of the New York Jets Flight Crew, is now a San Diego Charger Girl.
"I was looking to do something adventurous," said Artinger of her decision to move to the West Coast. "It's been a lifelong dream of mine, even as a child, to move to San Diego."
Last winter, Artinger sent in an application to become a Charger Girl, a squad with a rich tradition.
"San Diego (Charger Girls) are up there with the Dallas Cowboys Cheerleaders in terms of prestige," she explained.
Even though sunny San Diego will never be confused with Exit 16W of the Turnpike and the often cold and dreary conditions at the New Meadowlands Stadium, the call to move to the sidelines of the Chargers was not a complete no-brainer.
"I second guessed it (decision)," she said. "To move from a town (Fair Lawn) I have lived in for 26 years was hard."
Her cold feet eventually subsided and she booked a last-minute flight to the team's tryouts in April. After a grueling audition process that included dancing, routines and countless interviews that lasted almost a week, Artinger was one of nine new cheerleaders picked out of 425 women who tried out for the squad.
"Wow! My life just changed forever," said Artinger of becoming a Charger Girl.
After making the team, Artinger had to move 2,844 miles to begin a new life.
"I had to pack up my life and ship everything out here," said Artinger, who also found a job working as a sales rep for a protein drink company.
Artinger originally tried out for the Jets Flight Crew in 2009 after being laid off from her job as a marketing executive for Capizio in New York City. She has an extensive dance background and was trained locally at Dance Designs in Fair Lawn, Art of Motion in Ridgewood and Gotta Dance Performing Arts Center in Elmwood Park. She attended Sacred Heart University in Connecticut where she competed on its nationally ranked dance team and then transferred to Montclair State University where she was on the cheerleading squad.
"I had to go back and find a way to make myself feel complete again," Artinger said at the time of her decision to try out for the Flight Crew.
She made the squad and the experience was one she called one of the best of her life. She cheered for the Jets for two seasons, including the first in the New Meadowlands Stadium.
"It was awesome," she said. "I made a lot of lifelong friends and improved my style of dance. [Being a Flight Crew member] helped me grow as a dancer."
With her days as a Jets booster behind her, Artinger is looking forward to life in the AFC West and has nothing but praise for her new teammates.
"Everyone on the Charger Girls is very laid back," she said. "Everyone on the team builds each other up. It is a great team environment."
While Artinger is looking forward to cheering at her first regular season game on Sept. 11 against the Minnesota Vikings, she is still a Jersey girl at heart.
"I really miss the Jersey Shore," she added. "There are beautiful beaches here but the Jersey Shore has something special that (San Diego) can't compare to."
Artinger will be part of the Charger Girl swimsuit calendar that will be out on Sept. 15. Half of the proceeds from sales will go to charity. For more information, go to chargergirls.com.