We're not bimbos' say twins Michelle and Jo as they start their own Amazing Race
Debbie Schipp
The Sunday Telegraph (Australia)
May 27, 2012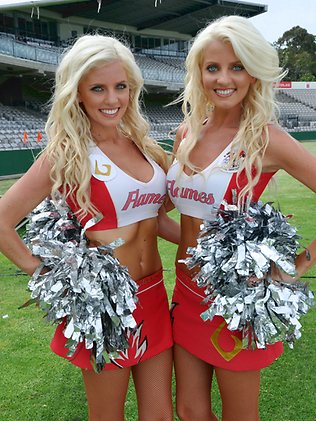 THEY'RE a reality television talent scout's dream team.
White-blonde Barbie beach-girl lookalikes, twin sisters, cheerleaders who love to be the centre of attention.
They love fake tan and dressing up, and shrug off barbs about their looks.
But as they embark on the second series of Amazing Race Australia, contestants Michelle and Jo Troy happily warn you underestimate them at your peril.
The 26-year-old twins from Sydney's Northern Beaches are NRL cheerleaders as part of the St George Illawarra Dragons' Flames squad.
They also work for Jetstar as ground crew in Sydney.
And in more than six years of cheerleading and working as promotional models, they've heard all the jibes before.
"People will assume a lot of things about us because of how we look," says Michelle, the older twin by 34 seconds.
"We are cheerleaders, we've heard the Barbie doll and bimbo barbs.
"We are judged for what we are on the outside. We're not bimbos. We're smart enough to use it to our advantage.
"We have done modelling and promo work for years, so we have developed thick skins."
The pair leapt at the chance to join Amazing Race after the first Australian version of the show aired last year. It was a ratings success for Channel Seven, with an average of 1.2 million viewers tuning in each week to follow the fortunes of 11 duos as they criss-crossed the world using their wits and their wiles for a shot at the $250,000 to the winner.
This year's race sees the contestants cross four continents and 65,000 kilometres, and the pace is relentless.
The twins' opposition includes Tweed Heads indigenous cousins Adam and Dane, Melbourne couple James and Sarah (she has a penchant for cosmetic surgery and high heels – and customised a pair of runners with heels to take into the race), Melbourne policeman duo Shane and Andrew, and Tasmanian flatmates Sticky and Sam (Sticky was born without a left forearm, but has never let that stop him being an action-man)
Amazing Race host Grant Bowler warns there "is lots of big hair" this season.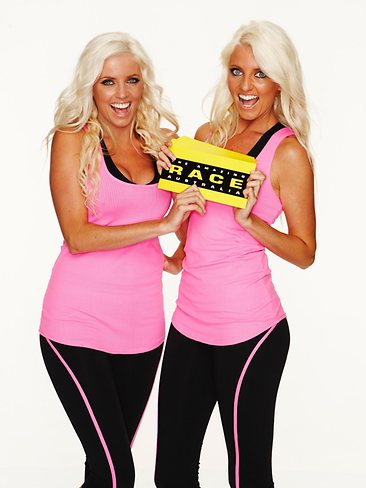 What Michelle and Jo's fellow racers might not know is that the girls went to great lengths to prepare for the race – and not just at the hairdresser.
"I think everyone sees us at the start line and says "oh my God, what are these two fluoro-pink topped-wearing blonde things doing? We're going to walk all over them'," Michelle says.
"We definitely go in to prove them wrong, and surprise them."
To prepare for the race, the super-fit twins donned back-packs stacked with phone books to run stairs on the Northern Beaches, and topped it off with a few weeks with a personal trainer.
Having learned Japanese at school, and knowing the value of knowing at least a few words of other languages through their work with weary plane travellers at Jetstar, they added a basic smattering of Spanish and French to their tools for battle – "just in case we needed it".
Three months several years ago as part of an Australian cheerleading squad in India on the lucrative IPL (Indian Premier League) cricket tour had given them a smattering of Indian language, an awareness of the extremes of poverty and excess, and opened their eyes anew to travel abroad.
The pair then refreshed their knowledge of geography, used flash-cards to learn the flags of the world, made sure they could drive manual transmission cars.
"I didn't learn to ride a motorbike. Maybe I should have," Michelle says.
The preparation paid off from the outset – the pair delighting at the response of fellow-racers if they overtook them at any stage in the very first challenge.
"We are very competitive on the show, but we are friendly. We will help other teams, but at the end of the day we just want to get through to the next leg," she says.
"We surprise teams if we overtake them because the reaction is pretty much "oh my God, it's the twins beating us? Oh my God."
"Basically, we're double trouble.
"Yes, we love getting our hair done and putting our make-up on. What girl doesn't?
"We're also know we can use the assumptions people make about us to our advantage."