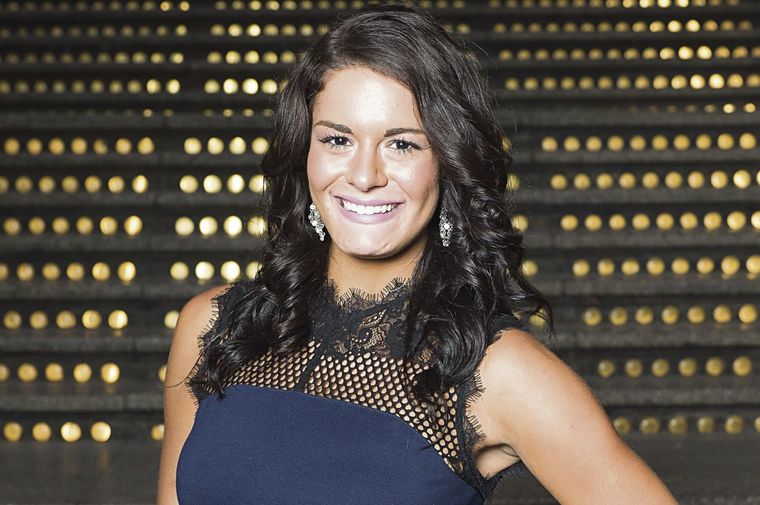 By Andrew Koob
New Castle News
August 29, 2015
Constance Richards took her time to try out for the Cleveland Cavaliers dance team.
It always was a dream of the Neshannock High graduate to be a Cavalier girl, but her work as a student and cheerleader at Kent State University took top priority.
It wasn't until after Richards graduated in May from Kent State with a bachelor's degree in marketing that she finally pushed herself to audition.
"I had thought about it for years to audition," Richards said. "I kept putting it back, saying 'maybe I'll do it.' After graduation, I didn't know what I was doing yet and Cleveland was definitely on my top places of where I'd like to move. This was a dream of mine, I just went for it and tried it out.
"I'm really happy that I did."
That dream was finally realized as Richards officially was named to the 2015-2016 Cavaliers dance team. She joins 19 other dance team members that not only entertain on the court, but serve as ambassadors of the organization off the court.
"When I first found out, I was definitely in shock," Richards said. "I started screaming, I think I woke up everyone in my house. It was honestly just the greatest feeling. To just know that there were a lot of girls, a lot of obstacles and that they picked me, it was just a dream. To make that dream come true was truly amazing and it's an big honor that I can call myself a Cleveland Cavalier girl."
The elation of making the team continues to stay with the 22-year-old, but now the real work begins. The team already has started practicing for the upcoming season, including training camp this weekend, and continues to make public appearances.
A hectic schedule is perfect for someone as active as Richards, especially since a whirlwind summer that started when she received her degree.
"We've had a couple of practices already and had the opportunity to do an appearance in Canton, Ohio," Richards said. "The season hasn't started, but we have, and every week we have something different, which is cool.
"As a dancer, I don't really believe in days off. Every day I like to do something, even if it isn't with the team in Cleveland, I like to try to work out or something like that. We have a little bit of time before it starts, but I'm ready for it."
After growing up in Neshannock Township and spending four years at Kent State, which has an enrollment was just under 30,000, Richards is looking to make a new life in a city with a population of almost 400,000.
It will be an adjustment, especially as she searches for a full-time job, but the allure of a big city adds a bonus to a dream position.
"Growing up in such a small town, then going to a big university and now to such a big city is really exciting," Richards said. "I think it's fun to come down to where you grew up, you get to see everyone and everything, but I love the feeling of a big city. There's always something different and I love meeting new people. That's why, to me, it's a great job. I love to meet different people and socialize. Cleveland will be a good city for me."
Richards, who started dancing and was a teacher at Ludovici Dance Academy, is a part of the family that has become well-known through Zambelli fireworks. And, while she's appreciative of a name well-known throughout New Castle, Richards is ready to make her own mark.
"It's great and I love that my family have such a great name in New Castle. But it's exciting for me that I just graduated and I'm making a name for myself," Richards said. "My family worked hard, but now it's my time to work hard and make a name for myself. I'm really excited about it."
The newest edition of the Cavs dance team will debut on Oct. 13 when the Cavaliers host the Milwaukee Bucks for the first home preseason game.
Until then, all Richards can do is dream about performing in front of thousands of Cleveland fans.
"When we had the preliminary auditions, they were in the arena. I kept thinking to myself that this could be where I'm performing. It was the most unreal feeling, that's all you hope for as a dancer, to have that chance to perform in front of all of those people," Richards said. "I feel like I'll definitely have some nerves, but you have to be a little bit nervous. It's a normal thing, but I think I'll just be too excited. I picture it every day, performing in front of all of those people."