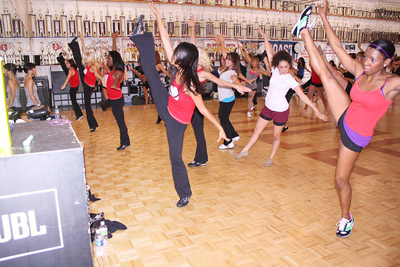 There was a great turnout for yesterday's Clippers Spirit audition prep class! It was a terrific opportunity for aspiring dance team candidates to meet the Director, Audrea Harris, Assistant Director Cheryl Aure-Azurin, and a few Spirit alumni: Jessie, Brittany, Nicole, Melissa, and Brilane. (Click here for photos.)
Most of the afternoon was spent learning and performing a new combination choreographed by Cheryl. First, The Spirit girls (who had only learned the dance an hour beforehand) performed for the class, and then Cheryl started breaking down the counts. I swear, I hear that "Boom Boom Pow" song every day, and I had no idea the tempo was so fast.
Cheryl taught an 8-ct or two, then the group would do it a few times with the counts, then they'd do it a couple of times with music, and then she'd teach the next 8-ct. The Spirit girls were spread out in the crowd to help demonstrate and answer questions.
After they'd learned the whole combination and done it a few times, Audrea and Cheryl had them perform it in groups of six. Afterward, Audrea said they'd done very well, but she wanted them to try it again and really perform it – smile, attack the moves, keep it sharp, and make it clean. All of the girls took that advice to heart , and the second round of performances was really fun to watch.
Lesson learned: You can't underestimate the importance of "selling" your performance.
It was a fast couple of hours. After all of the dancing was over, some girls had to leave, but most stayed for a Q&A session. There were lots of questions about everything – the audition process, what to wear, game night, choreographers, professionalism, time commitment, and balancing life as a Spirit Dancer with your life as a student, employee, race car driver, poet, turkey farmer, or whatever else you have going on.
There were lots and lots of questions.
By the end of the day, all of the girls had a MUCH better idea of what to expect and how to prepare for auditions. Tryouts aren't for another 4 weeks, so the girls have a good amount of time to work on anything that needs to be improved between now and then.
Speaking for myself, I can't wait to see these girls bring it on audition day. See you July 25th, ladies!