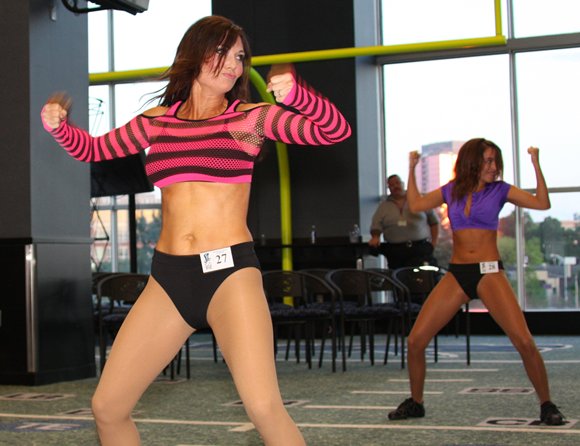 Andrew Mason
Carolina Panthers
May 25, 2009
CHARLOTTE — They don't wear shoulder pads and helmets, and their uniforms are more likely to have sequins than numbers. Yet finding the right chemistry among its members is as important among the Panthers' cheerleading squad as it is for the team itself.
So when TopCats manager Tina Becker and choreographer Richelle Grant began whittling down the 175 aspiring cheerleaders to the final squad of 27 over the last two months, they devoted at least as much focus to creating a seamless unit as to evaluating the precision of dance steps. Through interviews, rehearsals and simple observations, they watched and listened to the potential TopCats, trying to not only select the best women for the job, but to create the best team.
"The 35 (finalists) we have at the end, they're all talented," Becker said. "It's often a question of whether this girl can get along with that girl. It's a puzzle. They all can dance, they all can cheer; they all love the Panthers. That's why they're (among the finalists). Then it's deciding who's going to be the best group of women to represent us and all be on the same page."
The decisions became more difficult as the process progressed. From an initial group of 175 applicants, only 70 made it to the next round, where each was interviewed by a four-person panel.
"Interviews will make or break you," Becker said. "You may be an amazing dancer, but if you come in and have nothing to say … "
Becker didn't finish the sentence, but she didn't have to; the implication of a poor interview was clear.
"The dancing is great, but to me the community outreach and the appearances are way more important — to see if you can speak intelligently and comfortably."
The 27 TopCats for 2009 have gone through one of the most thorough processes of any dance team in the NFL.
"The environment is very supportive and fun, and we want to make sure we pick the right people each year to portray that," Becker said. "That's why our process is longer than normal, because we need to know (more about each candidate)."
Interviews provide a glimpse into a potential TopCat's personality. Auditions reveal their dancing skills. But the other component of evaluation comes at rehearsals. There, the primary purpose is to learn dance steps for the auditions, but a different kind of evaluation is also in play.
"You can impress me that first time in an interview and kind of get through it. But to see you six or seven times in the locker room, I'm really going to get an idea if you're a good fit," Becker said. "During rehearsals, we get to know them in a group setting and learn about their personality — whether they are team players; whether they get along with everybody."
In that environment, Becker liked what she saw this year.
"What's cool about this team is that the girls come with the perception that everyone's catty, that it's an intimidating environment because everyone's competing," she said. "Overwhelmingly, when we talk with the girls that audition for the first time, they speak of how amazing the girls that have been here are — how welcoming, warm and approachable they are. Those are the type of girls we pick – and they're there for a reason."
As the franchise has grown over its 15 years of existence, so have the TopCats, whose membership reflects a growing maturation of the team and its supporters.
"Now, girls come in and say, 'I grew up watching the Panthers; I grew up watching the cheerleaders on the sidelines, and now I'm old enough to actually be one,'" Becker said. "It's so cool that we've actually gotten to that point now where these kids who came to game and watched us can actually participate in it."
The 2009 TopCats:
Ann Alston
Caiti Berg
Jennifer Bobbitt
Kimberly Coon
Cynthia English
Sara Gormel
T'fani Hixon
Megan Hodge
Leslie Holmes
Melanie Jackson
Kristen Kirkland
Kayla Lewis
Lisa Mach
Brittany Massey
Tara Mull
Carolyn Nicholson
Chika Nwankwo
DeAnna Platt
Michelle Rock
Stacey Sanderson
Chelsea Schatz
Jeri Smith
Kelli Triplett
Dana Waring
Katie Williams
Shelby Williams
Erin Willis