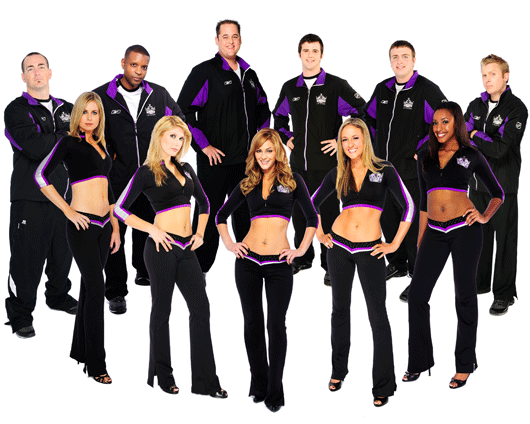 The NHL Los Angeles Kings are looking to staff the 2009-10 Kings Metal Ice Crew. Auditions start Monday, July 27th at Staples Center. Click here for registration material and loads of info.
The Kings Ice Crew represents the Los Angeles Kings organization at games, events and throughout the community. They are primarily responsible for making sure Kings fans have the best experience possible. At games, the team assists with on-ice contests and activities during intermissions, in-arena activities (t-shirt launch, ticket upgrades, trivia contests, etc.), and some of the group is also responsible for skating on the ice to remove build-up during media timeouts. The team also represents the LA Kings organization at various events and appearances throughout the community, such as: charity functions, fan development events, promotional events, etc.
This opportunity is open to both guys and gals. There's no dancing involved, so this is a great opportunity for you non-dancers who still want a way to be part of the game day experience and show your enthusiasm for the team. You do need to be comfortable in a pair of hockey skates though. You don't have to be a wicked-awesome Olympic skater, but you do have to be able to skate from one end of the rink to the other. I won't like, if you can't skate and chew gum at the same time, maybe you should practice for next year's audition.