The Rice University athletics employee decided it was time for a change at age 25
By Julia Hickey
SanLuisObispo.com
Aug. 31, 2009
At age 25, Megan Dodge experienced what she calls a "quarter-life crisis." It's not what you'd expect from the 2001 senior class president of San Luis Obispo High School, a woman with great looks and a promising career as director of marketing for the athletic department at Rice University in Houston.
"When I hit 30 I want to focus on having a family and things like that," she said. But looking forward from that mid-20s crux, there seemed too many goals and too little time.
So she increased the intensity of her workouts, enrolled in hip hop dance classes to sharpen her skills and three months later was chosen out of 600 women to become a cheerleader for the Houston Texans of the NFL.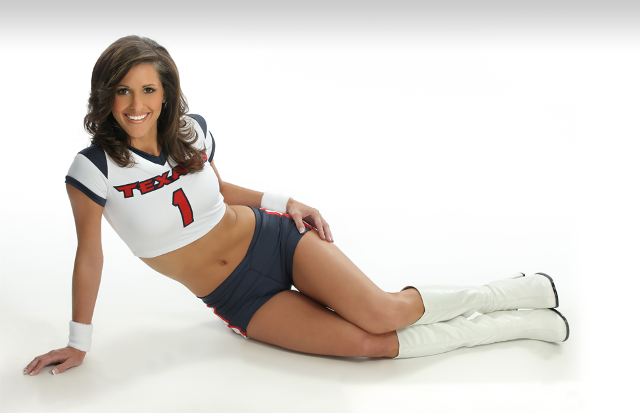 Dodge described the April day she tried out for the squad. After the 12-hour day of elimination rounds, Dodge said, "I ripped off my fake eyelashes and rushed to work a Rice baseball game."
In addition to her daily 7 a. m. to 5 p. m. shift as athletic marketing director at Rice, Dodge attends most Rice home games for many of the sports teams. She sits next to the announcer, who reads a script that she's written, and she dons a headset to direct operations and cue stadium big screen graphics.
Her transition from director to the spotlight as a cheerleader has been an exhilarating one. She described her Aug. 22 cheerleading debut in a preseason game at the Texans' Reliant Stadium, before 70,000 fans, as "amazing." She almost started crying while waiting in the tunnel because she had achieved the goal she had set "on a wing and a prayer."
Texans cheerleaders may refute the stereotype of women whose looks alone carry them through life. They may have to maintain perfect Frenchtipped nails, in the Texans' "battle red" team color, but in fact all 31 cheerleaders are required by coach Alto Gary to work or study full-time.
"I chose this concept because I wanted women with substance. I do not want someone sitting at home eating Doritos contributing nothing to herself or life," Gary said. Among the cheerleaders are a financial analyst and three teachers.
They endure up to five three-hour practices a week to perfect the dance routines that keep crowds enthralled, and the women attend up to 500 promotional appearances a year.
Dodge said with a giggle, "When I have a day that there's nothing scheduled, I get confused."
But Dodge says cheerleading is "a stress reliever."
"Dancing is what I love to do," she said.
She started dancing at Lori Silvaggio's Academy of Dance in San Luis Obispo, and said she would work out and dance on her free time anyway.
Plus, she has connected with the Houston community in a way she didn't expect. Her first appearance was a fundraiser for underprivileged children, where cheerleaders helped attract customers to lemonade stands.
"I didn't expect to feel I was helping other people in the process," she said.
Dodge isn't the only San Luis Obispo County woman to land in the NFL spotlight. Atascadero native Erin Kennedy, daughter of Kennedy Club Fitness owners Barb and Kevin Kennedy, became a San Diego Charger Girl in 2001, and Heather Greene of Templeton made the same squad in 2007.
Dodge said she thinks her California upbringing was a good prelude to life in Texas.
"I tell people, if you've ever seen a cowboy surf, they're probably from my hometown," she said. "A lot of SLO County is cowboys — and it reminds me of Texas."
When reflecting on her accomplishments, the newly 26-year-old Texas State University grad said, "I admit I have done very well for myself." (And a word to interested men—she's taken.)
But when speaking about the future, she seems open. She says she'll try out again for the team next year if she's still in the Houston area. Of course, there are still many goals to achieve before she turns 30: earning a master's degree, writing a book about compassion in education, visiting Europe and inventing something.
"My grandpa and I have something in the works," she said of her possible invention. "But I am not sure I can tell you about it."