Posted by the Allen Americans on Neighborsgo.com (Aug 17, 2009 )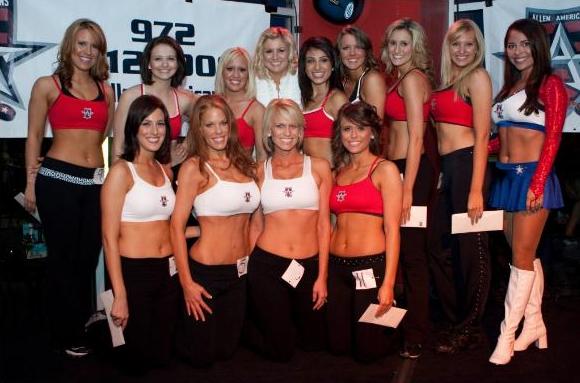 Back: Ashley, Alyssa, Laura, Director BreAnna Foodrill, Jasmin, Courtney, Brittany G, Brittany K, Jennifer
Front: Stephanie, Elizabeth, Bobbi, Kristin

ALLEN, Texas – Of the 13 women that performed Saturday, 11 made the squad.
Former Dallas Desperado Dancers Sylvia Hoefelman of Dallas and Emily Scoville of Allen emceed the event. Scoville will be choreographing for the Ice Angels throughout the season, along with Amy Jo McKinley and Elizabeth Rock. Rock choreographed the routines for the auditions.
Hoefelman and Scoville introduced the dancers two by two and asked the women questions. Then, the dancers performed two routines for the judges.
Judges included two-time Stanley Cup Champion Craig Ludwig, former Ft. Worth Brahma Craig Foddrill, Bar-B-Cutie Owner Michael Schaeffer, Legacy Dance Center Owner Pamela Jager Purcel and Amy Jo McKinley, a veteran of the Dallas Cowboys Cheerleading squad, Dallas Mavericks Dance team and Dallas Desperados Dance team. Bar-B-Cutie, located at 208 N. Greenville Avenue, Allen, TX 75002, sponsors the squad.
After the dancers finished their routines, Ice Angel Director BreAnna Foddrill tallied up the scores. Then, the first Ice Angels team members were called to the stage.
"I'm very happy with the group of girls we have. I know we've got a strong group of talented ladies that can bring new energy to the CHL and create a fun atmosphere. I'm confident that we can represent the Allen Americans well," Foddrill said Monday.
The team is made of a diverse group of girls from rookie Michelle Hulsey of Texas Woman's University to bilingual Jasmin Flores to former Dallas Cowboys Cheerleader and former Dallas Desperados Dancer Bobbi Quigley.
Quigley, a mom of one, feels a strong connection with the some of her fellow Ice Angels already. "This audition has been different. I've made really good friends throughout the process," Quigley said today.
She is also looking forward to providing leadership for the squad, since she's been with a new team before. "I was there the first year for the Desperados and seeing everything from the ground up is really exciting."
The 2009-10 Ice Angel team members listed in alphabetical order with their respective hometowns:
Courtney Amigh – Plano, Texas
Alyssa Boyles – Plano, Texas
Jasmin Flores – Dallas, Texas
Ashley Gatlin – Irving, Texas
Brittany Gauntt – Flower Mound, Texas
Stephanie Hascal – Plano, Texas
Kristin Hughes – Kilgore, Texas
Michelle Hulsey – Garland, Texas
Brittany Klement – Harlingen, Texas
Elizabeth Thames – Alvin, Texas
Bobbi Quigley – Plano, Texas
The Americans, the Dallas Stars' CHL affiliate, begin play this fall in the newly built Allen Event Center. Season tickets and partial plans are on sale now, and corporate partnerships are also available. For information, call 972.912.1000 or visit allenamericans.com.

---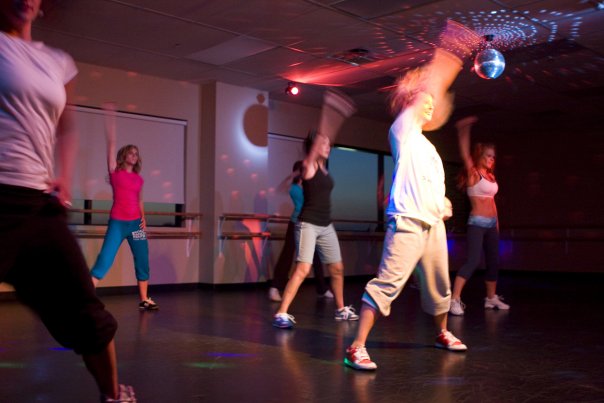 Aspiring Ice Angels at prep class
(Photo is from the Allen Angels Facebook Page)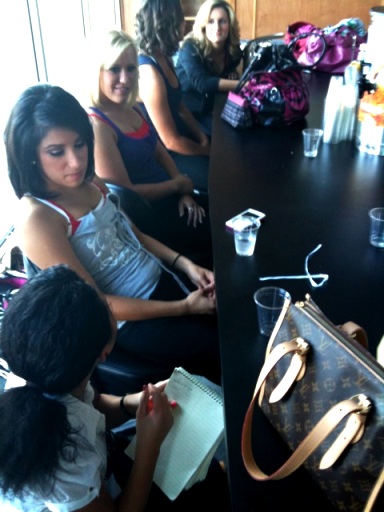 The girls talk to a reporter before they go on stage
(Photo is from the Allen Americans on Twitter)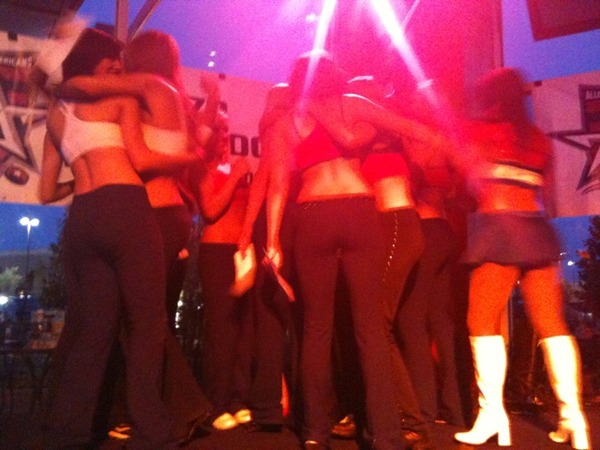 The final Ice Angel team celebrates at Dodie's Place after making the cut.
(Photo is from the Allen Americans on Twitter)