Her Personal Website Documents Improvement, Encourages 'Informed Consent'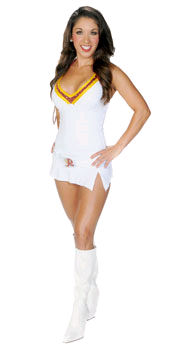 Ashburn, Virginia – November 5, 2009: After having her life turned upside down by a routine influenza shot, and discharged by three major hospitals after four visits – despite worsening symptoms – Desiree Jennings is finally making great strides in her recovery. The vibrant, 25-year-old Washington Redskins Cheerleader Ambassador has a website to tell her story and keep well-wishers from around the world informed of her progress as well as to promote "true informed consent."
Jennings was training for a half marathon in August 2009 when she received her seasonal flu shot, something she had done several years before. This time, however, her reaction was severe and debilitating. Over the course of several weeks she lost the ability to walk or talk normally, and began to suffer violent seizures and recurrent blackouts.
Jennings was misdiagnosed multiple times with a variety of diagnoses since receiving the influenza shot, which she thought would protect her from illness. She has since been diagnosed by her treating physician, Dr. Rashid A. Buttar, with a number of conditions including but not limited to Acute, Viral Post Immunization Encephalopathy and Mercury Toxicity with secondary respiratory and neurological deficits.
Since then her story has made headlines here and abroad, with videos explaining her disorder garnering millions of hits on YouTube. The responses she has received have been overwhelmingly supportive, encouraging.and informative. Celebrity couple Jenny McCarthy and Jim Carey helped point Desiree in the right direction through Generation Rescue, a non-profit organization dedicated to preventing and reversing autism.
The treatments with Dr. Buttar at the Center for Advanced Medicine and Clinical Research in Charlotte , NC are working, and the results are nothing short of amazing. Jennings can now walk and talk normally throughout the vast majority of the day and the seizures/convulsions have significantly decreased. Although her full recovery will take an undetermined amount of time, her family is now for the first time, convinced she will make a complete recovery. She is now more than ever, driven by a desire to educate others to be informed of the potential side effects caused by vaccines and prevent others from suffering a similar fate.
Visitors to her new website, www.DesireeJennings.com, will find regular updates on her progress, helpful details on her treatment and valuable information on the importance of "informed consent" – truly knowing ALL of the options before making important medical decisions.
"I set up the site to tell my story and warn people of the neurological side effects that can result from vaccinations," Jennings said, "Especially knowing that in the majority of cases, these stories are seldom heard outside of immediate families and friends."