Katie Warchut
TheDay.com
Jan 29, 2011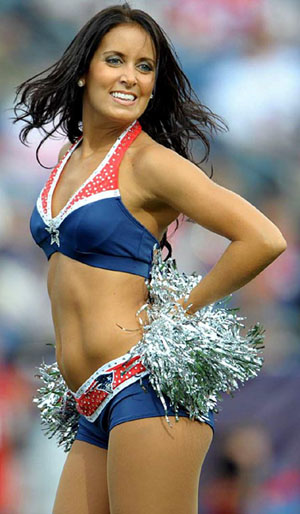 Though the end of the Patriots' season was disappointing for some sports fans, it had a larger meaning for one local woman.
Brittany Bonchuk, of Griswold, ended her three-year career as a Patriots cheerleader with the football team's unexpected loss to the N.Y. Jets earlier this month.
"After the two-minute warning … there was a little bit of hope," recalls Bonchuk, who watched from the sidelines of Gillette Stadium. "I looked around the stadium, and a lot of fans had left. I started to realize that was it."
When the game finally ended, Bonchuk and two fellow cheerleaders who were leaving the team were recognized on the JumboTron.
"We all hugged each other and shared a moment," she says. "It was really emotional at that point."
Bonchuk, 27, a 2001 graduate of Griswold High School and a social worker at a child guidance clinic in New London, is leaving the team, which only allows members a maximum of three years.
"It's just my other world, my other passion," Bonchuk says.
But Bonchuk still has one more game before her cheerleading career comes to an end: she was chosen to participate in Sunday's Pro Bowl, NFL's all-star game in Hawaii, in which one cheerleader from every NFL team is chosen to attend.
Bonchuk grew up with a love of dancing and sports. Her parents made sure she and her two sisters were "involved in every activity from T-ball to softball – everything we could do to stay active," she says. The loyal New England family followed a sport for every season: the Pats, Red Sox, Celtics and Bruins.
She also took classes at area dance schools, but Griswold High School didn't have a dance team. With a little pressure from friends, she decided to give cheerleading a shot and found it a natural fit.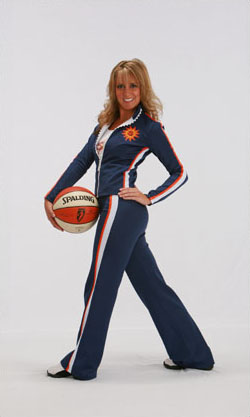 Bonchuk remained a cheerleader through college at Central Connecticut State University, and tried out for dance squads for every sports team she could in a state not known for its sports teams. She had stints on the Connecticut Sun's Solar Power Dance Team, the AHL Hartford Wolfpack Cheer Squad and the Mohegan Wolves Arena Football Dance Team before trying out for the Patriots' squad.
"My first (professional NFL) game was when I stepped on field on Gillette Stadium," Bonchuk says. "I don't think I'll ever forget that feeling."
Performing in front of 70,000 fans is the best part of the job, she says.
"Before every game we stand in the tunnel, and I think it's just as exhilarating and as much as a rush for us as it is for (the players), getting pumped up for the game," Bonchuk notes.
They also get to watch just about every play.
"We get into it," she adds. "You'd be surprised, even during practice and after we're e-mailing and texting each other… we're the biggest Pats fans."
People are also surprised to learn Bonchuk has a master's degree and a career. But to those who assume cheerleaders are less than intelligent, Bonchuk says the majority of her teammates are in college or are college-educated.
"Anyone who has that sterotype hasn't met a cheerleader before or has based their opinion on one experience," she says.
Being part of the team does mean cheerleaders find themselves scantily clad, in photos and videos on the team website and calendar, but Bonchuk believes the photos are "very tasteful" and says the team "makes sure everybody feels comfortable."
And on the field, Bonchuk says the cheerleaders are "bundled up just as much as every other fan." They wear layers, and have hand and feet warmers and are standing and dancing the entire game to keep warm.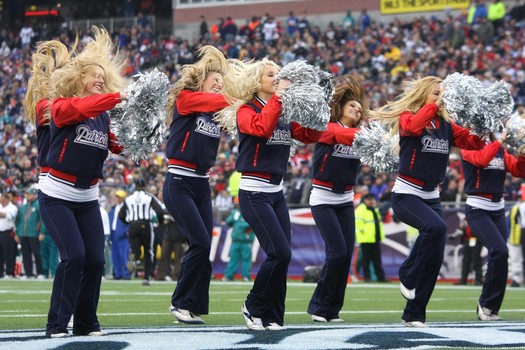 Between games, she's also gotten the chance to reach out to the community and has traveled overseas to eight different countries to entertain and support U.S. troops.
After the Pro Bowl, Bonchuk hopes to work full-time and pursue coaching opportunities along with a doctoral degree.
"(Dancing) has helped me in feeling out who I am as a person, being versatile in my life, and finding a balance between my passion for my career and dance," she says. "After 10 years dancing professionally, it's nice to have an ending I can feel good about."