M.B. Tuccio, Contributing Writer
Greenwich Time
January 23, 2011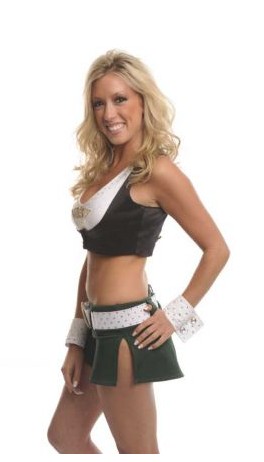 RIDGEFIELD — Lauren Zavarella didn't buy tickets to Sunday's AFC championship game in Pittsburgh, but she'll still have a great view of the action.
And it won't be from a TV screen, either — it will be straight from Heinz Field — because Zavarella is a New York Jets cheerleader.
A professional dancer who lives in Ridgefield, Zavarella applied for the position through the Jets' website. She then went through a rigorous audition process to prove she has what it takes.
At this point in her life — Zavarella is 25 — she said it's a dream job.
Zavarella didn't start out looking for work as a cheerleader, but rather, for a position in which she could use her skills as a dancer. Knowing she wasn't too far from New York City, she included that area in her search.
"I just went online and started looking at different options that they had for professional dancers in New York, and I ended up on the Jets' website," she said. "I decided to fill out the application and take the risk, and luckily I made it. That was back in 2009."
While it sounds like a simple story with a happy ending, the audition was quite involved. To become a cheerleader for a franchise in the NFL is no easy gig. The two-week process begins with a large group of applicants. The numbers are thinned through open calls, call backs, and eventually, the finals.
After dancing and practicing given choreography in the preliminaries, the call backs involve a sit-down interview.
"They want to find out about who you are and see if you have the personality," Zavarella said.
"With only about 35 girls on the team, it's tough. This past year we started out with about 300 girls, so you definitely have to do the best you can."
Not only that, Zavarella said, cheerleaders who want to stay on the team must audition each year.
Zavarella's friends and family were extremely supportive as she went through the audition process.
"They knew from before I auditioned. I told them that I was going to go. They were always telling me I was going to do great," Zavarella said. "They couldn't wait to come to a game and see me."
While it seems jocks and cheerleaders are always together in high school, Zavarella said that's not true in the NFL.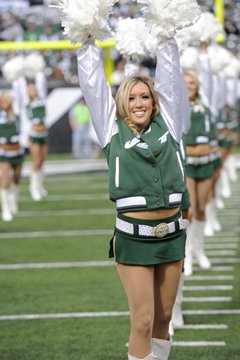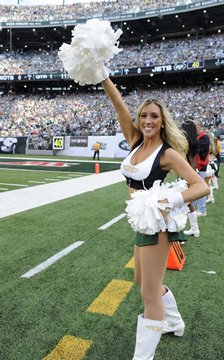 "We really don't ever see the players much," she said. "Our locker rooms are on a separate side of the stadium than theirs. For practices, we practice at night.
"Most of the time when we get there, the players have already practiced. Our paths never really cross much, even outside of working and being at the game."
After cheerleading, Zavarella plans to teach dance, as she does now at the Academy of Dance Arts in Brookfield. She is also an instructor at The Gymnastic Spectrum in Danbury, which she enjoys very much.
"Of course, I'd love to get married one day and have kids of my own, and teach them as well," she said.
Zavarella is a popular instructor at the Academy of Dance Arts, where she teaches everything from ballet and jazz to hip-hop. Doreen Rafferty, director of the academy, said kids are drawn to Zavarella's "warm and bubbly" personality.
"Everyone here is very proud of her," Rafferty said, of Zavarella's position as a cheerleader. "We record the games if we are not going to be around, just so we can see Miss Lauren."
For now, Zavarella loves cheering for the J-E-T-S, Jets! Jets! Jets!
"I'm definitely living in the moment," she said. "I know this is a time of my life that I'll always look back on. I can picture myself being like a 50-year-old woman saying, `Back when I was in my 20s, I used to be a Jets cheerleader.'"