By Heather Svokos
DFW.com
Tuesday, Feb. 01, 2011
Here we are, in the homeland of the Dallas Cowboys Cheerleaders, about to wage a Super Bowl battle … without the aid of cheerleaders.
Seems like some kind of cruel, cosmic joke, right?
But the Packers and the Steelers are among six of the NFL's 32 teams that don't have official cheerleaders. (The others: the Chicago Bears, Cleveland Browns, Detroit Lions and New York Giants. For the record, the Packers do have a non-pro cheer squad, courtesy of St. Norbert College and University of Wisconsin-Green Bay — but they're not generally invited to road games, and they weren't invited to this year's Super Bowl.)
As a native Pittsburgher, this revelation got me to thinking: Why no cheerleaders?
I dismissed the cold-weather-state rationale once I learned that the Minnesota Vikings have cheerleaders. (Brrrr, ladies!)
So, is it because the city of my birth is some hidden bastion of feminism? (Sorry, I fell off my chair laughing.)
More likely is the blue-collar factor: A fancy city like Dallas may have embraced the razzle-dazzle, but towns like Pittsburgh, Green Bay and Milwaukee have a no-nonsense reputation. It's all about the ugly, bone-crunching football. My friend and fellow 'Burgher Leslie Rubinkowski validated my theory: "It's the yinzer ethic — the cheering happens after you win the game. Before that, you kick ass."
(For you non-Terrible Towel-wavers: "Yinzer" is a nickname for someone from Pittsburgh, derived from our regional colloquialism "yinz." As in: "Yinz ready to order?" It's like "y'all," minus the charm.)
But I still wanted to find out a little more, and my mission for answers took me on a little history quest — directly to a woman named Dianne Feazell Rossini, who was, in fact, a cheerleader for the Steelers in 1963. So they did once have a squad, aptly namely the Steelerettes. Rossini now lives and works in Uniontown, Pa. — the town where I grew up — and runs a website dedicated to the story of the Steelerettes (www.steelerettes.com).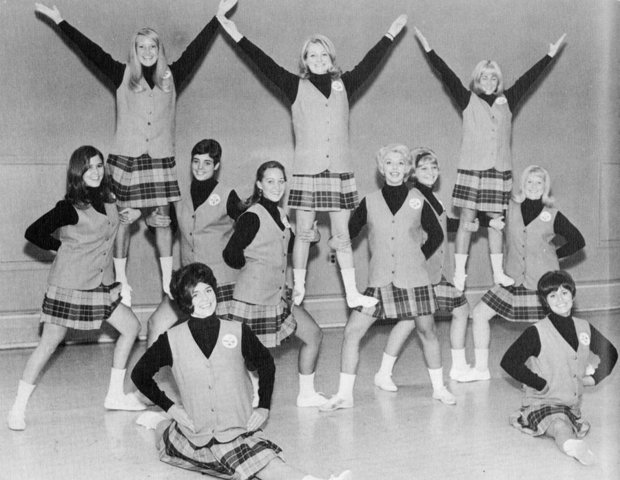 As I plumbed for insights from her, we struck up a delightful correspondence.
We're used to today's pro sports cheerleaders — Cowboys Cheerleaders, Laker Girls — being industries and brands unto themselves, but back in the early '60s, when the Steelerettes first formed, they were recruited from nearby schools. The Steelerettes came from Robert Morris Junior College. A look at Rossini's website shows that the first squad, in 1961, wore hard hats and gold suspendered jumpers with skirts that hit below the knee.
Not exactly va-va-va-voom attire. But at the time, the notion of cheerleaders was revolutionary — and so not welcome by the team's conservative owner, Art Rooney, known as "the Chief."
"According to the Chief, women didn't belong on a football field — period!" Rossini told me.
The demise of the Steelerettes came in 1969, when the squad's captain approached Rooney and asked if they could update their outmoded look. His response was to have them fired, according to a 2007 story in the Pittsburgh Post-Gazette.
"The older I get, the more I agree with the Chief," Rossini says. "For a long time I wished the Steelerettes had continued on to the glory days of the '70s. How exciting that would have been. My thoughts now are that most people pay to see a football game — not ogle a bunch of girls. I don't think they really add anything to the game, except maybe provide something to watch when your team is losing badly."
That said, she's part of a sorority, and she has warm feelings about her sisters from then and now.
"By the time the Dallas Cowboys Cheerleaders were born [in 1972], times had changed and their uniforms were no longer considered shocking," she notes. "We had to beg, cry and cajole to get the front office to allow our skirts to be above our knees. Two totally different eras. I am very proud to have been a Steelerette, and we all agree it's kind of nice to belong to this exclusive club. We are all there was and all there will ever be."
Rossini thinks as long as the Rooney family has the reins, the Steelers will stay cheerleaderless. She paraphrased Art Rooney's son Dan: "The Steelers have the best and most football-savvy fans in the world, and they don't need anyone telling them when to cheer."
Sure, you could argue that cheerleaders enhance a franchise and boost a city's commerce — and you'd be right. But at this moment in American history, when life is still rocky for so many, it's a tribute to the scrappy places like Pittsburgh and Green Bay when a tough-minded, no-frills approach can produce a real winner.
Another silver lining in this cheerleaderless Super Bowl: It led me to discover a dusty but lovely piece in the patchwork of my hometown heritage. And though I haven't been an ardent football fan for decades, Dianne Rossini's tale stirred my latent Steeler pride.
Are yinz ready for some football?