By Brett Hart
Dunn County News
February 2, 2011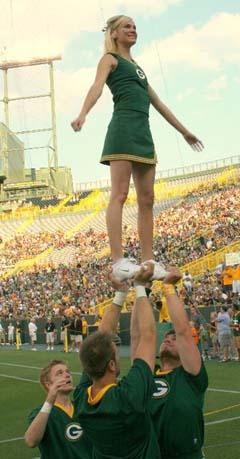 Just six teams in the National Football League compete each week without the support of professional cheerleaders. Two of those teams — the Green Bay Packers and Pittsburgh Steelers — will be facing off Sunday in Super Bowl XLV. Ironically, the league's most anticipated and most prestigious game will take place at Cowboys Stadium in Arlington, Texas, home of the most recognized NFL professional cheerleading squad.
Sunday's showdown will be the first time in the Super Bowl's 45 years that no cheerleaders will be taking to the sidelines. One of those cheerleaders not making the trip is 2010 Colfax High graduate Heather Smith, whose UW-Green Bay cheer squad doubles as the Packers' official cheerleaders, although they are not employed by the team.
Thankful, honored
"That's perfectly fine with us," said Smith after being asked how she felt about being excluded from the nation's biggest sporting event. "We have had the opportunity to cheer for them at every home game, and no matter where we are or what were are doing, we will continue to support the 'Pack.' We are very fortunate, being a college cheer team, to have the opportunity to cheer for an NFL team, and for that, I am so thankful and honored. I know that the Packers will go out and fight to bring the Super Bowl title back to Titletown USA!"
The last time the two teams met was Dec. 20, 2009, in Pittsburgh, game that ended in a 37-36 victory for the defending Super Bowl champion Steelers on a Ben Roethlisberger touchdown pass to Mike Wallace as time expired. For many, the expectations are for a similar game this time between two of the league's most accomplished teams.
This is the Steelers' eighth trip to Super Bowl, winning six of their first seven appearances. Green Bay was in the first two Super Bowls ever and are 3-for-4 in the title games race.
Beyond imagination
Smith has found her inaugural season as a collegiate cheerleader to be an eventful learning experience.
"I have learned to be more confident in myself," said Smith. "When you're out there in front of thousands of people, you really have to trust yourself and be confident that you will succeed… I'm doing stuff in college cheerleading that I never would have pictured myself ever doing.
"Believe it or not, cheer has taught me how to manage my time more wisely," Smith noted. "Cheerleading in college is huge responsibility, and it is up to you to balance homework, classes, work, a social life and cheerleading. That can be rather complicating, but in the end, it makes you grow as a person."
She added, "I have learned to have a great deal more respect for cheerleaders everywhere. The amount of time, we put into what we do is ridiculous, but so worth it in the end."
So, although she won't be joining her second team in Texas, Smith said, "I am still in love with cheerleading… Cheering for the Packers this year has been amazing. I never imagined when I made the squad this past year that the Packers would make it all the way and that just made it 10 times more exciting.
"The Packers are an amazing team and deserve their place at the Super Bowl," Smith continued. "Now I'm proud to say that in the future, I can be like, 'Yeah, I cheered for the Packers the year they went to Super Bowl 45!"