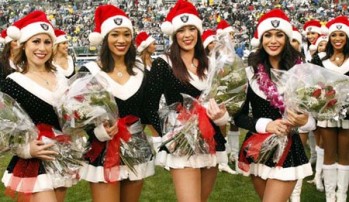 The 2011 Raiderette auditions and prep class are set for April.
The audition prep class to prepare candidates for the upcoming Raiderette auditions will be offered in Oakland on Saturday, April 2, 2011 with check-in beginning at 8:00 AM.
The dance and audition prep class will be held at the Ira Jinkins Recreational Center in Oakland from 9:00 AM-12:00 PM. The cost for the class is $40.00 if pre-registered by March 24, 2011 or $45.00 for walk-in registration (cash only).
The Oakland Raiders are searching for enthusiastic and talented candidates to serve as Raiderettes for the 2011 season. Preliminary auditions will be held on April 10, 2011 at the Hilton Oakland Airport Hotel. Check-in will begin at 8:00 AM., with interviews immediately following.
There is no dance audition at the preliminary auditions. Suggested attire includes daytime dresses, skirts or shorts, with appropriate hairstyle and makeup. Finalists will be announced at the end of the event.
Rehearsals for the dance routine will be held on Tuesday, April 12, 2011 and Thursday, April 14, 2011 from 7:00-9:00 PM. The final audition will be held on April 17, 2011. Auditions and rehearsals are closed to the general public.
Eligible candidates must be at least 18 years old by the date of the preliminary audition; available to attend all home games;rehearsals on Tuesday and Thursday evenings from 7-9:30 PM (beginning in late April); rehearsals Saturday mornings from 7:30-10:30 AM; special public relations, charity and performance events; and a full day mini-camp on Saturday, May 7, 2011.
Candidates may not cheer for both the Raiders and another professional or college team. Pre-registration is strongly advised for participation in the audition process. The advance fee to register is $20.00 and the deadline is March 31, 2011. Walk-ins are welcome on April 10, 2011 and the fee is $25.00 (cash only).
For more information log on to www.raiders.com/raiderettes.