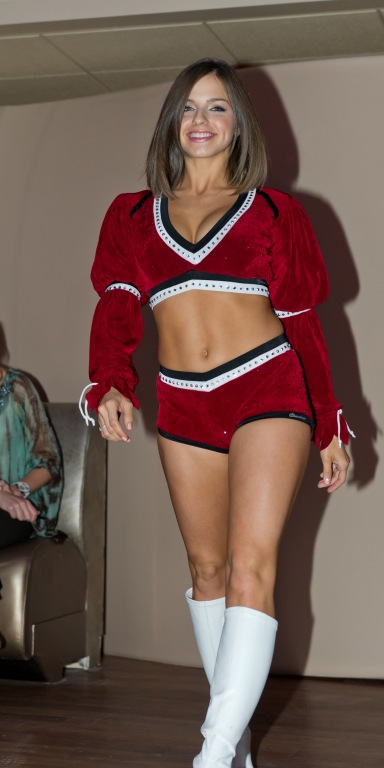 Recently, we reported on pro cheer/dance designers Satin Stitches new Breast Cancer Awareness styles and fundraiser.  The styles were first shown at the Fashion Show held last month at the NFL Cheerleader Directors Convention in Miami. Two photographers were there from the Miami Dolphins to shoot the fashion show, and Deborah Nelson of Satin Stitches provided photos of some of the styles that were shown to the attendees, as modeled by a dozen of the Dolphins Cheerleaders.

I think this event should hit the airwaves (or whatever mode of television reception is applicable). Don't you think broadcasting the fashion show is better than anything on NFL Network these days? Here are some pics plus some information about the fashion show and Satin Stitches.

The Fashion Show for the NFL Cheerleader Directors Convention was held on February 22, 2011 at the Miami Dolphins' Sun Life Stadium, in their new LIV Club. The Miami Dolphin Cheerleaders hosted the event. Emily Newton (Dolphins' Cheerleading Director) and her staff produced the show, complete with club music and twelve Dolphin Cheerleaders serving as models. With approximately twenty NFL Directors in attendance, each vendor at the convention, presented their latest styles.

Satin Stitches presented a variety of newly, custom-designed dance and cheerleading styles. As with any high-fashion show, fashions should tell the story of what a company is all about, showing simple and elaborate renditions of their new ideas.



Satin Stitches is unique, as they are strictly a custom-design manufacturer of performance apparel who have been in business for over 33 years, based in Minneapolis. Quality design, fit and workmanship is what sets Satin Stitches apart. Satin Stitches is unique, in the cheerleading uniform manufacturing business, with two professional fashion designers on their staff – working directly with their clientele.

They believe that performance costume design is very 3-dimentional and that for the best results, it is important to have a designers' eye when putting together team uniforms. All designs are a collaboration between the client and Satin Stitches, with Satin Stitches providing the designers' eye and expertise to fine tune any ideas that are presented.

Their attention to fit is also very important, demonstrated by the huge range of sizes that are available from Satin Stitches. ALL styles are available in Child and Adult Sizes, and all come in Short, Medium and Long lengths. All bra-tops can be ordered to accommodate D, DD or larger cup sizes. Deborah Nelson, Head Designer/Founder, and Michael Arthurs, Designer/CAD Patternmaker, are the Satin Stitches design team. All of the Satin Stitches' styles presented during the fashion show were Deborah and Michael's collaboration.

A full range of styles were shown, ranging from Satin Stitches' 6 mix-n-match Breast Cancer Awareness ensembles, to couture-quality solo, performance dance costumes. The remaining styles were suggestions for new professional cheerleading looks, ranging from a female version of the football uniform to very sexy/sassy 'girlie' looks.

Are NFL cheerleaders expected to order one of these fashions for their squad? No. But hopefully, they will be inspired by Satin Stitches' creativity, as shown through their silhouettes, fabrications and high-fashion touches.