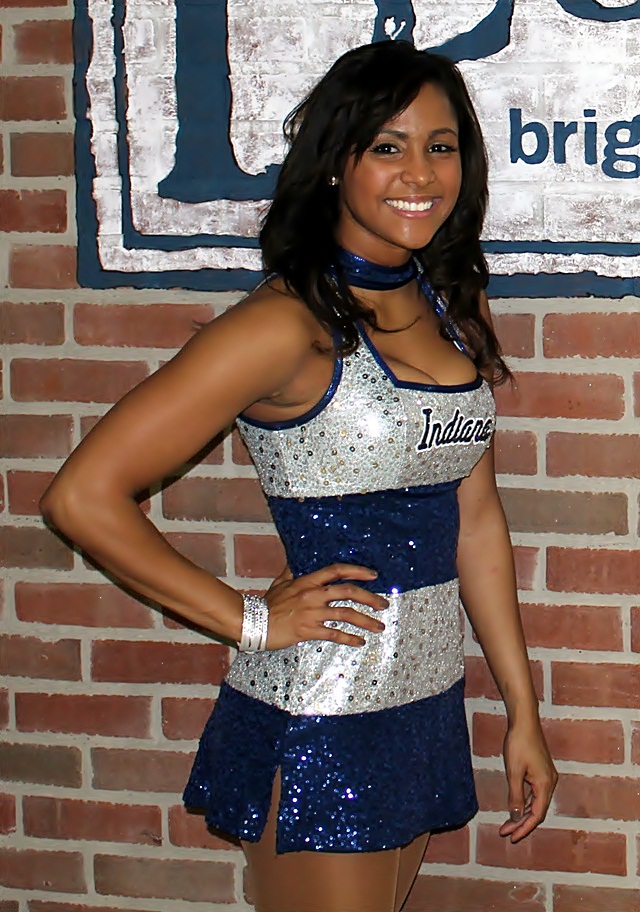 It takes a quite a bit of drive to become an NBA dancer. How much? About 41,000 miles. Last season, that is how many miles Shea of the Indiana Pacemates put on her new car, driving to and fro, cheering for the Indianapolis-based Pacers while still living in Ohio. See, Indianapolis is not exactly a couple miles from Ohio, so being a Pacemate from the Buckeye State not only meant extreme dedication, but miles and miles of, well, not exactly the most scenically scintillating drives one will ever encounter.
But her drive and dedication definitely paid off for both Shea and Indiana's sports fans. As a rookie Pacemate, the broadcast journalism grad and PR grad student was also prominently visible as a Pacer game emcee, and this lead Shea to fill the same role for baseball's Indianapolis Indians, the Triple-A affiliate of the Pittsburgh Pirates.
Now in her second season as both a Pacemate and Indians emcee, Shea is like the Bo Jackson of game entertainment (could have said "the Michael Jordan," but, sorry MJ, Shea is better in her baseball role than you were). How does a dancer from Ohio decide to try-out for the Pacemates, then become an NBA game host during her rookie season, which then turns into a baseball gig?  Shea shared with UltimateCheerleaders.com the steps in her journey, so far.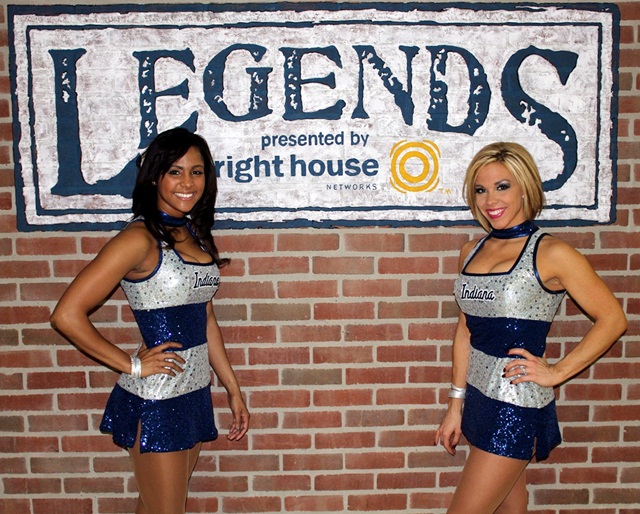 Shea is originally from Memphis, where she lived until she was 15. Memphis provided a foundation for Shea's love of both dance and basketball. Shea recalls, "My parents started me in dance class at the age of three. Every Saturday morning I would take tap, jazz, and ballet, followed with a Happy Meal from McDonald's and some time in the play area. I remember my mom and dad asking me after practice every week where I wanted to go, and it never failed, the answer was always McDonald's. I was never a fan of ballet, too serious and boring for me, but I loved tap and the noise I could make with my feet. I love dance. Everywhere we went, and I do mean EVERYWHERE, I would practice the steps I learned that week. My mom's favorite phrase to say to me in the grocery store, while getting me dressed, or in the mall, was always, 'Shea, there is a time and a place.' She eventually gave up and just let me practice."
Of her first dance performances in Memphis, Shea remembers, "The one thing that stands out to me the most about any performance I have ever had, is my mom yelling, "SHAKE IT SHEA!" at the top of her lungs. I have to come to expect it and I giggle a little when I hear it."
Dance has become such a love for Shea that she has a dream of opening a free dance studio for underprivileged children who maintain good grades. What does Shea think dance adds uniquely to young lives that can lead to future success? "Dance to me gave me something that no one could ever take away," Shea responds, "There is this rush that happens every time I step out on that stage, field, or court. It's the desire to learn the next routine or next step, and perfect it, and then throw a little of my 'flava' onto it. I think the number one thing kids are told when they are younger is that they can be and do anything they want, and around age 12, it's like we stop telling them that and to think more 'realistically' and that everyone can't be the next Oprah, Kobe Bryant or Tom Cruise. Dance is the only sport that one can be anything they want. It's a world of make-believe through performance that can transform a child to be the next James Brown, Usher, Debbie Allen or Michael Jackson. To give that to a child, and watch them grow through dance and love every minute of it is something immeasurable."
Memphis also provided Shea a fanaticism for hoops. Shea says, "I love basketball. Memphis is such a basketball city (Shea interjects a 'GO TIGERS!'). I played as a young child, but always seemed to stare over at the cheerleaders. Let's just say dance and cheer is my better sport."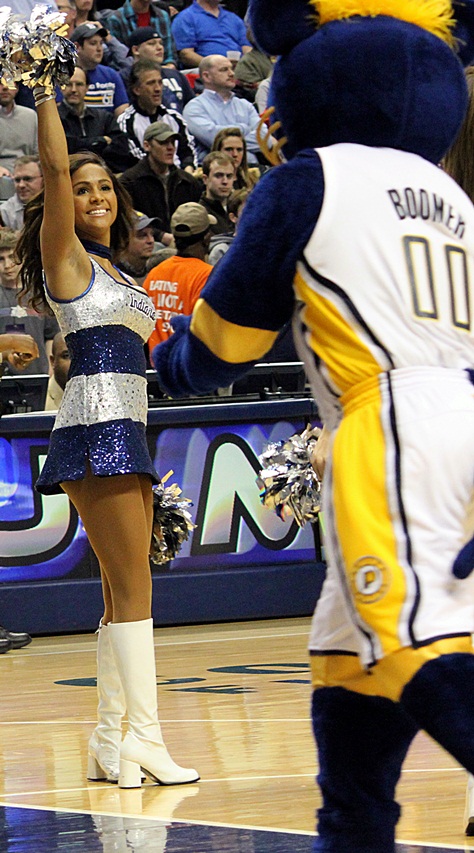 So there is no taking the Memphis out of Shea and her family. Even her little brother's beagle is named "Memphis" (after all, he ain't nothin' but a hound dog). When asked to fill in the blank, "What Indianapolis needs is ____ just like Memphis," Shea immediately responds, "BARBEQUE! The North's version of barbeque is everything that it is not. Neely's and Interstate are the best places to get a taste of what real barbeque should taste like. I also hate when people refer to a 'cookout' as chicken and hamburgers. Chicken and hamburgers are a small piece of a cookout. A cookout in Memphis includes hamburgers, ribs, cole slaw, potato salad, smoked sausages, good music, and maybe some pig's feet." (insert Homer Simpson-ish drooling here)
But Shea's Memphis life was uprooted when she learned her family was moving to Ohio when she was 15. Shea recounts, "I remember hearing the news like it was yesterday. A few months earlier I had just lost my granddad to cancer, and at the time was in a relationship that I thought would last 'forever.' I hated my dad, and couldn't believe he would consider moving me from my family and friends. I left behind aunts, uncles, cousins and friends that I knew since I was little. The hardest times were the holidays. I was so used to getting dressed to go eat at my aunt's house, or being able to visit them when I wanted to. It was hard to transition to another state knowing no one but the people I lived with."
In addition to missing her Memphis extended family, the change was also compounded by a very different cultural atmosphere for Shea to adjust to. "To top it all off, I moved to a new state and was completely out of my comfort zone," Shea explains, "Memphis is a diverse city. I had always attended schools that were 50/50 race-wise, and my new school was 95% white and 5% minority. I cried every day. I just didn't feel comfortable. I remember my second day of school seeing the rebel flag on the outside of a boy's planner. In Memphis, this was grounds for a fight, but I remember telling one of my black friends about the flag, and he had no clue why it was such a big deal. It wasn't until after making the cheerleading squad my junior year that I started to open up and accept my new environment. If I could give advice to anyone who is new in a school it would be to be yourself and be open to change."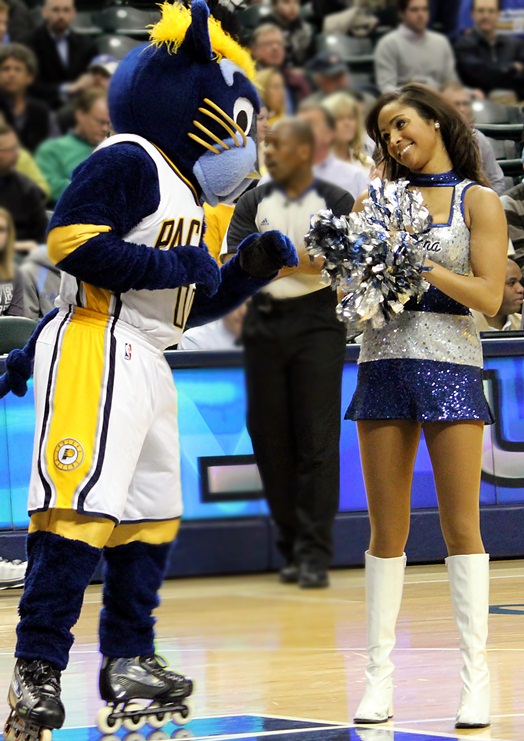 But dance and cheerleading lead Shea to new connections in Ohio. In high school, Shea was a varsity cheerleader and captain, while also dancing for a nationally ranked hip hop team. Shea decided to cheer in college, once again as captain, at Bowling Green State University. Throughout college, she was a part of the Universal Cheerleaders Association (UCA) teaching camps in Ohio and Indiana. Shea also earned many national champion titles throughout her career as a youth and high school hip hop coach while in college.
Once Shea graduated from Bowling Green with her undergraduate degree in broadcast journalism, she was ready for new challenges. Shea recalls, "I was living at home in Ohio with my parents when I decided to try-out for the Pacemates. I always knew I wanted to dance professionally, just wasn't sure where. I had looked into grad school at Ball State (in Muncie, Indiana), and knew from visiting for undergrad that I loved the campus and the programs they offered, and the Indiana Pacers were perfect. I honestly did not think I would make it. I remember texting my mom after every cut almost in disbelief that they wanted me. I remember them calling my name like it was yesterday. I was the first rookie called on stage and as I stood behind the curtain, my heart stopped. It was almost like I forgot my name, and knew there was no way they were saying 'Shea, Number 41.' But they were, and I walked out on the stage in tears and cried again when my name was called."
Making the Pacemates squad was quite an accomplishment, but the real work and dedication were just starting for the Ohio resident. Initially as a rookie Pacemate, Shea "felt like a fish out of water when I first started practices. The first routine I learned was 'Back in Black,' and I remember trying to smile and not mess up too many times." In addition, Shea had to schedule the parts of her Ohio life to coincide with cheering for a team that was a state away in Indiana. Shea says about her rookie season, "Driving should have been my occupation. We have practices two days a week, and when season starts, usually at least one or two games a week. I would literally work from 9 to 2 or 4, depending upon if it's a game day or practice day, and that night drive back to Ohio, to turn around and work the next morning to have to drive back for practice or another game. Last year, I put 41,000 miles on my brand new car." That is the equivalent of over 16,000 dizzying laps around the Indianapolis Motor Speedway!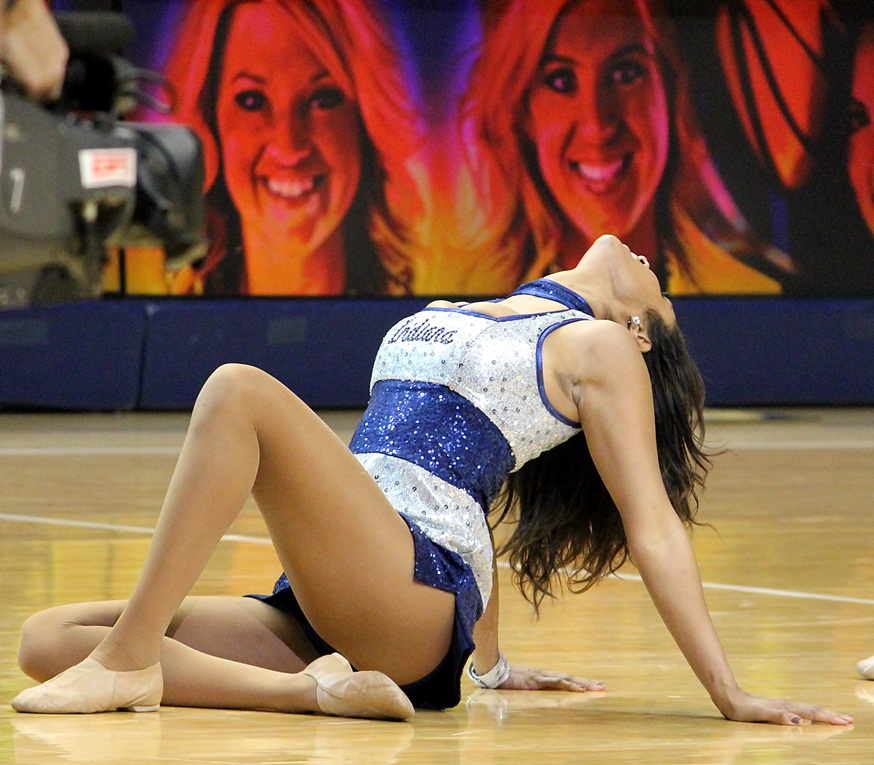 Which aspects of all of the years of both dancing and cheerleading did Shea utilize to become a successful NBA dancer? Shea says, "Being a pro cheerleader is a totally different ballpark, or in my case, court. Most of us have all been the best, or one of the best, dancers or cheerleaders on our teams, and when 15 or more of the best girls are combined on a team, it can either be a disaster or a masterpiece. I have been blessed to dance with a variety of girls that are all amazing in different ways. On a pro team, the material is sexier and taught at a faster pace. You pretty much always have to bring your 'A game,' or risk losing your spot or not dancing at the next games. I can say from my middle school teams, I brought respect for my coaches. My middle school coach and I fought all the time, and after having my co-captain title taken from me during my eighth grade year, I learned to shut up or put up. I learned patience from my high school teams and how to listen to others. I am a very outspoken person, but I learned from different experiences that sharing your opinion isn't always the best thing to do in every situation. I have taken all of these aspects into my career as a Pacemate."
For Shea, the extent that the Pacers organization utilizes the Pacemates on a game by game basis has exceeded her expectations. Shea states, "I have a lot of friends that dance professionally, and the one thing I have always wanted the Pacemates to do is a calendar, or go away for a photo shoot. When I looked at my other friends' calendars or the trips that they would take, it used to make me sad; until I found out how little they actually dance or are involved in the game experience. The Pacers organization truly loves their girls. A lot of my friends dance one time a game and during the fourth quarter are tucked into the game tunnels, to dance what we call bumpers (short routines that repeat until the timeout is over). The Pacemates dance two routines a game, help during timeouts, visit suites, dance on court before the game starts, participate in 'lights out' (introducing of the players), and dance on court during fourth quarter for bumpers. It always seems like the organization is looking for new ways to use us and make sure everyone knows us as a face of the organization, along with the players."
Shea's speaking ability and broadcasting experience were noticed soon after the she joined the Pacemates and this lead to her serving as game emcee during her rookie season. This role started, as Shea recalls, as "I was doing an appearance at our media day, which is when our players and coaches take pictures for the website, posters, and commercials for the upcoming season. I had been selected to be on a poster with Danny Granger to promote our 'Get Fit' program, when a radio station wanted to interview me. The gentleman in charge with our broadcasting overheard me, and told my coach he was interested in me trying out for the emcee position. I tried out at our next preseason game with the line, 'The Indianapolis Star presents the Bang the Drum Cam,' and after the game, my coach said they loved me and wanted me to emcee the rest of the season."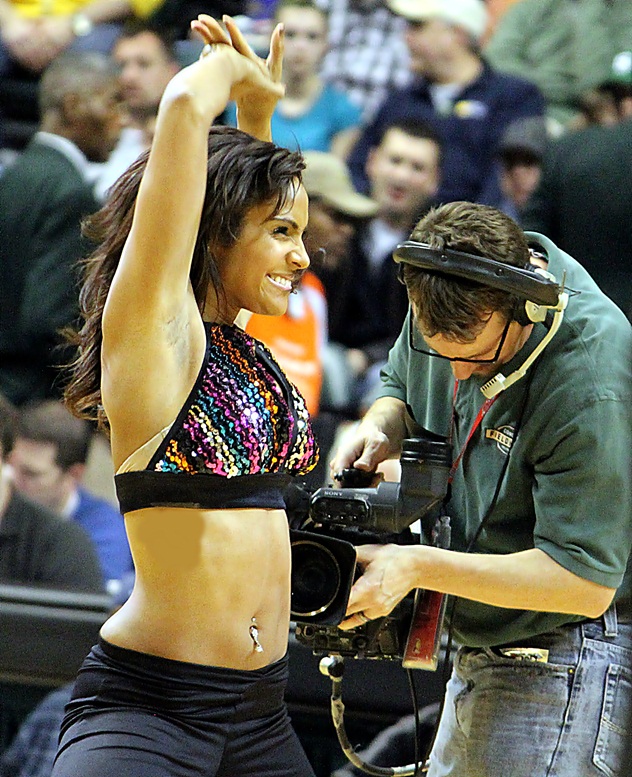 The next domino to fall was being noticed by the baseball scouts; Shea is just like "The Natural"! The journey to being emcee for the baseball's Indy Indians began when, "A gentleman by the name of Chris Marcum saw me at a Pacers game, and let me know about tryouts for the Indians. It was very beneficial to my resume and career experience to learn about a new sport."
So, dancing in front of thousands, speaking into a mike at big arenas and stadia; does anything ever make Shea nervous? Shea says, "The funny thing is, if you ask most of us to dance in front of five people, we couldn't do it. When I dance, I don't see thousands, I see blue and gold. There is nothing that really makes me nervous except tryouts. We have maybe 30 minutes to learn a routine and perform in groups of four. Performing solo or in small groups is enough to make me break out in hives."
Could Shea could be a triple threat and also sing the "Star Spangled Banner" before the game? Shea replies, "If anyone ever wanted me to sing, I would more than likely get locked away for cruel and unusual punishment for the rest of my life." It seems like the dancer who doubted she'd make the Pacemates is being a little too humble about her singing; come on Shea, bet you could show Christina Aguilera how it's done!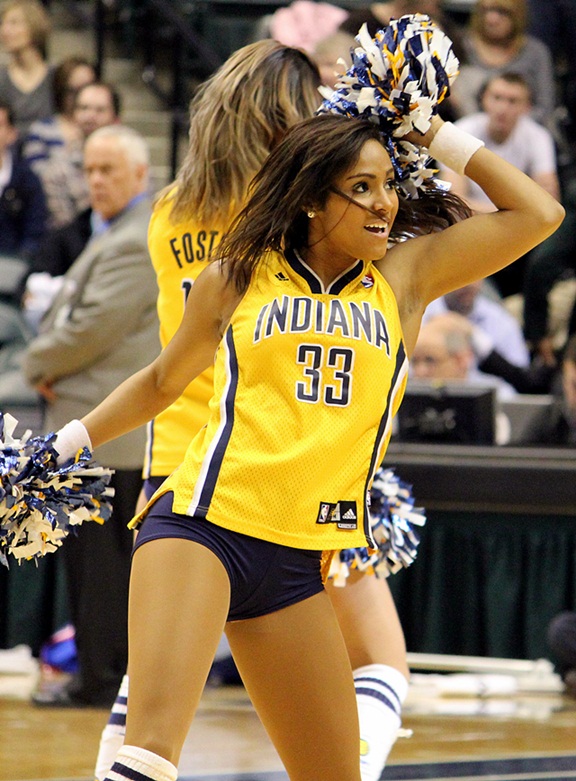 With Shea's degree in broadcast journalism and love of sports, what if she was given a daily sports talk show (perhaps titled "Shea's Stadium," "Shea's Lounge," or "Too Shea") on ESPN? What would be her "dream guest list" for her first week of five guests, and what question would Shea most like to ask each of the guests? Shea responds, "My first five guests would have to be 'Birdman' Chris Anderson, Coach Tony Dungy, Shaq, Lance Armstrong and Steve Nash. The one question I would ask each of them would be if they were told for one week they had to coach/participate on another sport of choice what would it be, why and what do they think their strengths and weaknesses would be?" How 'bout a theme song? "My theme song would be something along the lines of the intensity of the SportsCenter song along with something more feminine," Shea posits.
Being on the Pacemates, emceeing for the Indians; what else is on Shea's plate? "I currently teach at a dance studio, assistant manager at a clothing store, and am in grad school (majoring in Public Relations at Ball State)," Shea informs, "My future goals vary. I know I want to be in front of a camera and that can be in news, sports, or entertainment. I also love editing film and putting stories together. I am a super independent person but after I make my millions nothing will make me happier than to settle down with my dream guy and have beautiful children."
Grad school, Pacemates, the Indians, dance instructor, assistant manager at a clothing store; did Shea find a way to eliminate the need for sleep AND discover the secret formula for a 48 hour day? Shea says, "I find it funny when people ask how I do it all. I just say I make time. Give a person with lots of time on their hands a task and they will never get it done. Give a person with barely anytime a task and they make time. I've always been told a pretty face will get you anything, but to me, that's not good enough. I love proving people wrong and outsmarting them with an intelligent conversation because people really think all dancers and women in broadcasting are more pretty than bright, but we really are educated, passionate and driven. If I was given the choice to sleep or be the best woman I could be, I would definitely choose to be the best. 'Snooze ya lose!'"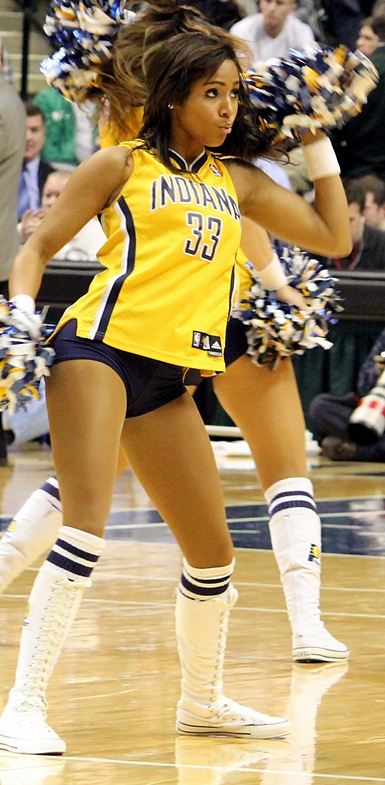 So her mom's original phrase, "Shea, there is a time and a place," remains apropos, but with Shea's own personalized spin. For Shea, there is ALWAYS "time," one just has to find it. And no matter what "place" she finds herself, whether geographically or the stage of her life, Shea adapts, finds solutions, and makes the most of her opportunities. As a result, Indianapolis sports fans get the benefit of witnessing Shea's journey to becoming the best woman she can be right before our eyes, and her version of "best" is pretty impressive.
We truly appreciate the wonderful opportunity to interview Shea, and find her journey, accomplishments, drive, and maximization of her time so inspiring!