2011-12 Checkmate Auditions begin August 14th at Extreme Ice Center in Indian Trail, N.C.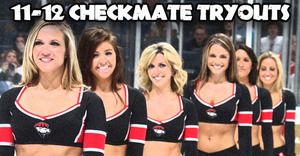 The Charlotte Checkers are looking for highly motivated candidates to become part of their interactive cheer team. Candidates should be at least 18 years of age, must commit to a full year of rehearsals, games, (including preseason and playoffs) and be prepared to support the Checkers in their second American Hockey League season!
The schedule is as follows:
Sunday, August 14th – Preliminary Auditions at Extreme Ice Center, Indian Trial, NC
Registrations at 11 a.m. auditions noon-5 p.m.
Those who advance past Sunday prelims will be asked to continue through "finals week."
MUST be available Monday, August 15th and Tuesday, August 16th from 7-10 p.m. for finalists rehearsals. MUST be available for a 30 minute business interview at Checkers main office (located in downtown Charlotte) on Monday (8/15) or Tuesday (8/16) afternoon. Final auditions will be held at XIC on Wednesday (8/17) from 6-8 p.m.
All candidates must arrive at auditions wearing midriff top and long, fitted dance pants. If you can ice skate please come with skates to showcase skating ability. If you are not yet a skater, please be prepared to learn skating techniques before the start of the Checkers season.
Please pre-register by sending your name and contact information to checkmates@gocheckers.com.
Come be part of the most exciting sports team in town!