Pro cheerleading can launch someone on a path from extremely shy child, refusing to dance on stage, to shooting off machine guns with the troops in Kosovo. This has been part of the journey of Gloria Esposito, now the Coach/Choreographer of the AFL's Adrenaline Rush Dancers, and a former NBA Luvabull and Adrenaline Rush Dancer herself. Cheer and dance have been so impactful, as Gloria says, "No one thought I would make (the squads) because they said I was shy, but I honestly think that because of the Luvabulls and the situations I had to deal with, I came out of my shell and am the person I am today." Recently, the Adrenaline Rush Dancers took time to reflect on their own history with a ten year reunion during the last regular season game of the Chicago Rush, and Gloria also took time out to share with UltimateCheerleaders her story of going from reluctant dancer to leading an entire squad.
Born and raised in the suburbs of Chicago, Gloria shares her last name with some notable Chicagoans, from news anchors to athletes, most noteworthy, the Chicago Blackhawks' legendary goalie Tony Esposito. "No, I am not related to anyone famous, although I could use it to my advantage if I was that type of person," Gloria shares, "Because everyone's first question is 'Are you related to Tony Esposito?' Nope, I am not, but my dad does have a signed hockey stick!"
Gloria's dance career started with, well, not really a start at all. "Well, believe it or not, I was EXTREMELY shy growing up," Gloria recalls. "I mean, we would visit family and I would hide behind my mom. She put me in dance class when I was six because my friend was doing it, and they thought it would help me. Well, it came to my first recital and everyone paid to come see me. I took one step out on stage, and turned around and would not go out there. So my mom said I could never do it again. Then in Junior High, I wanted to be on the pom squad for our junior football team in town, and she said no, the only way would be if my sister would do it with me. So I convinced her to do it and we did it for a few years. When I got into high school, I wanted to try out gymnastics did that for two years and found myself back on the pom squad my junior and senior year. I went to college and continued."
With the goal of making the NBA's Luvabulls one day, Gloria's first venture into pro dance was trying out for Chicago Condors dance team of the ABA basketball league. "Well, I tried out for the Condors because I wasn't 21 yet, and I knew the girls running it used to be on the Luvabulls so I thought I could use it as a networking experience," says Gloria. "One of the girls who made the Condors had tried out for the Luvabulls numerous times and didn't make it, so that made me double-think it, but I thought, nope, this is what I want. I am going to do it." The Condors ended up folding less than a year later, so the dancing for the Bulls was the obvious next step.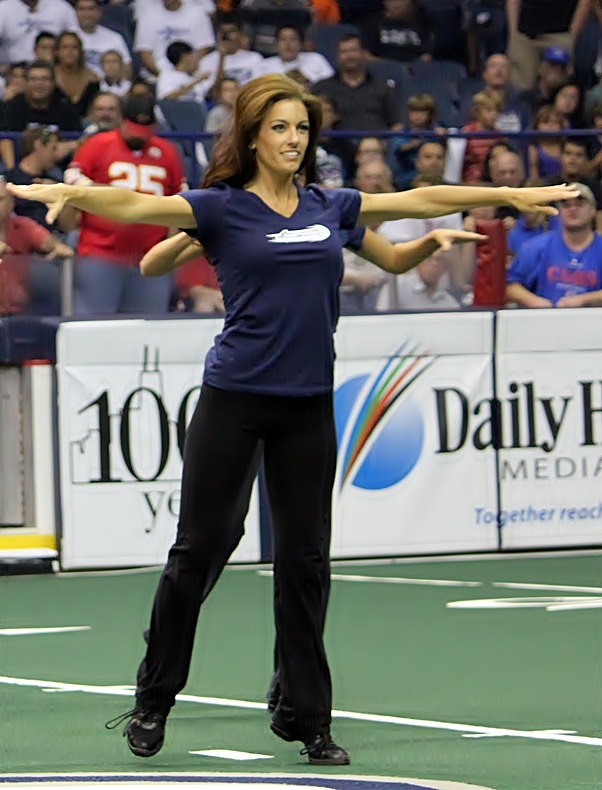 "I tried out for the Luvabulls because it was something I always wanted, and seeing them when the Bulls were winning made me want to do it even more," recalls Gloria. "So when tryouts came around, I signed up, and on the first day I was nervous, and I am not someone who gets nervous. I do remember being one of the first girls there that day, and meeting four of my future best friends that morning! None of us knew each other, or knew if we would make it, but we clicked. We went through the audition process, and on that last day, we saw the five of us standing there together, looking shocked that we all just made the new team! To this day we are all still friends!"

So how would Gloria, who was too nervous to perform as a little girl, react to being on the NBA sidelines? "The first time I stepped on that court was a pre-season game, and I will never forget the feeling I had," describes Gloria. "It was awesome; I am a Luvabull and will be dancing in front of a packed house. When our opening music started for the lineup, I got chills and cried. Good thing the lights were out! It never failed every game I heard that music, I got the chills!"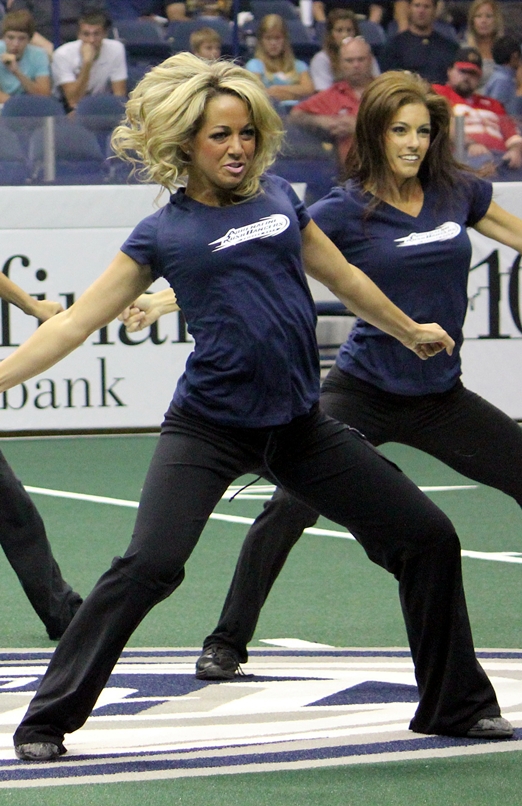 Gloria spent four seasons as one of the Luvabulls, and was a captain during her last two years, as well as a dance instructor for the junior dance team. This also provided the opportunity to travel overseas to Amsterdam for basketball tournaments. "Traveling to Amsterdam twice to dance at the Holland Basketball Tournament, that was an amazing experience and a lot of work," says Gloria. "In the end it was worth all the extra practices and long nights. Going overseas, we were treated like celebrities. Everyone was in such awe of us, it was crazy. I think on all trips, the traveling part with the girls was always interesting; you really get to know each other when you travel and have to deal with delays and mix-ups."
While still a member of the Luvabulls, Gloria auditioned for the Chicago Rush dance team during the team's 2001 first season. "During the Luvabull season, when the Rush came around, I did not decide to audition until the night before," Gloria recalls. "The two squads had the same director at the time, and I called her up and asked if I could still go, I didn't want her to think I was taking too much on because I had just taken on teaching the Junior Luvabulls, but it was something I wanted." Gloria's experience lead her to being captain in her second season with the Rush, and soon the head captain, in addition to being involved with the Adrenaline Rush Junior program, and doing choreography for both Adrenaline Rush dance team and their junior squad.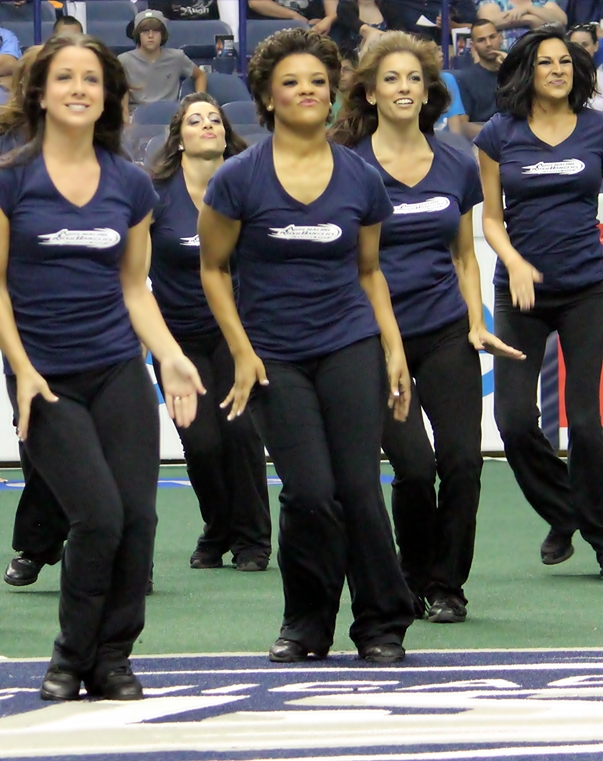 "For the Rush, there are two things that stick out," states Gloria about her memories during her AFL time on the sidelines. "One being when we played in the Arena Bowl and a group of us flew out to go to the game. It was such a great time and since I never experienced a championship with the Bulls; this was the next best thing! Second, after winning the Arena Bowl, we were the first AFL dance team chosen to perform for the Troops and we flew to Kosovo, at Camp Bondsteel. That was so amazing meeting all the troops and touring the bases, they were so grateful to have us there as well. We met some great people; we still talk to 'our guards.' In Kosovo, we saw the Black Madonna, and toured the base. We even partook in the training they went through. We shot off the machine guns and threw grenades that had the ammo taken out, but they were heavy! We ate in the mess hall with them and really got to experience what they go through. Gosh there was SO much we got to do, its hard to list it all out."
In addition, Gloria was selected for the All-Star Dance Team that performed at the ArenaBowl in Phoenix that year. In 2009, Gloria was named coach/choreographer of the Adrenaline Rush Dancers. On what prepared her for this leadership roll, Gloria says, "Well, in 2004 I was named the head captain and that was my first experience with choreography. Wynne Lacey had taken over as the Director and gave me the opportunity to help her with it, whereas previously we had a choreographer for the team. Wynne felt if we have more than one person doing (choreography), we could get more out of the team, and I definitely believe in that. So once I did one, I loved it and it continued to grow from there. I attended dance conventions to learn new styles and choreography, and in 2009 took over as the Director. I knew when I took over that I would stop performing and had to be ready for that. I miss it, but definitely get a different feeling watching the girls put my product out on the field. Each year is a learning experience, so it's hard to say what exactly prepared me for this role, because I coach differently this year than the year before, and next year I will grow with the girls and adapt to them using the knowledge of the previous year. This year though has been truly a great experience with the girls I have. Next year's auditions will be hard."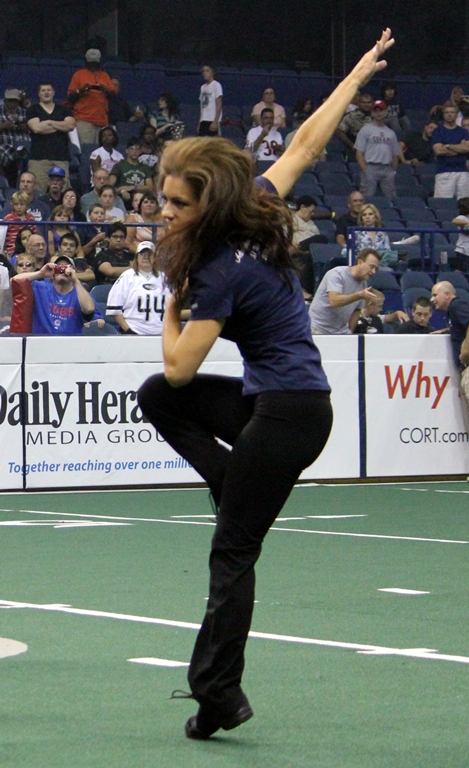 When asked what she bring uniquely to the Adrenaline Rush Dancers, Gloria answers, "I think the fact that I am an open book brings a lot to the team; they can ask me anything, talk to me about anything and know that I am there to listen or help. I let them know when we have to get down to business and when I will be hard on them, but for the most time we like to joke around and have fun. I want them to come to practice and use it as time to get away from everything else that might be hard for them at home, work, et cetera. As for choreography and music, I let the captains help me with some of the choreography and I will tweak it when needed. I think that will offer a variety of styles, and something I may be weaker in, they could have a stronger background in, so I am not going to with hold that from the team. Everyone on the team has something to offer, which is why they made the team, and we might as well use it, as it can only make us stronger of a team."
What experiences did Gloria take away from pro cheer/dance that she would like her dancers also to have? "Just to enjoy it, because you never know when it can be taken away from you," Gloria explains. "In 2008 at the end of the year, we had just chosen our 2009 team and then the league folded. I was SO heartbroken for the girls because I knew how much fun they would have had that season and to not get to experience that made me sad. Everything happens for a reason and when it came back, I was the first one on board to do it again because I was excited to have a team and help them grow and have fun performing."
On July 23rd, the current and former Adrenaline Rush Dancers returned to perform at halftime for a ten-year reunion, in which over 50 ARDs returned. "This ARD reunion was great! I received so many responses of girls wanting to come back, and getting the chance to dance together again on the field was a great opportunity," Gloria says. "So many emotions and feelings came back. Some girls have had kids, some haven't danced since the day they left, and some were currently pregnant out there dancing. Yet, we looked as though we had been practicing for weeks, and in reality, we had only three rehearsals and seven girls flew in and jumped into formation the day of the event. So that shows how excited they all were to perform again, they wanted to look good for our fans, family and friends."
Gloria's "day job" involves working in human resources for a local company. But besides running the Adrenaline Rush Dance program, Gloria dances with a group called "The Brooze Brothers," which performs throughout the Chicago area. "Well, I met Lance (Haack) when I was dancing on the Bulls; they were back in the day, 'The Bulls Brothers.' They had dancers, however, those girls were getting ready to move on, so he approached me and three other Rush girls and asked if we were interested in doing it. We watched old videos and it looked like a lot of fun. So we said 'Yes,' and I have been doing it for a long time now, and I am the last girl of the original four still doing it. I kind of coordinate the new girls whenever we have a new show come up. It's more fun than stressful, and great to perform with a live band every show."
All of the arena and indoor football teams in Chicago have cheerleaders, but those Monsters of the Midway remain cheerleader-less. Does Gloria think the Bears should have cheerleaders again? "Well this is something I would love to see," Gloria responds. "I mean what is a football team without cheerleaders?" So Gloria has performed and coached indoors with Bulls and Rush, but if called to develop an outdoor squad to cheer for the Bears, would she brave the frosty temps? "If the Bears ever wanted it, I would be interested in getting it going again and maybe running it. As for dancing I don't think I would want to wear a skimpy outfit in the cold. I HATE the cold weather and would love to move somewhere warm. I would coach for sure, because then I could wear a big puffy coat and stand under a heater!" Gloria laughs.
Gloria has been part of Chicago pro cheer and dance for over a decade, could she have imagined such an outcome when she first tried out? "I definitely did not think I would be doing what I am now," responds Gloria. "I am not sure how long it will last but I am very fortunate for having it last this long."
It seems like the fortunate ones are Bulls and Rush fans, years of junior dancers, and the current group of Adrenaline Rush Dancers, who have benefited from Gloria's talent and ability on and off the sidelines. She may have run off the stage once, but Gloria will not run away from challenges now, even if it would mean wearing thick coats in a stadium along Chicago's lakefront. Here's to more successful decades of dance for Gloria and the Adrenaline Rush Dancers. And we will feature interviews with the Adrenaline Rush Dancers in the coming days!
Special thanks to Gloria and Erin Herrmann, Media and Community Relations Coordinator for the Chicago Rush, for their time and assistance.