Here they are, the 5th, 6th, 7th, or 8th edition of the Pussycat Dolls. (I have completely lost track by now.) The new line up includes Laker Girl alum Vanessa Curry, and Dallas Cowboys Cheerleader alum Erica Jenkins.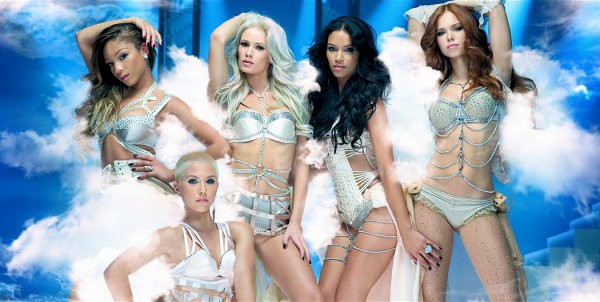 Back: Chrystina Sayers, Lauren Bennett, Vanessa Curry, Erica Jenkins
Front: Paula Van Oppen
FYI: the other three PCDs might look a little familiar to you too.
Chrystina was a member of "Girlicious," the girl group created as a result of the reality show "Pussycat Dolls Present: Girlicious." Girlicious was a sort of spin-off of "Pussycat Dolls Present: The Search For the Next Doll," which has its own pro-cheer connection. The winner, the one selected as "the next doll" was New York Knicks City Dancer Asia Nitollano. (She won, but never actually joined the group. The whole thing seemed kind of shady, but I digress.)
Lauren was a member of the "Paradiso Girls," the first PCD spinoff group created by Robin Antin, with one or two of the also-rans from "Search for the Next Doll."
Paula was a contestant on So You Think You Can Dance, season 6. She auditioned for season 5, but got cut. She auditioned for season 6, and made it to the top 20, but then dropped out to be in a movie ("Burlesque, " according to the grapevine.)
ou of which was "PussycatThe new PCD will make their big debut during the Super Bowl, in a commercial for GoDaddy.com. Watch it here: