Twenty years before Linsanity, the Knicks City Dancers took Madison Square Garden by storm. I should know—my aunt invented them.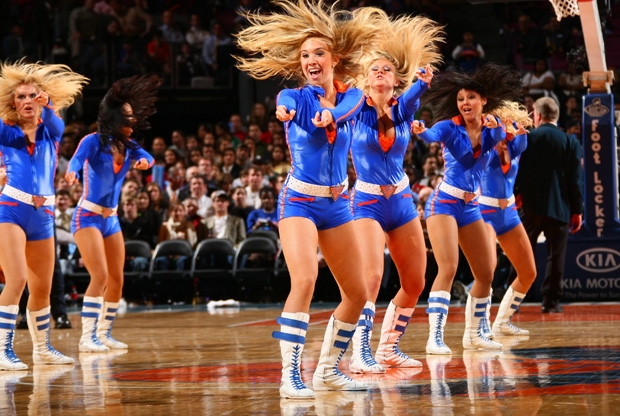 Your instinct at the end of the first quarter of a Knicks game might be to stand up and stretch your legs. But be warned: There's a good chance you'll be chided, with various degrees of politeness, to sit back down, because you're blocking the view of 20 lithe, leggy Knicks City Dancers shaking what their mamas gave them. On some nights, particularly before Carmelo Anthony and then Jeremy Lin came to town, they could be the most entertaining thing on the court.

Last Friday night, after the buzzer signaled the end of the first quarter against the New Orleans Hornets, the dancers stormed the court. The Knicks were down 27-13, an unpromising start to what would be their first loss since Linsanity took hold earlier this month, and Madison Square Garden was packed with fans who had come to see the Harvard-educated point guard. But for just a few minutes, all eyes were focused on the dancers as they performed a routine from their early days, part of their 20th anniversary celebration.

"My Aunt Pam created the Knicks City Dancers," I explained loudly, and unnecessarily, since all of my friends already know this. My standard game outfit resembles that of a headstrong, overgrown child: I sport a bedazzled Knicks hat adorned with playoff pins from 1993,'94, and '96, sized to the largest notch, and an early '90s Larry Johnson Hornets jersey, which formerly hung to my knees but these days is best described as slim-fitting, from before Johnson was traded to the Knicks in 1996 and the Hornets relocated from Charlotte, N.C., to New Orleans. It's a nod to my childhood fandom and the '90s Knicks, who, though I was only in single digits at the time, figure heavily into my early memories. That's because my mom's younger sister, Pamela Harris, joined the Knicks in 1991 as director of marketing. In addition to overseeing the development of the classic "Go NY Go" theme song—which asked fans the ever-important question, "Are you down with the orange and the blue?"—she spearheaded the creation of the Knicks City Dancers. In the process, my aunt facilitated one glorious, loosely interpreted "take your daughter to work day" during which I got to use the announcer's microphone and even dribble on the court.
Read the rest here.