Ta DA! They're here! The Line Up's new fashions for 2012!This is something I look forward to every year – seeing the new stuff, and predicting which items will be the hot outfit for the year's auditions. Click here to see what they've come up with for 2012! (They've also got loads more photos of the new designs, and other good stuff on their blog [click here] and on Facebook [click here].)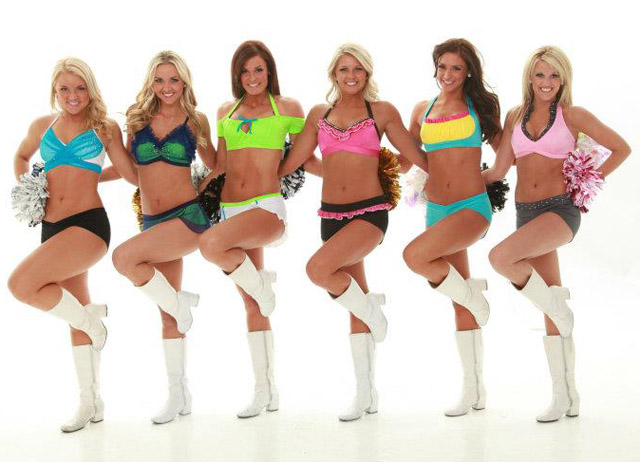 Every year, I try to predict the big seller. I'm usually wrong, but it's fun guessing. This time around, I'm betting it'll be one of these: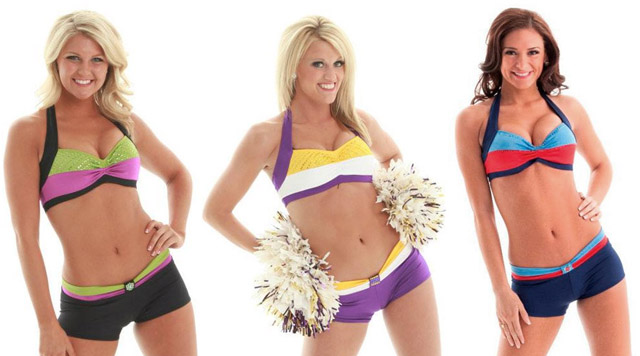 I think this is going to be The One.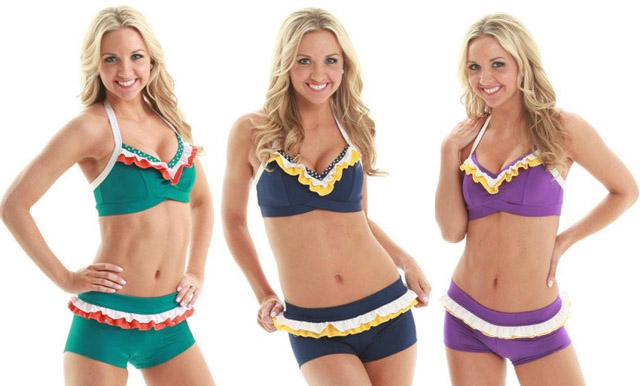 Personally, this is my favorite top. I like a ruffle here and there. Experience tells me however, that the anti-ruffle crowd majorly outnumbers those of us who are pro-ruffle.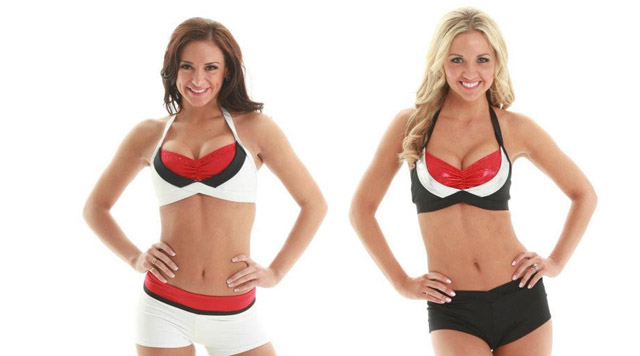 Cute, right? But if you've got audition plans this year, and none of these outfits float your boat, do not worry. Believe me when I say there are PLENTY of other options on The Line Up's website.
Every year, The Line Up has a couple of styles that catch on like wildfire, and I see them everywhere during audition season. When I first came across TLU, I figured this would be a problem. If everyone else and her mother gets her outfit from TLU, doesn't that make it more likely that you're going to show up at any given audition wearing the exact same outfit as someone else? As it turns out, that's not the case at all.
I probably look at more pro team audition photos than anyone else on the planet, and as popular as The Line Up's outfits are, I've rarely seen exact duplicates at the same audition. Because you can mix and match tops and bottoms, choose your own fabric and colors, and customize the crystals for every outfit, you don't see much duplication. In fact, now that I think about it, the only times I've seen the exact same outfit on two different girls at the same audition, were when (1) they both bought the outfit exactly as it appears on the Line Up's website or (2) they bought the outfit in the team's colors. So there's a tip for you. Customize!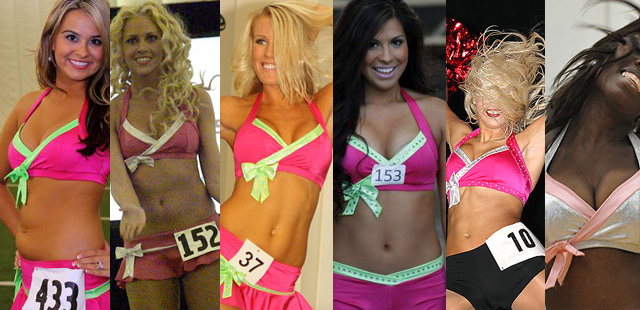 This is what I'm talking about. The photo of the outfit on the website is pink. So everyone bought it in pink, and see what happened.
Here are some of the other popular choices from 2011 (Although, just between you and me, I wouldn't be surprised if a few of these are knockoffs. Ahem. The sincerest form of flattery, and all that.)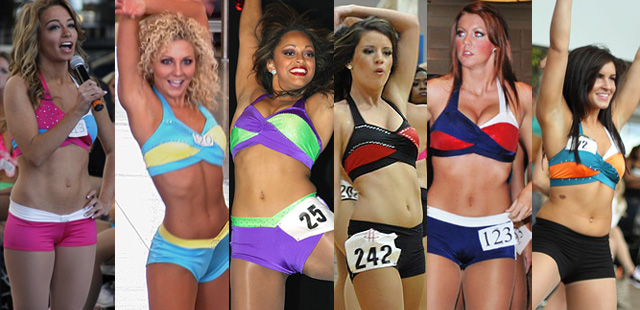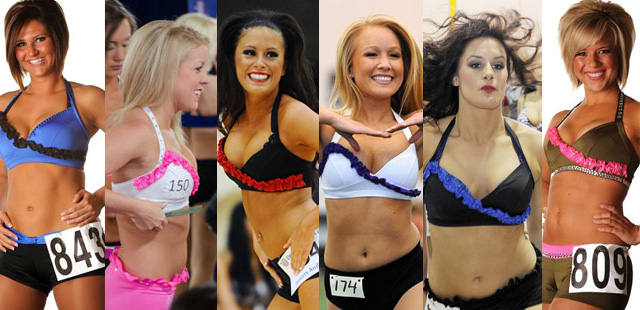 809 had the right idea. What are the chances that anyone else would come up with that combination of colors? Heck, I don't even know what color that is. What is that? Brown? Olive green?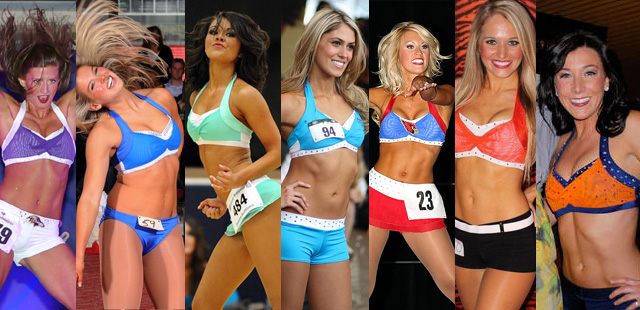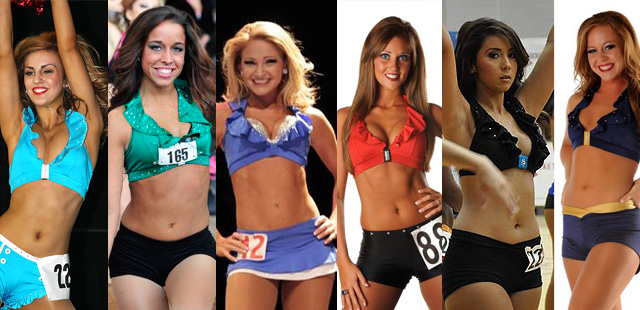 These three X-front styles were insanely popular last year: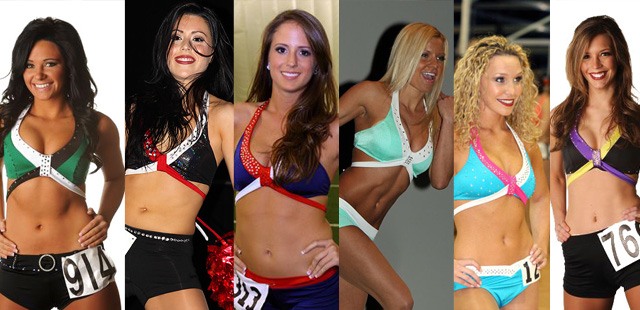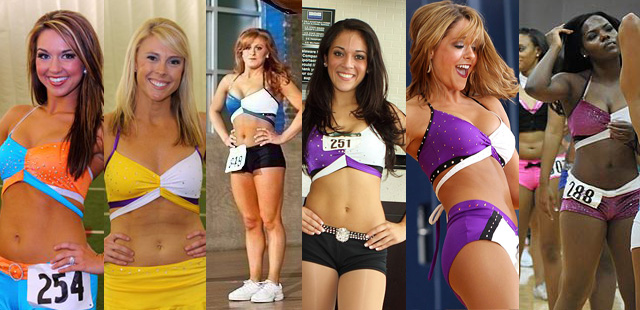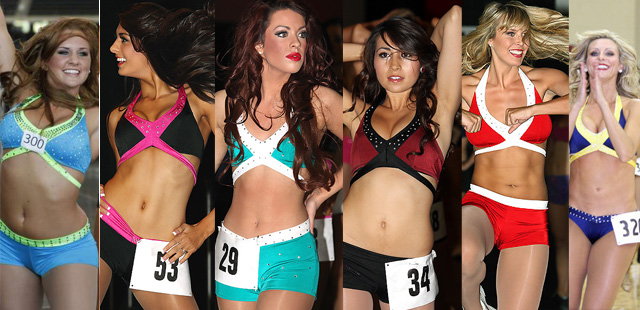 I expect they'll do really well this year, too.
Now I've shown you where to find the good stuff. So get out of here pick out your outfit. And for pete's sake, be creative!