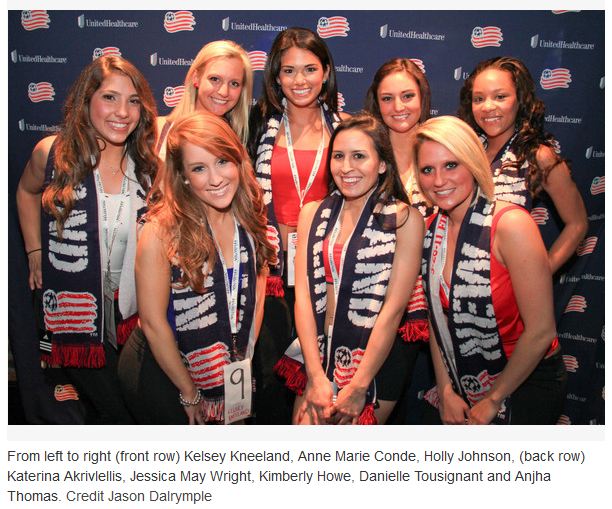 Anne Marie Conde selected as one of eight new members.
Norton Patch
March 15, 2012
The New England Revolution soccer team selected eight new members to add to its "Rev Girl" squad Tuesday night during a heated audition at the Greatest Bar. Anne Marie Conde, a Norton native, beat out the competition by landing a final spot as a new 2012 Rev Girl.
A slew of celebrity judges including The Voice's James Massone from Wakefield, NESN Daily's Dara McIntosh and BostonTweet's Tom O'Keefe helped to narrow the field of 17 Rev Girl prospects down to the final eight, based on three audition rounds that tested their minds, team spirit and ability to excite a crowd.
During the first round, emcee Dave Russo, a local comedian and DirtyWater TV personality, quizzed the 17 contestants on Revolution team trivia. Following the team trivia, the contestants broke off into groups, where they were given 10 minutes to learn the team chant from veteran Rev Girls, and went on to perform for the judges and crowd.
The third component of the audition was to judge the girls on their fan involvement. One of the primary tasks of the Rev Girls is to act as brand ambassadors at community events, so candidates were turned loose on the crowd and asked to interact, engage and handout swag. It was a close competition and in the end the following prospects prevailed.
Katerina Akrivlellis (Dover, Mass.) – 20
Anne Marie Conde (Norton, Mass.) – 25
Kimberly Howe (Boston, Mass.) – 22
Holly Johnson (Tyngsborough, Mass.) – 26
Kelsey Kneeland (Shrewsbury, Mass.) – 22
Anjha Thomas (Ashland, Mass.) – 21
Danielle Tousignane (Chelmsford, Mass.) – 22
Jessica May Wright (Manchester, N.H.) – 21