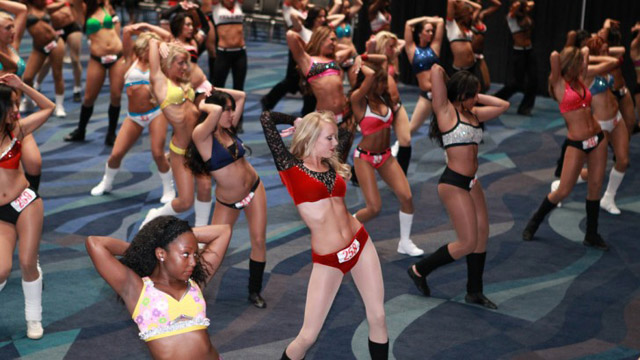 Hundreds Audition for 2012 Cheerleaders
Jay Adams
AtlantaFalcons.com
April 29, 2012
More than 200 of Atlanta's best and most beautiful ladies turned out for the preliminary rounds of the 2012 Atlanta Falcons Cheerleaders auditions Sunday morning.
Facing two rounds of cuts, about 270 ladies learned a portion of a routine and then performed in groups of six in front of a panel of judges, including the AJC's D. Orlando Ledbetter and 790 The Zone's John Michaels. Oh, and me.
The large group was reduced by about half before learning more of the routine and stepping in front of the judges once again. The semi-finalists either became finalists or were left looking ahead to next year's auditions.
The 65 finalists chosen from Sunday's auditions will join Atlanta Falcons Cheerleaders veterans for final auditions Thursday night. Cheerleaders who were with the team last year and plan on returning automatically get a bye into the final auditions.
AtlantaFalcons.com will have live streaming coverage of the finals Thursday night. Check back during the week for more details.
For now, here's a photo gallery from today's auditions.
(Note: only the first 3 pages are from this year's auditions. The rest of it is photos from last year's tryouts)