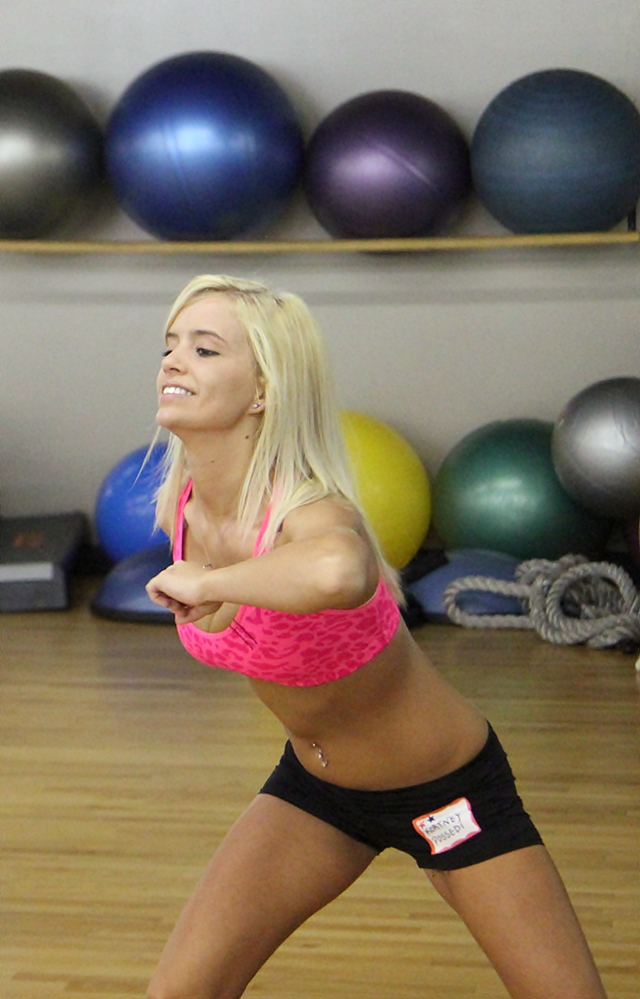 On Sunday June 24th, Chicago's HiFi Fitness center seemed like it transformed into "Going Pro (Cheer and Dance) University." Walk into one room, and a former NBA dancer/director was teaching a jazz choreography session. Walk a bit down the hallowed halls, and a trainer was at the white board talking nutrition. And it was like a "University" rather than merely "Going Pro College" because the day also had tips for activities that seem conjoined to pro dance: pageantry and fitness competitions/modelling. So it was kind of an undergrad/grad school feel: info and classes for those interested in entering pro cheer for the first time, and information about other activities that current pro cheerleaders may want to pursue in the future. Add to this mix a group of vendors with apparel, make-up, and jewelry, and scores of dancers from Chicago, Milwaukee, Indianapolis, Fort Wayne, and surrounding areas in all directions, and you have yourself an expo. Going Pro Expo – Chicago, that is!
All of this was due to the work of the dean, err, CEO of Going Pro Entertainment, Laura Eilers. Besides being a former NFL cheerleader with the Chiefs and Rams, and directing the dance team for indoor football's Richmond Raiders, Laura is the reigning Ms. United States. In addition, Laura founded and is CEO of Going Pro, whose "mission is to provide consulting and business services to further the success of future, current and former professional cheerleaders, dancers and teams." Started in Kansas City in 2008 and then multiple cities in 2009, Chicago's Going Pro Expo was a another step in Going Pro's development.
"This is really our first event that we have gone outside of pro cheer," Laura explains. "So we have some really talented fitness professionals, one on a recent cover of Oxygen magazine. Nicole Duncan is coming up from Atlanta, she was a Falcons cheerleader. A lot of them have ties to pro cheer, but we find that a lot of times, like me leaving NFL, my next step was fitness and then pageantry. So this is a new format, and we are very excited. We brought in a lot of new people, to satisfy different needs."
Did Laura think when she started as a Chiefs Cheerleader that pro cheer would become such a big part of her life? "No," laughs Laura. "But I am very, very happy."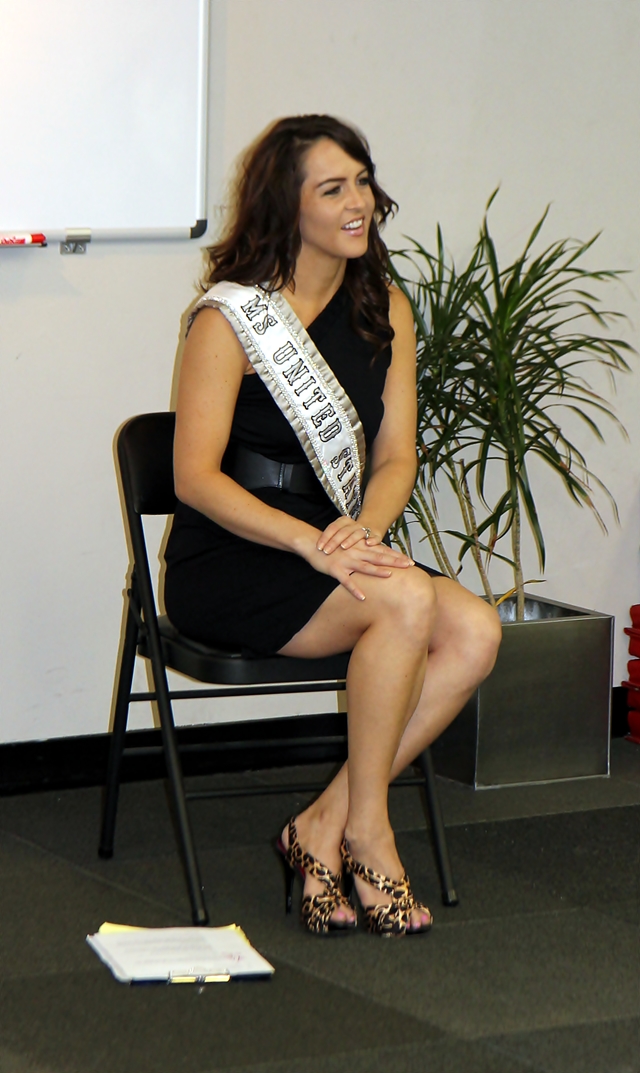 Kicking off the Expo was a jazz choreography session taught by Rebecca Girard. Rebecca is the former 10-year Director of the Detroit Pistons Automotion Dance Team, where she also was a performer on the inaugural team. Asked what she views as a need for women trying out for the first time for pro dance teams, Rebecca answers, "To me, it is not necessarily about dancing, as it is about overall fitness, endurance, and presentation." Rebecca explains, "It is a tough job, especially the NBA, because there are so many games."
And as the class progressed, Rebecca's teaching focus went from the moves themselves, to the smiles needed to add the presentation aspect. Assisting Rebecca was Sandy who coaches the Detroit Mechanix Maximum Intensity Dancers of the Ultimate Disc league. Adrenaline Rush Dancer Nicole, the Chicago Rush's Dream Team selection for the Arena Bowl, was also helping out.
Speaking of the Arena Bowl, the coach of this year's Dream Team, Adrenaline Rush Director Gloria Esposito taught the second dance session of the day, Hip Hop. Gloria is thrilled with her Arena Bowl coaching role, with its component of teaching three routines and four sidelines to dancers all across the country. Before the Dream Team converges on New Orleans at the Arena Bowl, Gloria explains, "We are sending them DVDs and then we will practice once we get there. When we get there, I already told them, we are auditioning for who will is in the front and who is in back. So you better come knowing your stuff if you want to be in the front," laughs Gloria.
Once on an AFL Dream Team herself for an Arena Bowl in Phoenix, Gloria knows it will be a busy few days for herself and the Dream Team-ers. Gloria describes, "We are up at the crack of dawn and don't go to bed until night, then it is up right away again."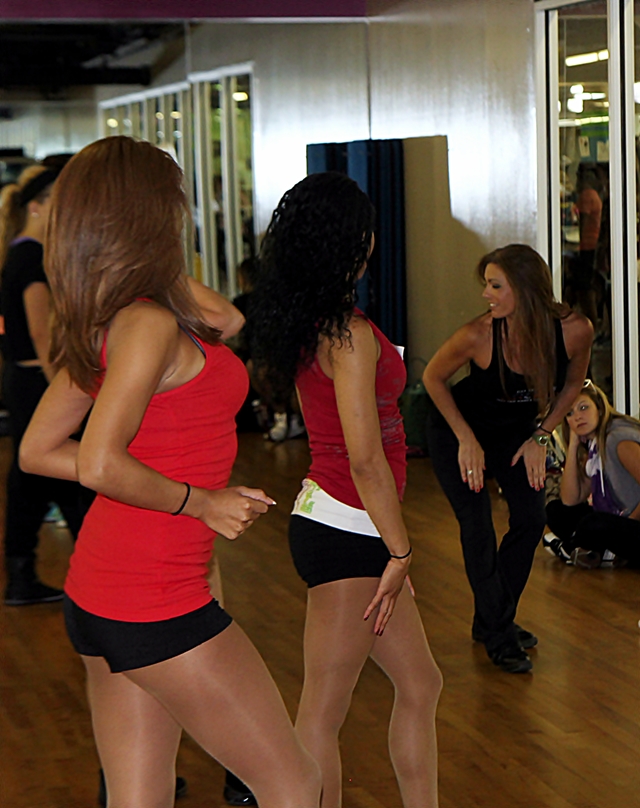 During her hip-hop session, Gloria included one of the routines that will be part of the Dream Team dances in New Orleans. So how fortunate that Angela of the Milwaukee Mustangs Dance Team was one of Fillies that was a student in Gloria's class. Angela was selected to be on the Dream Team to represent the Fillies, so watch out Dream Team, Nicole of the Rush and Angela of the Fillies may be making a head start for those front row spots!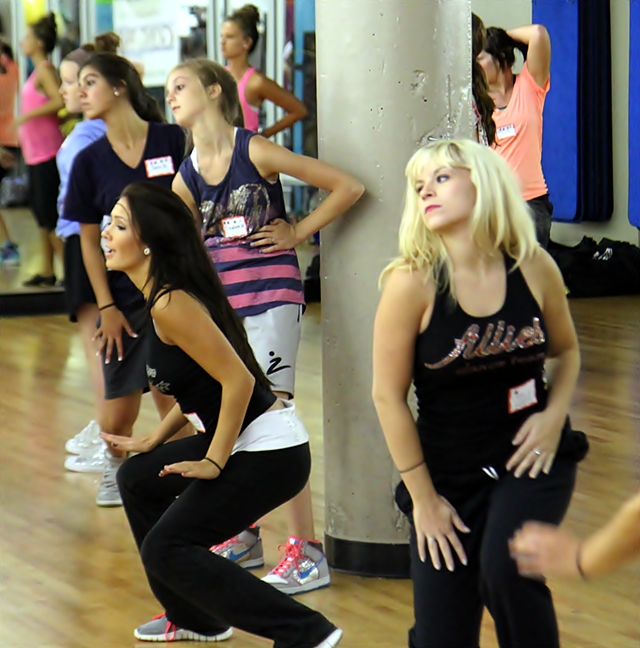 Melanie Stise, who directed the Fort Wayne's NBADL Madame Ants last season, has added another role to her resume, as coach of her alma mater's high school dance team. As a student, Melanie was part of Bishop Dwenger High School's Dance Team, and now she is the coach, and she brought a group of her dancers fom Fort Wayne to get a taste of pro dance in Chicago. She sees a lot of potential in her dancers, so Melanie wanted to let them see the possibilities of pro dance in their future. "When I had auditions," Melanie recalls, "They are so talented, I was blown away."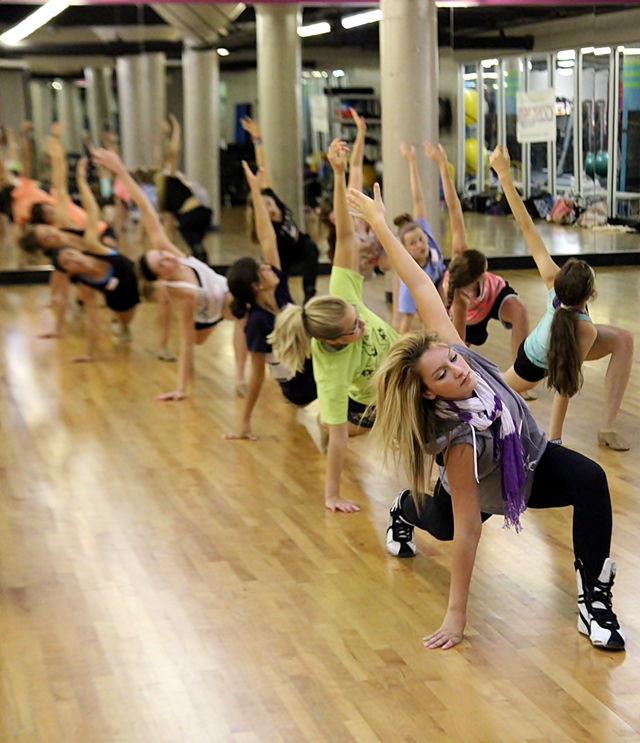 But there was more than dance classes at Going Pro Expo Chicago, lots more. Personal Trainer Pierce Hutchings' session, "Take A Bite Out of the Competition," informed the class about thinking in terms of a nutritional plan to develop the body and to create the mental state to succeed. I won't give away all the secrets, but remember one thing: apples. That is all I am saying.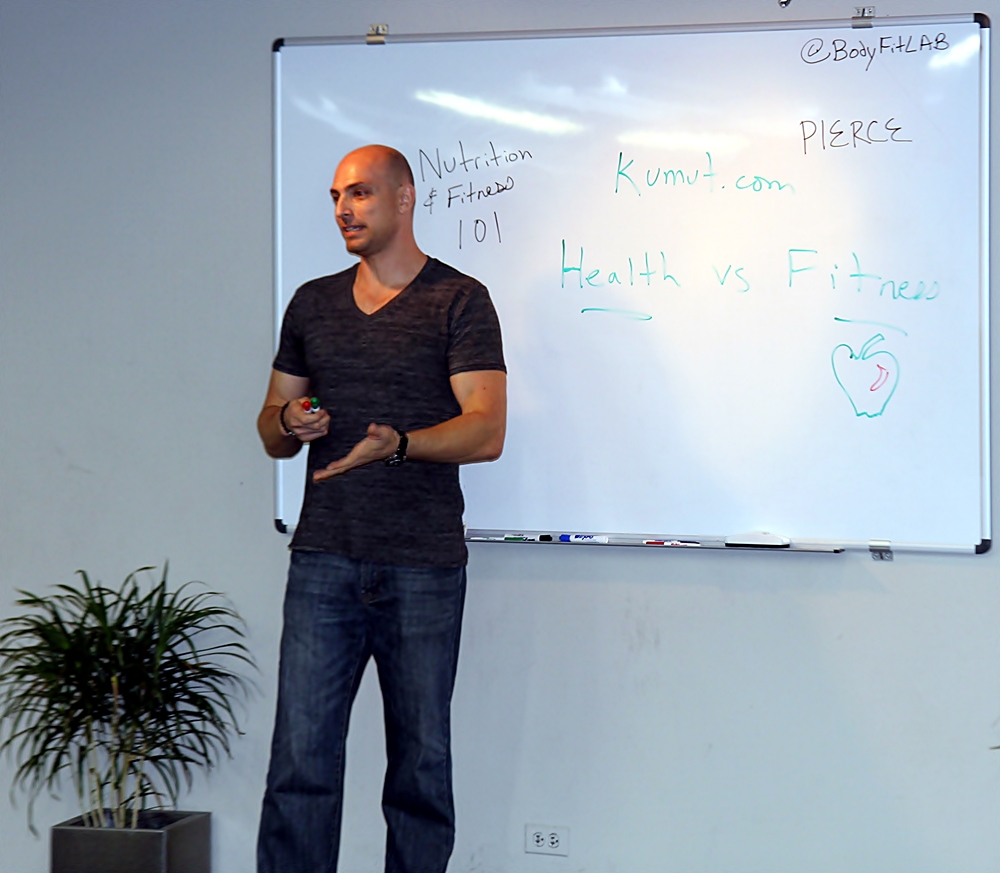 And reigning Ms. United States Laura along with former Luvabull Shanon Lersch, Miss Illinois USA 2008 taught Pageantry 101 to a class of women that included students that are weeks away from national pageants themselves.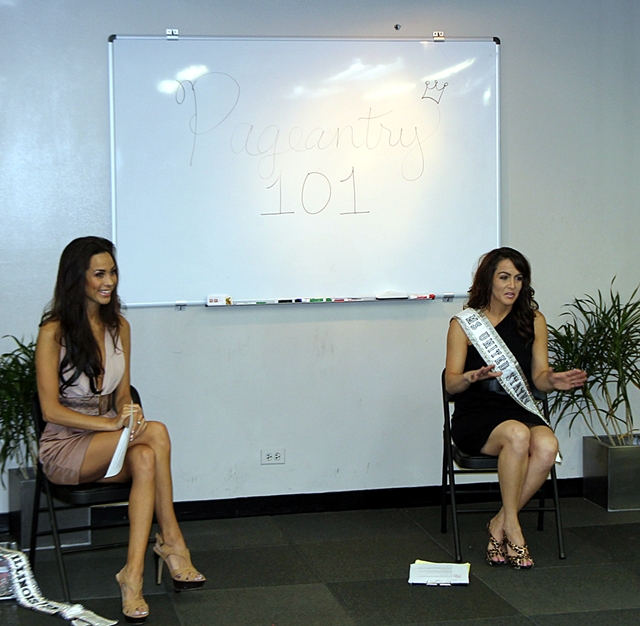 Wynne Lacey of Wynning Teams was coordinating a lot of the early registration activities, and also later in the day taught "Light Up the Room," in which used her Certified Life Coach skills to teach how to catch the director's eye and how to channel energy so one can stand out from the crowd. And Wynne's expertise goes beyond life coach, as a pro dancer (a member and captain with the NBA in both Chicago and Milwaukee; danced with and captained the AFL Chicago Rush dancers) and director of her own teams (her current teams consist of the NHL Chicago Blackhawks Ice Crew and formerly the IFL Chicago Slaughter Dancers). Wynne truly enjoys these interactions, and enjoys the challenge of directing the Ice Crew, because they are not a traditional dance team. Wynne works with the Ice Crew to bond around mental and personality development. Also directing the dancers of the new Intensi-T dance review in Chicago, Wynne is passionate about taking pro dance and cheer into the 21st Century, so that these women are seen as athletes, and given credit for their work and the talents that they possess.
Also, from Wynning Teams, Jill Karston was also part of Going Pro Expo's team. A former member of the Ice Capades, Jill formerly directed the Rockford IceHogs Fire & Ice Girls, and assists Wynne for the on-ice Ice Crew auditions for the Hawks, and is teaching classes for those who want to skate for a pro cheer team.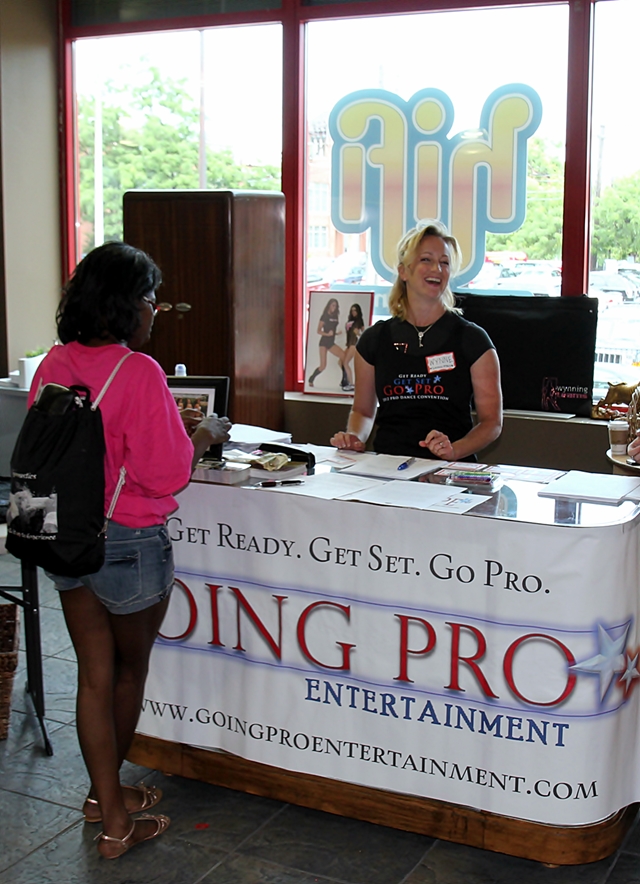 And there were a lot more non-dance sessions, including those about reality TV, fitness modeling, pro cheer director's corner, perfecting your social media portfolio, make-up, and hair, in addition to the dancing sessions throughout the day.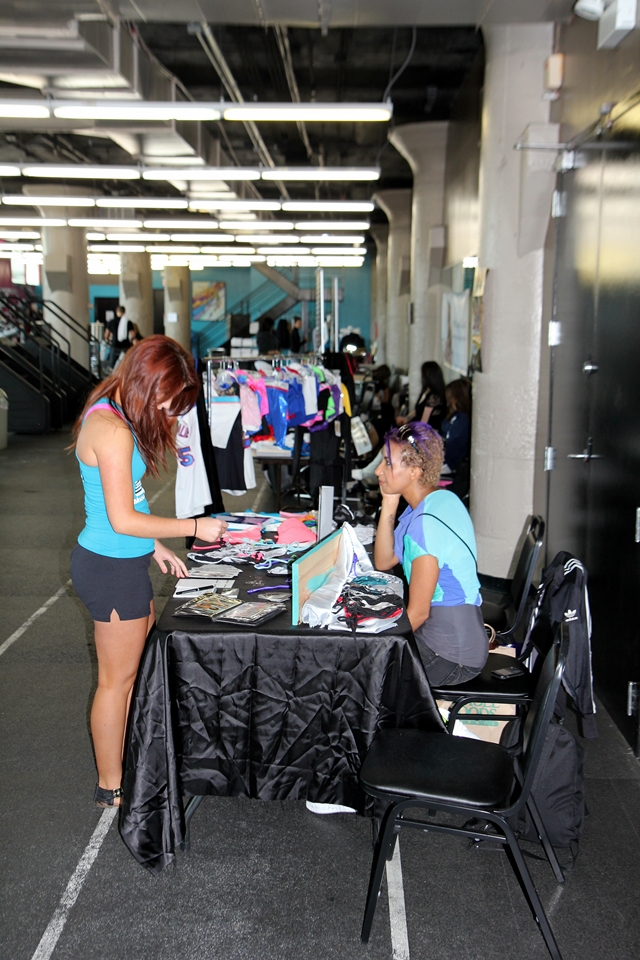 In addition to the sessions, the participants socialized between sessions, and also checked out the vendor's area. Pro cheer apparel was well represented by Angela King's "Go Wild! Wear." Emily of the Chicago Rush's Adrenaline Rush Dancers was at the booth in the morning. Emily, who was featured last season on UltimateCheerleaders, reports that she is busy these days, but good busy. Between the Rush and her job, "It is the perfect balance," Emily says. "It is a lot of work, but enough that I can still do a full-time job." The appeal of the Rush is, as Emily says, "I love it, it is like a family."
Emily was representing the Angela King Designs brand since the Adrenaline Rush wear Go Wild! Wear uniforms. Asked her opinion as a dancer about what makes a good uniform, Emily says, "Durability is number one because we wear it SO often. And the ability to move in it. Then I think something that is really eye catching. Angela uses really bright colors, sparkles, and different colors next to each other. I love Angela's designs."
With all this dance going on, part of Emily envied her teammate Nicole who was helping out with Rebecca Girard's jazz session. Antsy to dance, Emily said, "I'd love to take Rebecca's class, I love her."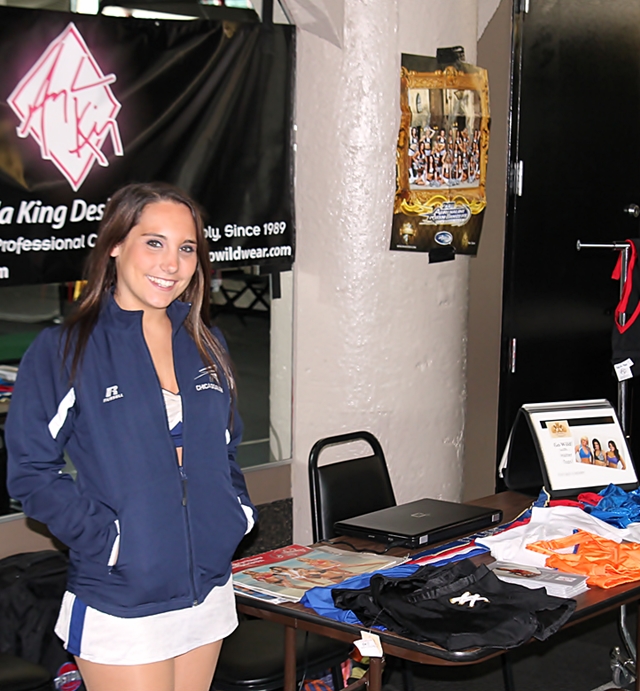 Another apparel vendor was Lisa Campbell, who is the first Chicago retailer to carry fitness brand, Bia Brazil, and last Thursday launched her location within HiFi Fitness. Lisa explained, "Bia Brazil is manufactured using Supplex by DuPont which is a very high quality material. It has the look and feel of cotton but it is a lot more durable. It dries faster than cotton. That is why it is highly sought after by athletes, Pilates instructors, yoga instructors. I love it, I wear it. No one else is carrying it in Chicago." Lisa was happy with the early response at the Going Pro Expo, saying, "This is the very first event and I already have received a lot of feedback, and it is only 10 am. I'm really excited!"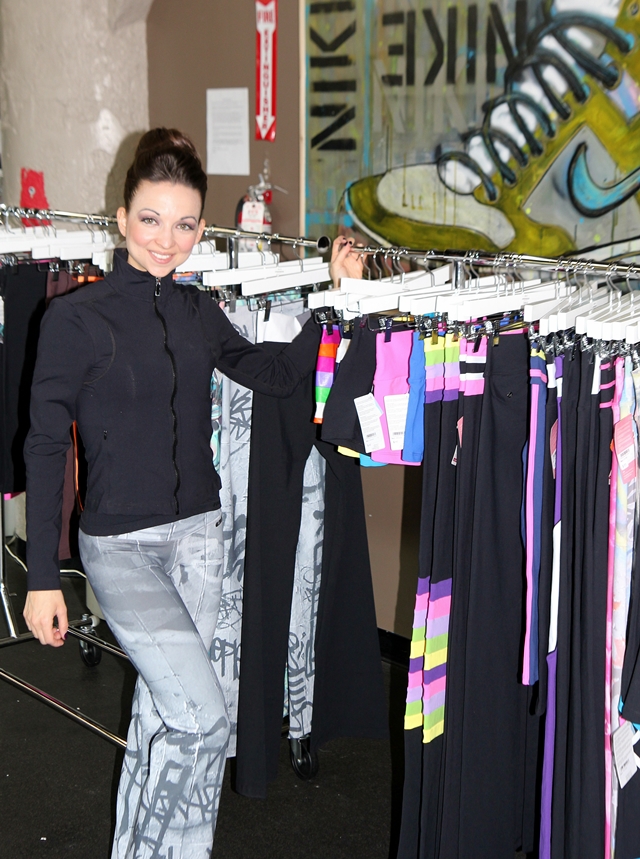 Showcasing her own line of women's wear, Chicago designer Rose Mae Turner's booth featured her young contemporary line, entitled "Rosina~Mae." Rose explained, "I do swimwear, but I also do daywear. So it takes women to the beach, to the street, to the party. Just recently I was contacted by some pageant girls, so I am trying to tap into that pageant/dance market. I have been doing my line since 2009, but this is another niche that I am looking into. "
Describing the ability to make something functional yet eye-appealing for pageants, Rose said, "It is definitely a challenge, as a designer. For the pageant girls specifically, it has to be one color, and straps have to be a certain width. But it is all about pleasing the client." Soon after graduating college, Rose started her own line, but clothing design was not her dream since childhood. "I wanted to be an architect for the longest time," Rose explains. "But a lot of my inspirations come from architecture. I went through this transition period and I really fell in love with fashion. In my designs, you will see a lot of angles. I still get inspired by basic geometric shapes."
What does Rose think about designer competition reality shows like "Project Runway"? " "I love watching them," Rose laughs. "But I don't think I would want to be on them. I feel like they want a lot of drama, but I am not a very dramatic person." No doubt, Rose allows her designs to have the dramatic impact of her life.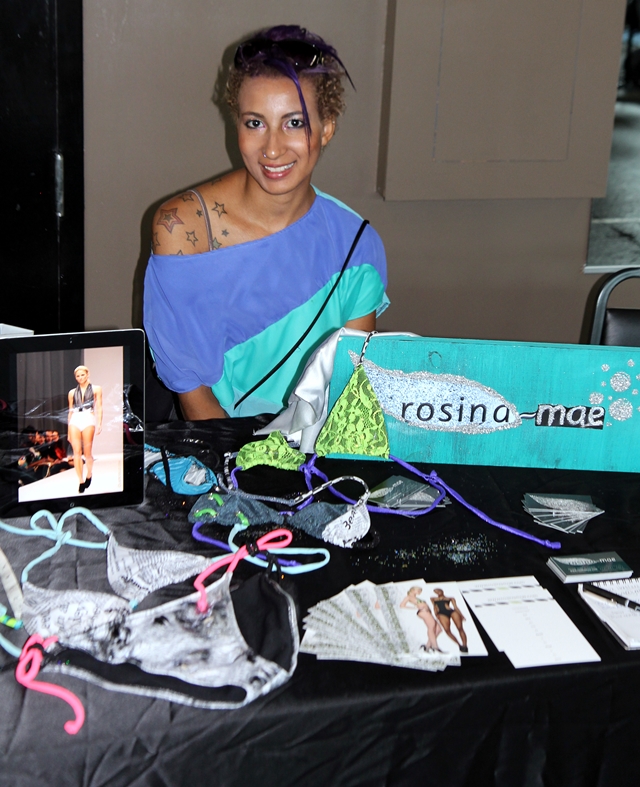 Jewelry designer Rachel Farwell was also showing her line, "Rachel Lynn Chicago." Starting her interest by serving as helper for her jewelry designer mom, Rachel has been working on handmade jewelry since she was nine years old. Rachel's booth featured her own line of women's bracelets, necklaces, earrings, and rings. "I hand-make and design everything here," Rachel described. Living and working out of the Gold Coast section of Chicago, Rachel said she came to Going Pro Expo, "To branch out to a different avenue. I've always been at the fashion and luxury fine jewelry end, and I want to come in and hit a different target audience."
Rachel's line has been getting a lot of attention in Chicago, as she has appeared on the WGN News and all of the major Chicago magazines.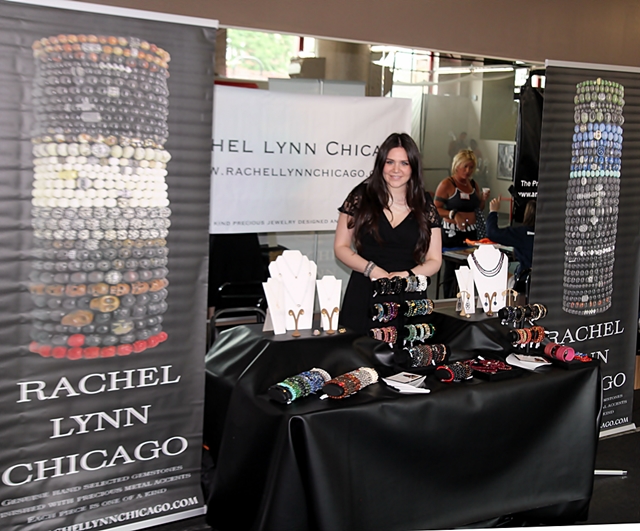 Not only a vendor, but also a Going Pro Expo instructor, Sneha Dixit is owner and creator of VA Cosmetics. Sneha and her assistant Jennifer gave tips to many of the participants at Going Pro Expo. At age ten, painting on canvases showed that Sneha had an ability to combine colors and create shades, and eventually she shifted her talents from the canvas to the face. With Bachelor' degrees in Biology and Chemistry, Sneha then attended Aesthetician School, where she continued focusing on makeup application and aesthetic facial enhancements. By 2010, Sneha formed VA Cosmetics to develop a line for all ages and skin types. Through public appearances like Going Pro, Sneha teaches women an efficient approach to makeup application, which included showing how to stay organized and be free from the clutter in most makeup bags.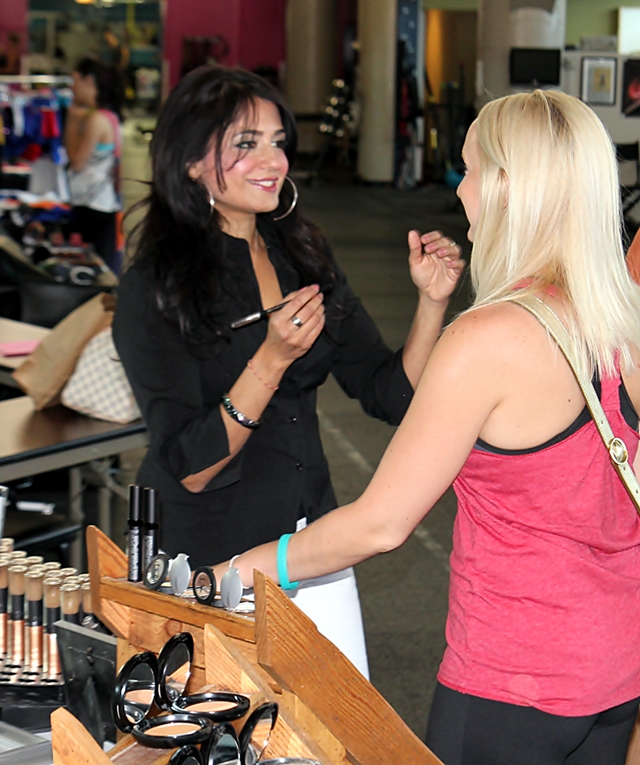 So a lot of talented professionals in a variety of fields were part of Going Pro Expo in Chicago. And taking the next step seemed like the theme of the day; whether it be young dancers interested in moving up to pro dance, current dancers exploring future ways to use their talents, designers and retailers looking to find new outlets for their endeavors, or Going Pro Expo itself, expanding both its length and scope. So this day-long "University" of pro cheer and dance gave a glimpse of these next steps, though its hallowed halls were not likely to be filled with the dulcet tones of Elgar's "Pomp and Circumstance," more likely a little Lady Gaga to get things going.
Thanks SO MUCH to Laura for allowing UltimateCheerleaders to see the inside of Going Pro Expo, and all of the wonderful people who shared their time on this busy, yet exhilarating day.
Here are some more photos from Going Pro Expo: Chicago (click the thumbnails to see the entire photo, then click on that image to enlarge):