By Allison Salz
Edmonton Sun
October 13, 2012
The days of ruffling pom-poms and shouting the team name are gone — these days it takes much more to be an Edmonton Eskimos cheerleader.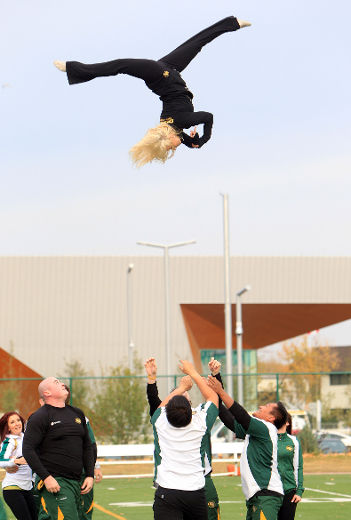 Cheerleading has come a long way since the Esks first joined the CFL in 1949. Back then, the team didn't have a cheerleading squad, that would come in 1951. Instead, they had six baton twirlers who performed during the games.
Today's team, made up of 42 guys and gals, has progressed even further since head coach Dianne Greenough took the reigns in 1995.
"The Eskimos cheer team has really evolved since I started. Back then it was turtleneck sweaters and pleated skirts, a very collegiate style," she said.
"In the last five or six years, we separated the dance team and stunt team. Edmonton is a hotbed of amazing dancers. To work with them while at the same time adding stunters who were on Team Canada cheer team, is just excellent."
Most of the team either has an extensive gymnastics or dance background, and in some cases both.
Kassidy, 21, whose last name is withheld for privacy reasons, has been dancing since the age of three.
VETERAN
Now a third-year veteran, she says being on the team is a way to stay involved with dance.
"I've been dancing since I was little, so I have training in tap, jazz, ballet, hip-hop, lyrical, contemporary," she said, adding that while an asset, previous experience isn't necessary.
"But, as long as you can move, we always encourage girls to come down and give it a try."
And the job of an Esks cheerleader reaches far beyond the game performances.
For the hours that they perform at Eskimos home games, there are hours and hours more work behind the scenes, all of which is done on a volunteer basis.
All team members either have full-time jobs or go to school, while juggling the demands of being on an elite cheer team.
Kassidy juggles two jobs, while taking her nursing degree at the University of Alberta, on top of her duties as an Esks cheerleader.
She says it's not uncommon for her to wake up at the crack of dawn to go to school, only to head straight to the field for a game after class wraps.
"I think a lot of people have the misconception that that's all we do. We're all very busy, but we're very passionate about what we do," she said, adding that once she settles into her Esks gear, she starts to come alive.
"As soon as we get started with rehearsal, I get the biggest burst of energy."
LOTS OF PRACTICE, TRAINING
Aside from the 8-10 hours a week worth of practice and training, each is required to put in 250 to 260 appearances a year at both corporate and charity events.
All members are also required to be enrolled in, or have completed, some kind of post-secondary schooling.
They're expected to be ambassadors for the team, said Greenough.
"They're just in and out of the community, whether at seniors homes, hospitals, even runs and walks. It's something that they're proud to do," Greenough said.
"It's become a really great stepping stone. By the time they leave here, they're incredibly mature and responsible."
There are just three games left in the Eskimos' regular season, one of which will be played at home.
The cheer team will represent Edmonton when they perform at the 100th Grey Cup Festival this year in Toronto as part of the Cheer Extravaganza, which is now in its 15th year.
And rest assured, Greenough says they save the best for last.
"There's no question we want to go out there and blow everybody away with our seven-minute show."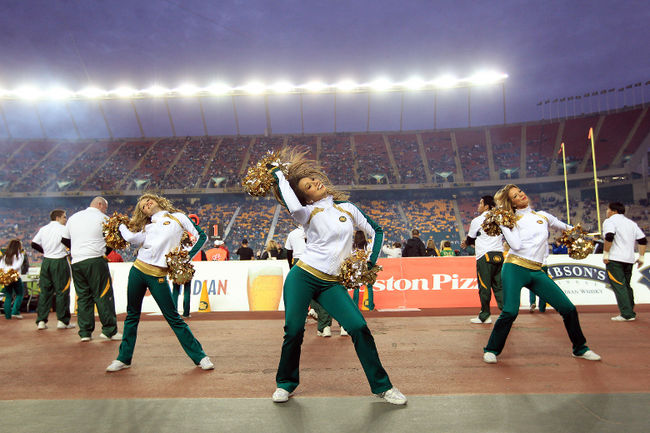 ——
MEN CHEER, TOO
The guys of the Esks cheer team are the foundation of the team — literally.
The 16 male members of the team carry much more on their shoulders than the petite ladies they lift in the air — they bare the responsibility of bringing them down safety.
25-year-old Mitchel, who just happens to be the longest standing member of the team with six years experience, says hours and hours of training and upper body work go into the routines.
"To be at the level we're at, a lot of us are working out 8-10 hours a week, as well as coaching or being on other cheer teams just to progress our skills."
He says male cheerleaders sometimes get jeered a little bit, but he contests that the sport is just as demanding as any other.
"It takes a lot of skill and strength. It's one of the more challenging sports I've been part of."
I was never ashamed to be part of the team. Anything that you do, you're going to have some people who have negative comments."
Mitchel has been cheering since he was 14, when he was dared to try out for the team at Victoria Composite High School.
He says the attitude towards the sport in general has also changed.
"Since I started with the team, things have kind of grown. Cheerleading is a little more recognized," he said.
"People realize that we're volunteers, doing this for the love of the sport. We do it because we love it. We get to be out in the community and give back to those who gave to us."
——
COACH IS AN INNOVATOR
There's no 'I' in team, but there is one in innovator.
It's a word many have used to describe Dianne Greenough, the coach of the Edmonton Eskimos cheer team.
The 57-year-old is nearing her 18th year with the team, but her experience and knowledge reaches far beyond Commonwealth Stadium.
Greenough has coached thousands of girls and boys during her 30 some years on the mat, notching more than 200 cheerleading trophies.
Last April, she coached Team Canada to victory, clinching gold at the World Cheerleading Championships.
She's largely credited with igniting interest in the sport across the province, even pushing the Alberta Schools' Athletic Association to recognize acrobatic cheerleading as an official sport in 1980.
When she joined the Esks Cheer Team as head coach in 1995, she adopted acrobatics into the team's repertoire, and introduced male members to the squad.
Greenough is a teacher first. She graduated in 1978 from the University of Alberta with a Bachelor's in Education, and taught at Victoria Composite High School for 35 years before retiring this past June.
"I love to watch the learning and growth. To see them come in usually between the ages of 18 and 20 when they first join the team, they're young and naive, and just wanting to perform," she said.
"By the time they're finished, to see them taking on projects and responsibilities, and just really becoming crucial parts of the community, it's nice to see."
DIFFERENT COACHES, DIFFERENT STYLES
Twenty-three year-old Kylee, a four-year Esks cheer veteran, has danced for the majority of her life, and says she's seen many coaches with many different coaching styles.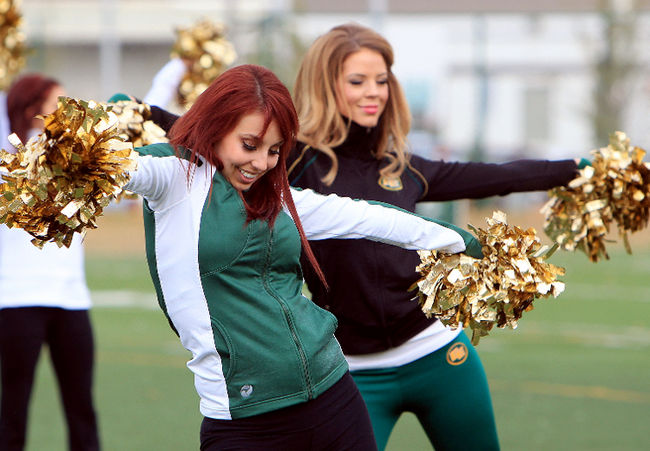 But working with a coach as internationally acclaimed as Greenough has been a privilege, she says.
"She's not only taught us cheerleading, but she's been a really wonderful mentor."
Greenough's teaching style has won her many awards and accolades, including a nod last month when she received the U of A's Alumni Honour Award, which recognizes the best of the school's alumni members.
She says the fact a cheerleading coach shared a stage with some of the best academic minds in the country, shows attitudes are changing towards a sport she holds so closely to her heart.