When it comes to achieving new heights, Minnesota Vikings Cheerleader Samantha knows all about maximizing one's altitude, even as a six week-old! First of all, she grew up in Colorado cities at elevations over 5,000 feet. But even those heights were not enough for Samantha and her family. "When I was little, my dad, Bill, was a hot air balloon pilot, just for a fun hobby on the side," Samantha explains. "Some of my favorite childhood memories involve waking up extremely early on weekends to go ballooning. It was a large part of my childhood and a family tradition, and my aunt is a pilot as well! So we would all get together on weekend, set the balloon up as the sun was rising, take a few flights and then all gather around the tailgate for brunch. It is such a unique hobby, and I am so blessed to have had this as part of my everyday life. My first flight was when I was six weeks old, youngest in Colorado history," smiles Samantha. "You just cannot beat the tranquility of a hot air balloon ride, and not to mention the beautiful view of the Colorado Rockies!"
So it should be no surprise that the second year Vikings Cheerleader continues to reach new heights in her MVC career, this season as cover girl on the "gold" edition of their two swimsuit calendars. Samantha kindly shared with UltimateCheerleaders her experiences of being part of a football loving family, chasing down NFL cheerleaders for their autographs as a girl, her academic interests (including the first time UltimateCheerleaders mentions 'Wigger's diagram'), her passion for travel, and attending university where the two genders are kept three miles apart, at least some of the time.
Samantha's early life was in Broncos country prior to moving to the land of Vikings. "I was born in Littleton, Colorado, and moved to Boulder, Colorado when I was four, then moved to Minnesota to attend college in 2007, and have been here ever since," recounts Samantha. "My transition to Minnesota was an easy one, seeing as I have completely fallen in love with the state, and my brother, Willie, lives in Saint Paul. I also have a sister, Jessica who is in Chicago, only a short road trip or flight away!"
Football fan-hood was family tradition for Samantha, and she began following, literally, the activities of NFL cheerleaders at a young age. "Growing up we had season tickets to the Denver Broncos, and every Sunday my dad and I would get to the games early, go to the Bronco Barn and then literally run around the stadium to try to get ALL the cheerleaders signatures on their poster for that year," Samantha recalls. "It was our little game to see if we could get all 32 each year. I think that is why I love doing appearances and autograph sessions so much, because I was once that little girl with her dad, stars in her eyes wanting to be an NFL cheerleader, and now, hard to believe that I am that cheerleader!"
Football was not only about being a fan, it created traditions and bonding for Samantha's family. "Everyone in my family is huge football fans!" Samantha explains. "My parents are still season ticket holders, even though they have moved to a state that does not have a team, and have our original seats from Mile High Stadium! I hope they sell the seats when they tear down the MetroDome, I would definitely buy mine! My brother played growing up. My mom is from Nebraska, so she loves college football and my dad is the biggest Elway fan you will ever meet. It is just part of our family, part of our traditions. I love it! Football was always a family pastime, my brother, sister and I would fight over who got to go to the games with my dad, and if we were not at the games, my mom always had them on in the background while she baked on Sundays. I have lots of great family memories surrounding football," smiles Samantha.
In addition to her interest in football and the Broncos Cheerleaders, you add a childhood of dance training, and voila, Samantha is on a path to the NFL sidelines herself. "I started dance when I was five years old, with the general technique classes: ballet, tap, jazz, et cetera," Samantha recounts. "By the time I was in fourth grade, I was taking fourteen hours of classes at the studio each week! I continued studio dance through high school."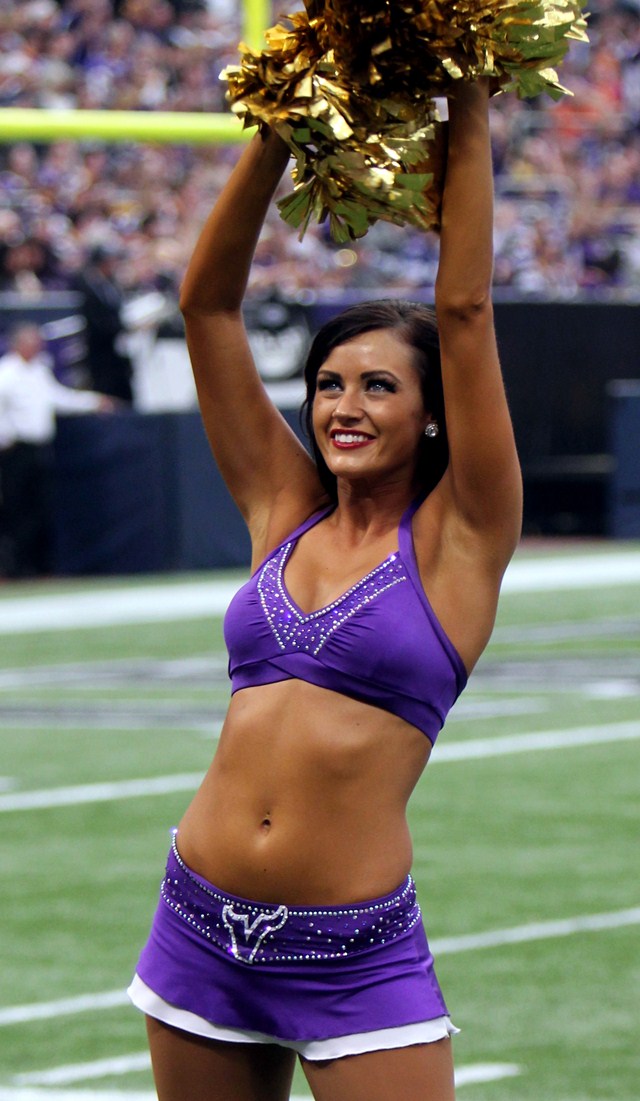 In addition, dance teams became part of Samantha's school extra-curricular activities. "I then joined my high school dance team as a freshman, and was co-captain sophomore year, captain my junior and senior years," Samantha says. "Then, I auditioned for my college dance team in Minnesota via video tape, and was a part of that team for two years, but decided to study abroad my junior year in Galway, Ireland, and take senior year off."
Dancing and teamwork were always a big part of Samantha's life. I bet she spontaneously jumped, in step, into Riverdance performances in Ireland. In any case, Samantha jumped back into dance once she was back in Minnesota, and to finally hit the NFL sidelines. "I missed dancing, and I missed being part of a team," Samantha explains. "I have always wanted to be an NFL cheerleader, and I have always been a dancer. So, when I entered into my last semester of college, I decided to try out for the MVC, and fulfill a childhood dream."
Although Samantha attended try-outs alone, she soon met Blair, who this year is calendar girl for the "Purple" version of the swimsuit calendar. "I was so nervous; I had not danced in over two years, and was worried that I would stick out like a sore thumb," Samantha recounts. "I remember meeting Blair at open auditions, and we were both there alone, and instantly, I mean INSTANTLY, we became best friends. We helped each other through the process and were rooting for each other to get the call the day after finals at Mall of America."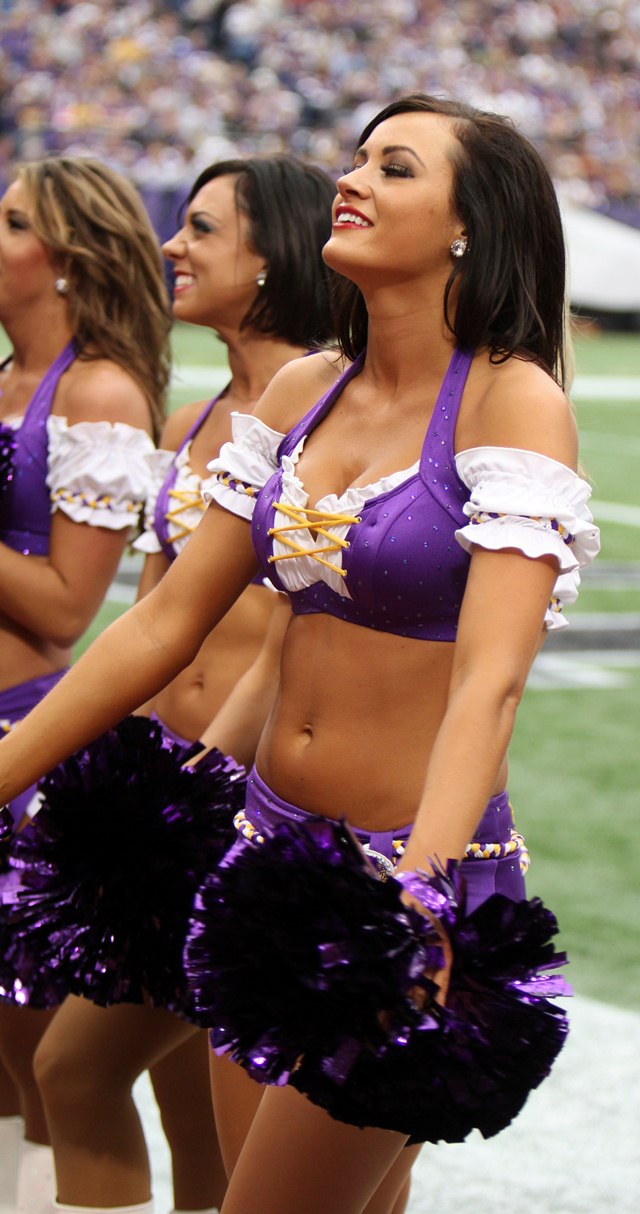 "I was beyond shocked when I made it to training camp, through semi-finals, and then even more shocked when I received the call from Tami (Krause, Head Coach and Coordinator for the Minnesota Vikings Cheerleaders) inviting me to the team," Samantha remembers. "When I received the call, I was actually at my parents' home in Arkansas, which has TERRIBLE cell reception. So I missed the call, and received a voicemail a quite a bit later. And while listening to said voicemail, I ran around the empty house screaming for joy, while my dog Ellie looked at me like I was some kind of freak! It was so surreal, and still to this day, I sometimes forget that I am 'living the dream.' But I am so glad I took the chance, because like the 'Great One' says, 'You miss 100% of the shots you don't take.' So to all the girls out there who are tentative about fulfilling the childhood dream, I say give it a shot what do you have to lose?!"
Continue reading Up Up and Away: Vikings Cheerleader Samantha rises up to be cover girl of the "Gold" Swimsuit Calendar