New adventures and Tennessee Titans Cheerleader Jessi just seem to go together. Examples? Well, the Florida native was a "So You Think You Can Dance?" finalist; Jessi has danced for a US President; she was dance captain for the Los Angeles Pussycat Dolls; Jessi was the subject of a "World of Jenks" documentary on MTV about her life as an NFL cheerleader; she started the singing trio Danger Love Saint; Jessi has been to every continent except Antarctica; and on and on and on, ad infinitum. Some people have dance resumes, but Jessi lives a dance life that just jumps off a printed page with each opportunity seemingly topping the previous amazing adventure. This year, Jessi was planning to have her fifth and final season with the Titans, but the opportunity to tour the USA with new dance crew "Dance Y'all" arose. Jessi and the four other dancers of "Dance Y'all" are touring as part of Rascal Flatts' "Live and Loud" tour, maintaining the show's high energy while also teaching crowds totaling over 500,000 fans to make dance part of their concert experience. And Jessi gets to have a pro dance teammate along for the ride, with seven-year Nashville Predator Dancer Lakelyn the other female Dance Y'all crew member.
Jessi took time from her busy tour stop at Klipsch Music Center just north of Indianapolis to share with UltimateCheerleaders how she became part of the genesis of Dance Y'all, how she will be away from the LP Field sidelines this season but fans will still see her influence during Titans games, and how she recently had perhaps her biggest thrill in her extensive entertainment career.
First of all, what is Dance Y'all? Jessi and Lakelyn are two of the five members of the Dance Y'all crew. Dance Y'all is the brainchild of esteemed producers Jim Rink and RAC Clark (the son of music and television impresario Dick Clark), and is the first-ever dance crew in country music history to open for a major tour. Dance Y'all's manifesto: "We believe in the Power of Fun. We believe in the Power of Hope. We believe in the Power of People. We believe in the Power of Excellence. Be the movement. Dance Y'all. Our dream for Dance Y'all is to start a movement that inspires millions to dance."
And Jessi is a perfect person to lead the charge. For instance, during their Indiana appearance, Dance Y'all was there as tens of thousands of fans arrived at the venue, with Jessi and friends at the Farmers Insurance Fans Zone tailgate party. Jessi, Lakelyn, and the guys performed on stage, and Jessi took the microphone to entice the concertgoers to boot scoot on over and do some dancing themselves. Jessi explained the moves and then Dance Y'all joined the fans during some dances. Then Dance Y'all jumped on their scooters (Lakelyn said that she and Jessi have had a couple spills so far this tour) to get ready for their part of the show. With an Indiana crowd that was one the largest of the tour, Dance Y'all hit the stage after The Band Perry and before Rascal Flatts to keep the energy going and get the fans moving.
Jessi has been on a summer tour before, dancing with Marques Houston during The Scream Tour featuring Bow Wow and Omarion, and also travelled during her time on Princess Cruises (told you Jessi goes from one adventure to the next). "(The Scream Tour) was a very, very different experience because it was all hip hop," Jessi explains, "and I did Princess Cruises, which is kind of the tour life, but this is definitely my first country related tour, and it's Dance Y'all's first tour."
Jessi's connection to the genesis of Dance Y'all was part of a series of dominos falling that began with her dancing in a Gloriana video. "I was chosen to do a video for Gloriana, and that was kind of a lucky thing I guess, I happened to be right for the part," Jessi explains. "But the choreographer for that video, Robert Royston, is a four-time World Country Dance Champion. Well, he was part of putting together Dance Y'all, and when it came to cast dancers, he thought of me. And Lakelyn was actually in that video with me, and because we do a lot of lifts, the girls have to have a height limit. They thought, 'One blonde, one brunette, they are both short, they are perfect, so let's use them.' (laughs) So it was kind of a lucky deal, and Lakelyn and I just kind of walked into it blindly, because we had no idea what it was. And it just worked out pretty well," Jessi smiles.
During this tour, Jessi has noticed some cities are really quite willing to get up and dance. "When we were up in Boston last weekend, Boston was WILD!" Jessi exclaims. "They were ready to dance!" Even though one would not think of Boston as country music country, "They come out in the cowboy hats and the boots, and they know every word to every song," Jessi recalls.
Unlike last summer's midwestern drought, there has been no shortage of rain this year, including flash floods that cancelled their tour stop in Michigan. "It's either been hot, or really windy, or rainy," Jesse says. Can it make it challenging to dance? Jessi answers, "Yes, and actually, I've haven't done many professional dance jobs outdoors other than being with the Titans. So it reminds me of that, because you constantly have to worry about the weather conditions, but it's been really fun. I have been really lucky and it's a really good time."
"It's different than a lot of other professional dance genres right now because this is meant to teach people as we're doing it, which is a unique thing," Jessi continues. "It's not necessarily about our skill level and showing off, and dancers being the spectacle. We are trying to encourage people, saying, 'Actually what we are doing is very simple and you can do it to. Here, we will show you.' Which is a cool thing, and it's really different. Most of the time, choreographers and directors are asking you to stand on your head, and all of this stuff, so this is actually really cool. You really get to reach out, and say, 'Come on, you can dance too! You can do this.'"
Dance Y'all is not only about dancing, but they often are joined on stage by recording artist Laura Bell Bundy. Plus, Big Machine Records released "Dance Y'all: Volume One," with the show's featured music. "We have an EP," Jessi explains. "All of the songs are country songs that have been remixed to make them more dance appropriate. So they are kind of mixed with techno, or electronic music. People can buy the EP on our website danceyall.com. And Laura Bell Bundy performs with us, her song is on the EP as well, which is really cool."
So this summer, Jessi spends a lot of time on the road as Dance Y'all goes from concert to concert. "The travelling is really fun," Jessi says. "We're on a bus together, so we bus around with all of the other crew buses, so we have gotten to know and hang out with them, which is really cool. We are in tight quarters, but we watch a TON of movies and make the time pass by. I've been actually taking lots of notes and listening to music for when I go home and teach, so I try to get a jump start on that."
Jessi started with Dance Y'all last year on smaller stages, but her decision regarding whether she would be part of the big 2013 summer tour coincided with her Titans try-outs. "Last year, Lakelyn and I did a small club tour with Dance Y'all, but we found out about (this summer tour) pretty much in February," Jessi recalls. "They were talking about it, and as the summer grew near, it became more serious, and it became more serious. And I was actually in the process of trying out for Titans, and was very, very torn. I really thought this would be my last year for Titans and I did not want to give up all my hard work on Titans to go on tour, BUT, Dance Y'all is a really good opportunity. So I was really torn and it was really emotional decision, and then I talked to our coach (TTC Director of Cheerleading Stacie Kinder) and she was supportive, and the whole team was very, very supportive. They said, 'Oh my gosh, that's awesome, yeah, go live your dream.' So it was really cool."
Does Jessi ever sit back and think that she is living a pretty amazing life? "Yeah, absolutely," Jessi responds. "I am just crazy, crazy blessed, and so lucky that the Titans are in my life. I'm actually coming back this year as a choreographer which is something that I've been really excited about. I just set a quarter break on them this last week so I am going to go back and finish that, and then I'll set another one later in the year. And I still go to practices whenever I can (laughs), I just can't stay away! Stacie says, 'You don't need to be here,' but I say, 'I just want to be here!' So I help warm them up and just stay involved as much as I can. Being on the team four years, you have such an emotional attachment to it, so it's hard to give it up."
During Jessi's Dance Y'all decision process, she went through try-outs and made the Titans team, but because the Dance Y'all tour goes through October, and especially as captain, Jessi could not be part of the Titans Cheerleaders this season. After Jessi made the TTC squad, she says, "A week later when they signed contracts, I announced to the whole team, 'I am actually going to go on tour, so I won't be here with you this year, but I will miss all of you guys.' I try to text, tweet, and see them as often as I can. I want to be at every game. I told Stacie, 'If I need to be the water girl, I will run around,' just to stay involved."
Jessi says about the Titans Cheerleaders, "I do plan coming back next year, and hopefully I can just jump back in and feel like I was not gone too long (laughs)."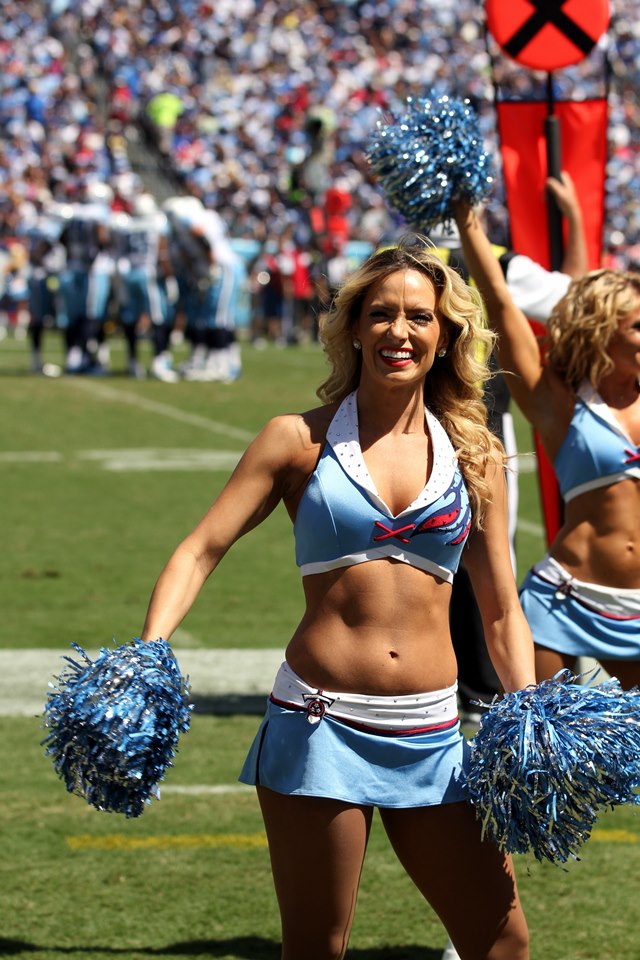 But the Titans have not only been part of Jessi's dance life, they also lead to creating a singing group. We featured Jessi two seasons ago as she and former Titans Cheerleaders Bri and Claire were embarking as the band Danger Love Saint. And recently, they had the exciting development that their single "Drive" was picked to be in a national television campaign for Discount Tire (click here to see it). "That was way awesome, that was one of the coolest career moments of my life," Jessi reflects. "It's different with dance: you have the music, and then you create something to it. But with music, you're kind of creating something out of thin air, so it's a really unique experience creatively, and I was just really proud of that moment. I thought, 'Wow, that is just really, really neat,'" Jessi smiles.
Jessi hopes to continue the singing and songwriting part of her career. "We are looking to do more of that, I continue to write on my own, and Bri writes a lot as well," Jessi says. "So as soon as we can all be in the same city at the same time, (laughs) we will continue to work on that."
As expected, when the tour has a couple days off, and Jessi is back in Nashville, and she is not sitting back relaxing. When she gets back home, "I'm back in my studio, teaching my kids on those days off and preparing them for their competition season," Jessi explains. "So I'm still busy when I am not working (laughs), editing music and putting all of their stuff together, which is fun. I love it."
So Jessi is on a national tour, that seems enough adventure for her in 2013, right? Well, this is Jessi we are talking about, so it is not surprising that later in 2013, Jessi has a speaking part in the film Anchorman 2. Jessi has more than talent and a bit of luck to have a career that constantly moves in so many directions, she has a truly adventuresome spirit and quite a bit of "Drive" herself. And the part of her life that was precipitated by seeing a dance friend in the NBA and the photos of all the friends and fun on Facebook, Jessi certainly found all that and more with the Tennessee Titans Cheerleaders.
This summer, Jessi's "Life is a Highway" as the Rascal Flatts tour criss-crosses North America. So stop by the Rascal Flatts tour, arrive early to dance with Jessi, Lakelyn, and the Dance Y'all crew, and check out their stage performance prior to Rascal Flatts. Who knows, you might end up dancing the night away!
Thanks so much to Jessi for sharing this unique experience with UltimateCheerleaders, and also Lakelyn, Dance Y'all co-founder James Rink, and all of the Dance Y'all crew for their help! There are more photos of Jessi and Lakelyn at this link. Dance Y'all!