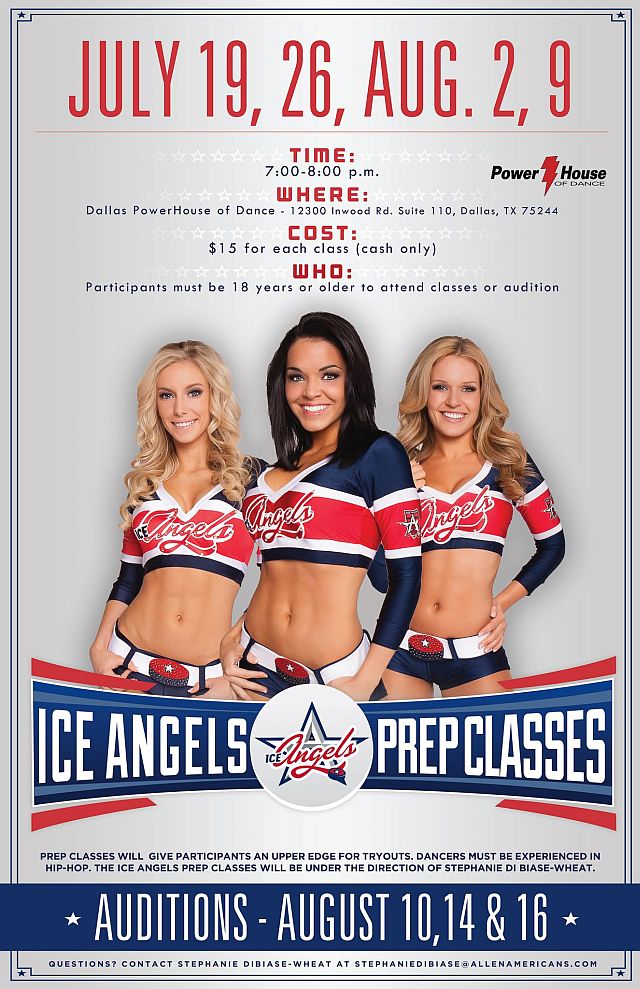 2013-2014 Audition Dates and locations:
First round-August 10th – Dallas Powerhouse-Inwood-Dallas TX 9:30-2:30pm
Second round- August 14nd –Dallas Powerhouse-Inwood-Dallas TX 8-10pm
Finals- August 16th –Dallas Powerhouse-inwood-Dallas Tx 7-9pm- Team will be announced that evening!!
All interested applicants will need to complete the Application and bring them to the audition, along with a check for the $25 registration fee written out to the Allen Americans Ice Angels or you may bring cash,along with a non- returnable photo of yourself. The photo is for identification purposes only.
Should you deliver your application in person $25 cash or check will be acceptable.
Mail or deliver to:
Allen Americans
Attn: Allen Americans Ice Angels
200 E. Stacy Road, Ste. 1508
Allen, Texas 75002
ATTN: Stephanie D. Wheat
Minimum Requirements for Dancers:
· 18 years of age on or before August 8th, 2013.
· High school graduate or G.E.D.
· If chosen, must reside in the Dallas/Ft. Worth location and have reliable means of transportation.
· Must be willing to attend all practices, games, and other related activities.
What does it take to become an Allen Americans Ice Angel?
Must be experienced in hip-hop
High energy
Overall personal and physical appearance
Poise
Positive role models
100% commitment
What to expect after you make the team:
Rehearsals- between 2-3 rehearsals per week: Thursdays 8-10pm, Sundays 3-6pm, Weds. 8-10pm (week prior to half-time performance).
Personal Appearances (Charity & Paid)
Fan Mail
Children's Dance Workshops
Performances
Interviews
Photo Shoots/2014 Calendar
Television and Radio Appearances