New York Giants fans get a cheerleading swimsuit calendar, without having cheerleaders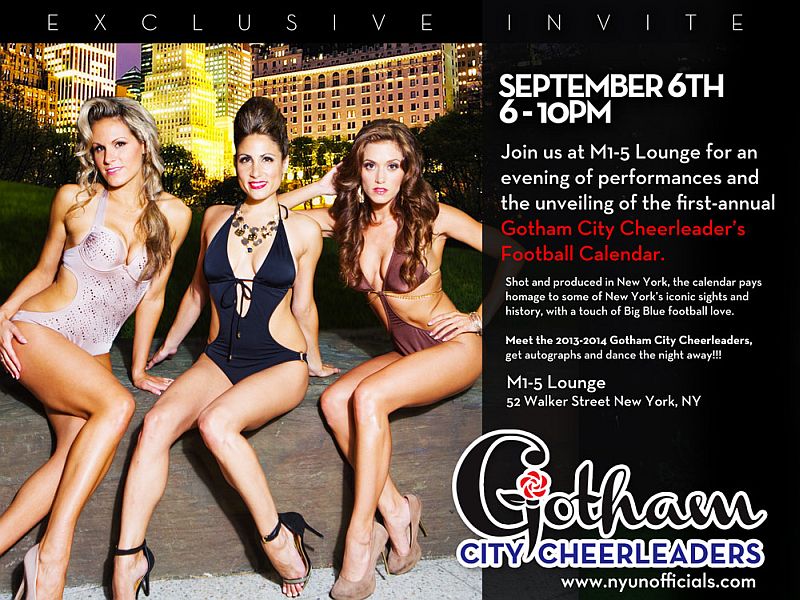 For the first time in sports entertainment history, New York cheerleaders have put together a stunning NFL-style swimsuit calendar that is targeted towards the fans of the team they support, but who have no official cheerleaders: The New York Giants.
Entering their 3rd season as the "unofficial" dancers of the Giants, the Gotham City Cheerleaders (GCC) have produced a 12-month pin up calendar for the 2013-2014 football season titled, ALL IN, NEW YORK. The calendar takes an editorial style spin to the paradise-like locations fans have always seen with most NFL cheer calendars.
"We are dedicating this season to our fans and our city. New York has been through a lot this past year, and we intend on highlighting the beautiful sites and talent that make up our classic state," said Ana De Villegas, Executive Director of the GCC and former Washington Redskins Cheerleader. "Everyone that has worked on this project believes in our team and sees the passion and resiliency of the woman chosen to represent us. It's only right that we give that back to the fans and local businesses that have helped us make this calendar a reality."
Part of the proceeds of the calendar sales will be donated to Sandy victims in an effort to continue to support those that are still recovering from the tremendous impact of the storm. Last year, the GCC also donated to the American Red Cross Sandy Fund.
"New York is a city that remains unparalleled to anywhere else in the world. It is full of opportunity and passion, which is why we chose our city as the backdrop to our first calendar. Our outlook was sophistication and class, which I think we accomplished in each shot selected for the final product," explains Christie Artinger, Director of the GCC's promotional team, the Ref Squad. "We as a team are proud to provide this memento to our fans and use this as an impactful avenue to raise money for a commendable cause." Ms. Artinger was a former San Diego Chargers and NY Jets Cheerleader before joining the GCC team of directors.
The GCC releases their 2013-2014 ALL IN, NEW YORK Swimsuit Calendar on Friday, September 6, 2013 at M1-5 Lounge in Tribeca from 6 pm-10 pm. They will perform various routines and showcase some of their featured swimsuits from various designers. Tickets are open to the public and can be purchased on the GCC site: www.nyunofficials.com/CalendarPremiere
The Gotham City Cheerleaders are returning from a two month international performance on the set of Sony Max for the India Premiere Cricket League. Since their launch in the Fall of 2011, the GCC have performed on CBS, FOX5, The Wendy Williams Show, Telemundo, TrueTV, and were also featured in Sean Paul's music video, "She Doesn't Mind", to name a few.