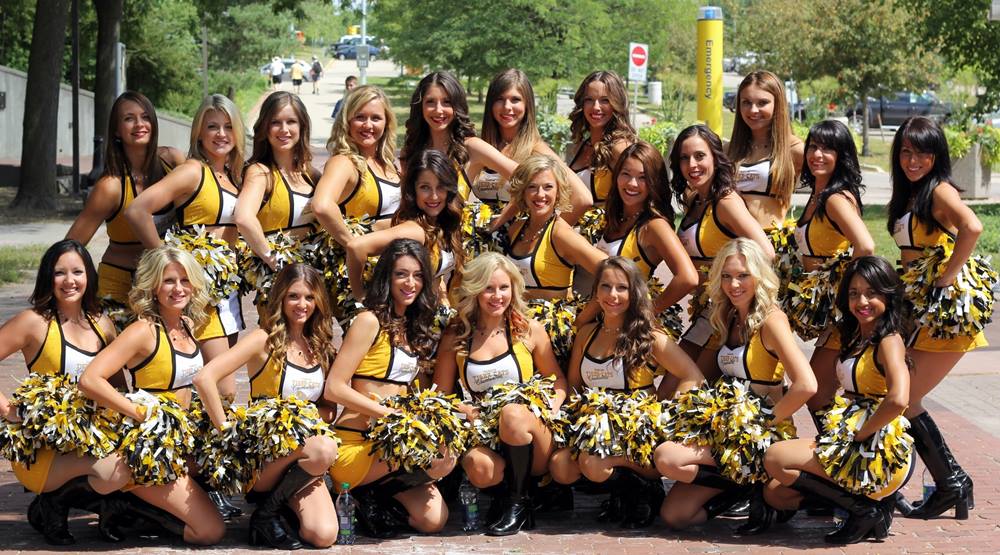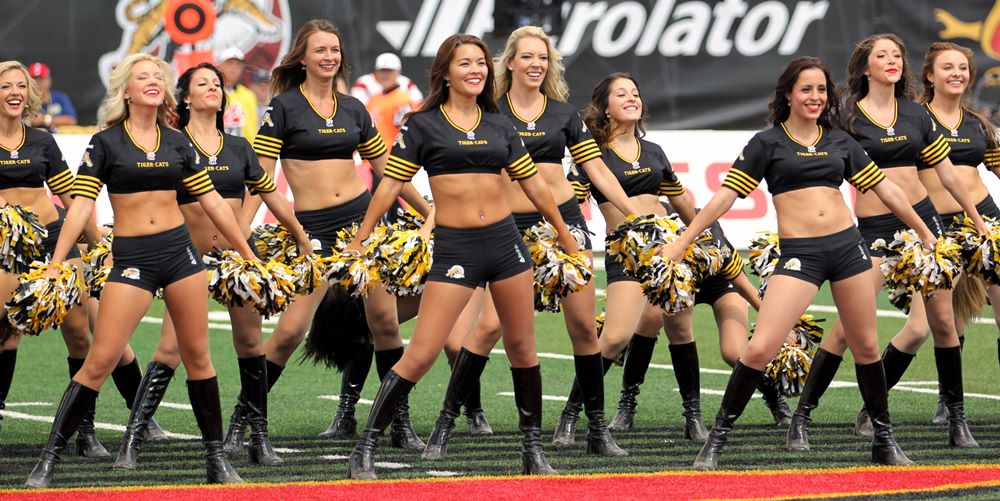 This is a very unique season for the CFL's Hamilton Tiger-Cats Cheerleaders. For one thing, the Ticats are spending a season away from Hamilton, as Tim Horton's Field is being built to replace their former home, Ivor Wynne Stadium. Therefore, the Tiger-Cats Cheerleaders are on the sidelines of their temporary home, Alumni Stadium at the University of Guelph, about 30 minutes north of Hamilton.
On the personal side, it is a season of change for some of the Tiger-Cats Cheerleaders as well, as four of them have been recently engaged!
But amidst a season of transition, some things remain the same. Starting with Head Coach and Choreographer Lesley, in her 21st season of being part of CFL cheerleading! Talk about the Ultimate CFL Cheerleader! Lesley cheered for the Tiger-Cats for two seasons, then for the Toronto Argonauts for ten years, the last four as Head Coach and Choreographer. Then in 2005, Lesley returned to Hamilton to take on her current role.
Lesley loves her current squad, and in a season of stadium transition, the Tiger-Cats Cheerleaders had the highest number of returning members in the history of their team, with only four rookies on the team of 22 Cheerleaders.
The other constant is that even though the Ticats are away from Hamilton, their enthusiastic fans are rooting on their team in Guelph. During the games, the Cheerleaders help out Pigskin Pete as he leads the crowd in the tradition of the Oskee Wee Wee cheer. Besides their sidelines, the Ticats Cheerleaders perform a routine at the 55-yard line during each quarter, and an additional mid-field routine if they win. In addition, during the game, the Cheerleaders help out with promotions, including a unique card game on the big screen that is based on a unique Tiger-Cats Cheerleader product, a deck of playing cards featuring the squad!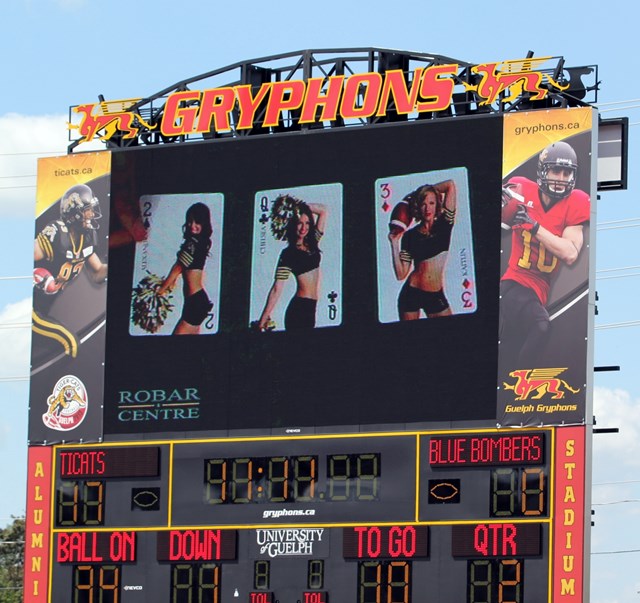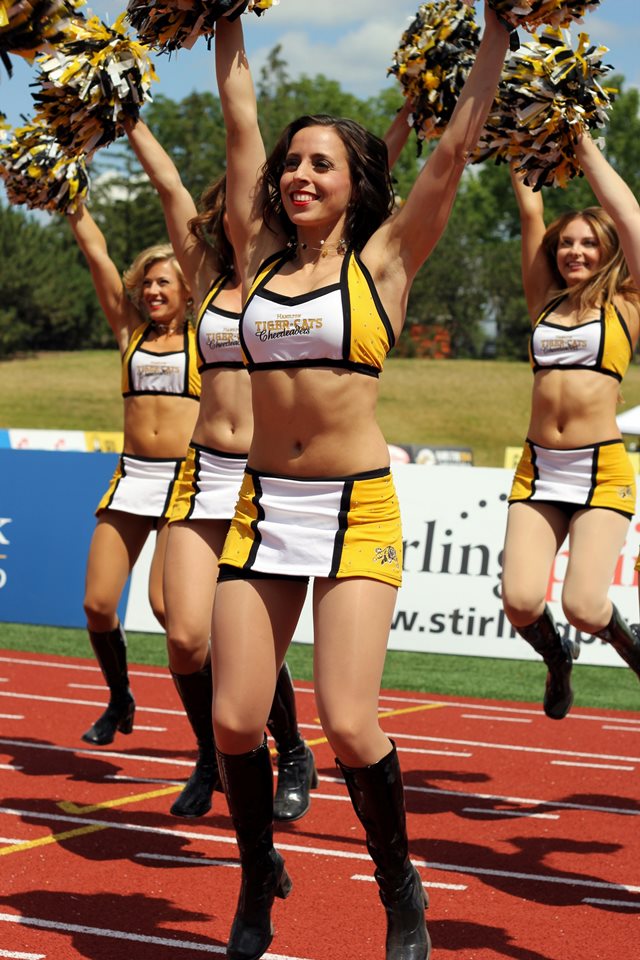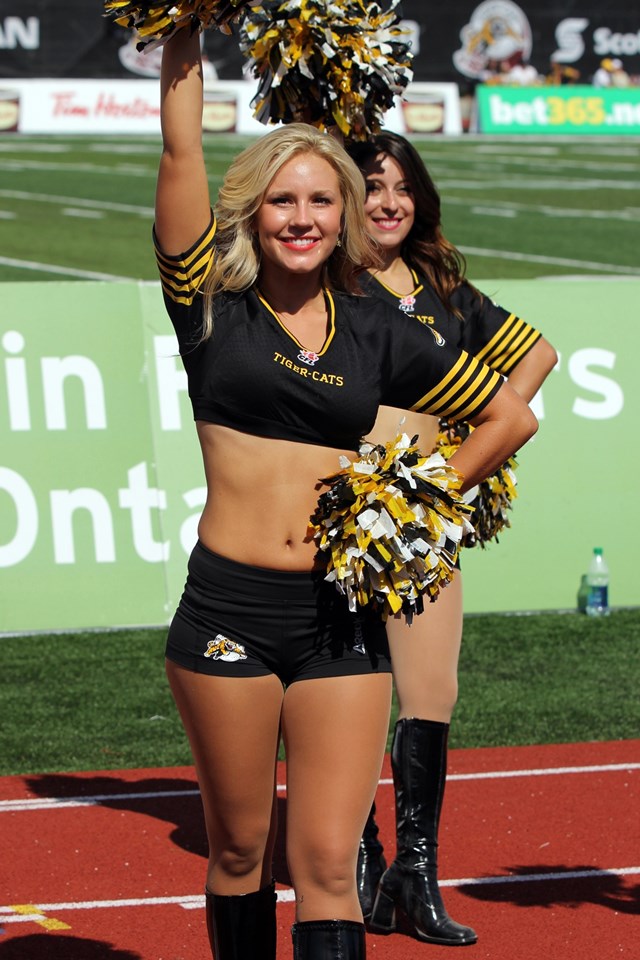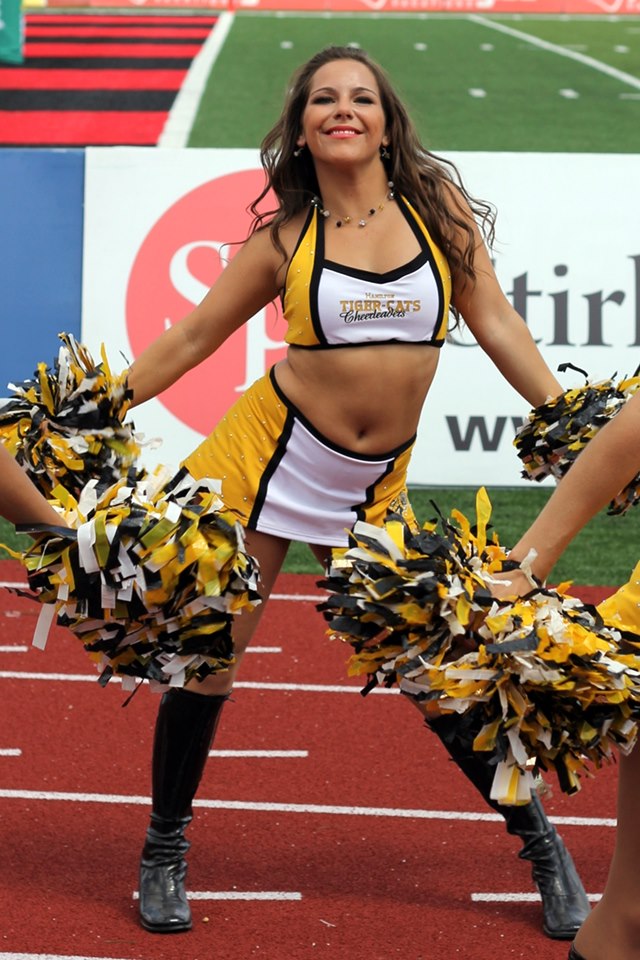 The biographies of the 2013 squad are located at this link, and during this season, UltimateCheerleaders will feature interviews and photos of some of the Tiger-Cats Cheerleaders. We sincerely thank Lesley, Assistant Coach Lauren, all of the squad members, plus Maurice Grant and Mike Hardill of the Tiger-Cats for all of their assistance at the August 24th home game against Winnipeg. The Tiger-Cats won 37-14, so that meant a fifth mid-field Cheerleaders routine to celebrate the win! Click on Continue below to see more photos, and there are even more at this link.