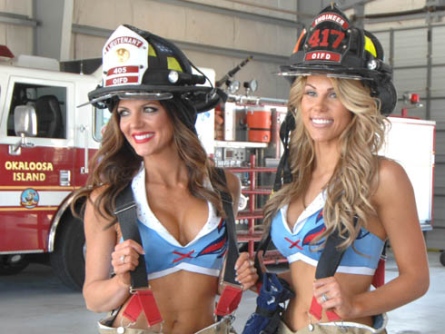 Firehouse heats up with visit by NFL cheerleaders
Trista Pruett
Daily News
May 22, 2014
OKALOOSA ISLAND – Four members of the Tennessee Titans cheerleaders visited the Okaloosa Island Fire District Thursday afternoon to take photos and help raise money for the Emerald Coast Professional Firefighters Council.
The cheerleaders took time out from shooting their 2014-15 calendar at The Pearl Hotel in Rosemary Beach for the event.
Event coordinators said that Titans cheerleaders wanted to do a few community activities while shooting the calendar, like thanking the Fire Department for their service.
See more photos from the cheerleaders' visit. >>
They posed for pictures, tried on fire gear and met community members.
The money raised went to support various charities, including burn victims.
The event raised a few hundred dollars for the ECPFC.
Titans representatives said the cheerleaders give back to the community whenever they can, especially during the off-season.
The firefighters and cheerleaders also posed for a few photos promoting #MoveOver, a movement encouraging motorists to move over for emergency vehicles on roadways.