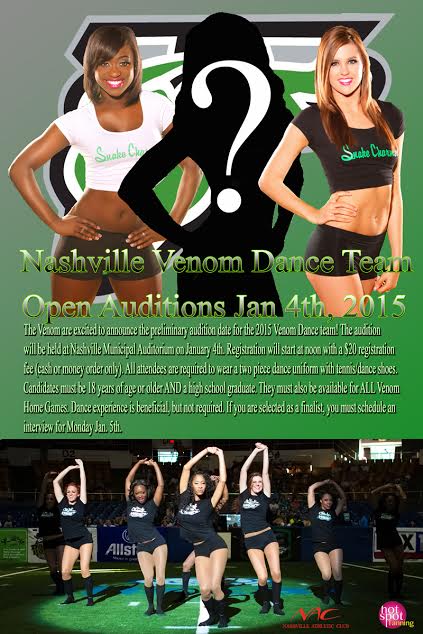 Start the new year right! Auditions are coming up for the Nashville Venom Dance Team. The Nashville Venom are the 2014 PIFL Champions and are looking to have another GREAT season!
Preliminary auditions:
January 4, 2015
Municipal Auditorium in Nashville
Registration starts at noon.
Application fee is $20, cash or money order only!
Preliminary auditions will begin promptly at 12:45. Preliminary auditions are closed to the public and will only be open to those auditioning.
Wardrobe: two piece dance attire- Stomach must be shown, Tennis shoes or Dance shoes, surface is concrete/gym floor
Interviews:
If you are selected as a finalist you have to schedule an interview for Monday, January 5,2015.
Finals:
TBD
For the latest information or contact information, visit their website at www.nashvillevenom.com/dance-team.html or look them up on Facebook