The NFL's "Football is Family" campaign is also often embodied by the league's cheerleaders. For instance, Hannah, a second year Tennessee Titans Cheerleader, and her dad have a special football bond. "Both of my parents attended Alabama, and my dad had the opportunity to play football for the legendary Coach Bear Bryant," Hannah says. "My dad and I share a love of football together, so to be able to talk football with him and go to games together was really special, and still are. We have even continued our tradition of attending the first game of the season together, just he and I, and that is my favorite Alabama game all year."
Like a lot of recent Alabama student-athletes, Hannah made it to the NFL! Hannah shared with UltimateCheerleaders how knee issues could not deter her goal since ninth grade goal to be an NFL Cheerleader, how Hannah and her sisters show that their hometown of may be the "City of Sisterly Love," and how her dog Walt's double dose of intelligence allows him to make Hannah perform tricks in the morning before she can leave home.
Hannah is originally from Jasper, Alabama, and is one of three sisters, which inspired her choice for "favorite book" in her online Titans Cheerleader bio. "Weird Sisters Is a book I picked up at the airport not having any knowledge about the book and the story line," Hannah explains. "However, it just spoke to me, so I bought it. It turns out it was a story about a family of five with three daughters. I am a family of five and the middle child of two other sisters. The book just touched me and I related to it so well, because it talks about the ups and downs of siblings, but no matter what in the end you will always have your sisters."
"I am very blessed to have two amazing sisters," Hannah continues. "Both have taught me so much about life and about myself. When I think about Meghan, my oldest sister, I think about how she was always a very motherly sister to me, she has such a selfless heart, and would go above and beyond for me. She is the sister that would give me ideas, helped me bring out my creative side, and she always let me tag along with her. We also lived together in college, and she would do anything for me, she one time even brought me a paper that I forgot to my 8:00 AM class. Thanks Megs!"
"Now, when I think of Hallie Grace, my youngest sister, she is a little spitfire. I was very quiet when I was younger and still kind of am today, and she is my sister who would be my voice and speak out for me when I wouldn't. She always taught me to believe in myself, which, I think, speaks volume for who she is as a person. Also, we both also are pretty witty and sarcastic, her a little more so than me. For example, she once gave me a birthday card that said, 'To the pretty one in the family.' I opened it up to find it say, 'From the absolutely gorgeous one.' So when we are together we usually are laughing a lot."
Hannah's youth was busily filled with gymnastics, dance, and cheerleading. "I was very busy growing up balancing mostly dance and gymnastics, and I wouldn't trade that for anything," Hannah says. "I started dance when I was two and gymnastics when I was four years old at Marilyn Sanders Performing Arts Center in Jasper, Alabama. While I loved dance, gymnastics was my first passion that I truly enjoyed and loved. However, my mom never let me give up dance, because she knew it would help me succeed in gymnastics! I was a competitive level eight gymnast at American Gymnastics in Birmingham, Alabama, when I stopped competing due to Osgood-Schlatter disease, which is essentially an inflamed growth plate below your kneecap."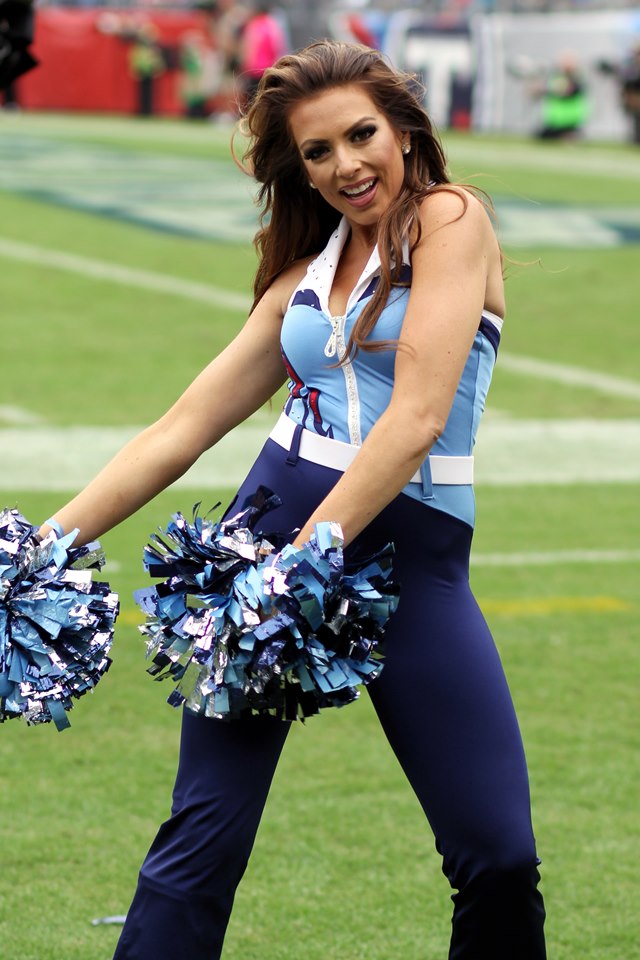 Hannah recalls, "Leaving gymnastics was very hard for me. It was my life. I practiced 24 hours a week during the school year, and around 30 during the summer. However lucky for me, I can thank my mom for continuing to book those Sunday afternoon dance privates, because I was able to turn my full focus back to dance. Then a couple years later after the Osgood-Schlatter settled down, don't get me wrong it still hurts me 'til this day, I tried out for ACE All-Stars of Alabama, and cheered competitively with them for four years, while still dancing first days a week. So, Tuesday, Thursdays, Fridays, and Sundays, I would be in dance class, and Mondays and Wednesdays I would be at cheer practice."
Asked about her memorable early performances, Hannah responds, "My first solo was, 'Let's Have a Party with Charlie Brown and Snoopy.' I was four years old and it was an acro- jazz routine. Let me tell you that number was a hit. I can't decide if it was the fact that I was four years old and could already do a round of back-handspring series, or the extremely cute music. I mean who doesn't like Charlie Brown and Snoopy, but I remember people just loving that routine."
"My first group dance was 'Land of a 1,000 Dances. I remember being so excited to be in this dance with all the older girls in our dance studio. It was a huge production number and I just thought it was an honor to dance with the 'big girls.' However, my favorite part of this dance was that I wore this Yellow pleather skirt and vest outfit, with my hair in high bun with two ribbons in it."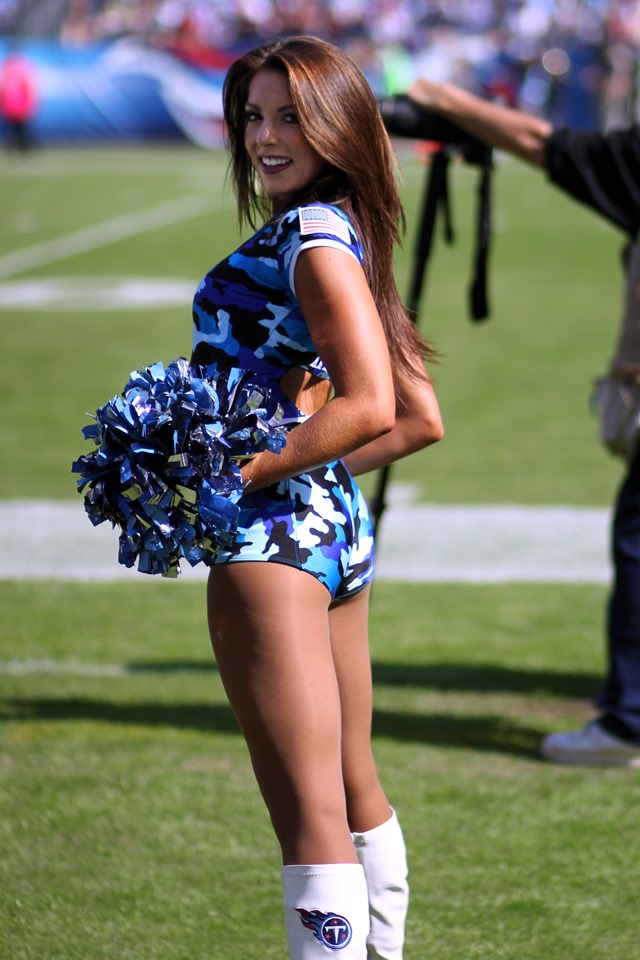 Regarding her favorite dance, Hannah answers, "I had a lot of favorite dances, like 'Happy Face,' my six-year old solo; 'Good Morning, Good Morning,' I was able to wear pajamas in that group dance' ; or 'Colors of the Rainbow' where we had color ribbons that we danced with. However, my all-time favorite dance would have to be my duet with my older sister Meghan. That dance meant so much to me then and so much to me now. It was the sweetest dance and growing up my older sister always treated me like her real life baby doll, so for us to be able to share a duet together was very special."
In the end, it takes a village to develop an NFL cheerleader, and Hannah is appreciative of the people who molded her talents. "I owe my dance background to Marilyn Sanders Performing Arts Center in Jasper, Alabama. My gymnastics to Marilyn Sanders Performing Arts Center, TNT Tumblers, and American Gymnastics, and the coaching of Gina Logan, David Hill, and John Lowery. My cheerleading to ACE All-Stars of Alabama."
Hannah's hometown of Jasper, Alabama, may not be large, but has produced a wide range of notable people, including the political dynasty of the Bankhead family, athletes, a Miss Alabama, and classic TV stars George "Goober" Lindsey (of The Andy Griffith Show) and Polly "Kiss my grits" Holliday (from Alice). Asked about current favorite shows and any favorite TV classics, Hannah responded, "I don't have much time for television, but I watch Netflix as I am going to bed, and I currently have three series I watch: House of Cards, Scandal, and Bloodline. Growing up, my older sister and I loved watching I Love Lucy, especially the episode where Tallulah Bankhead appeared because her she was from Jasper. The Bankhead House is still standing in the downtown area today!" Tallulah Bankhead is daughter of a former US House Speaker from Jasper, and she was also the "Black Widow" on the 1960's Batman show.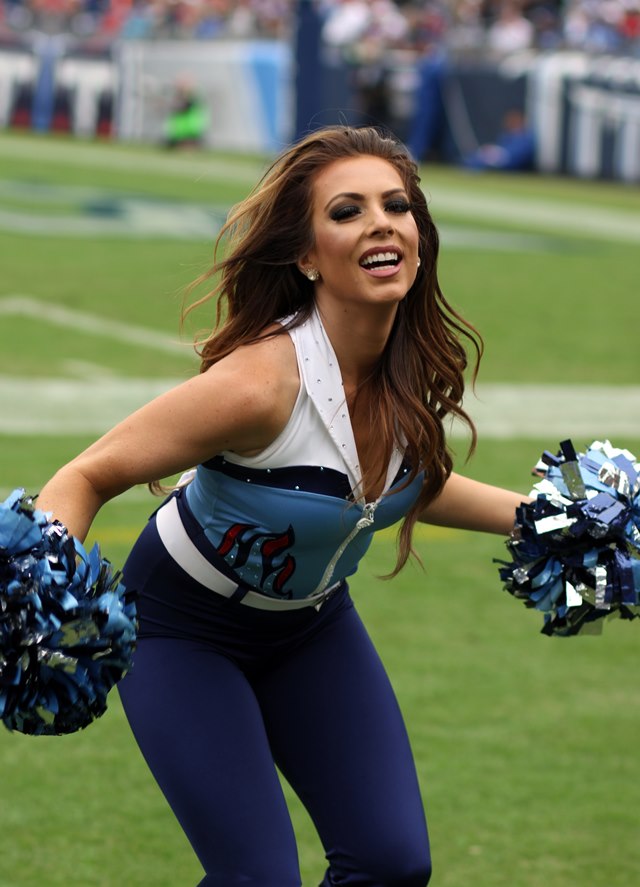 After high school, Hannah matriculated to her parents' alma mater, the University of Alabama, and it was also a perfect fit for Hannah. "Attending The University of Alabama was probably four of the best years of my life," Hannah comments. "I remember my freshman year like it was yesterday from Bid Day, where I pledged Alpha Delta Pi and I made friends of a lifetime, to graduation day. I couldn't have asked for a better college experience. I have a few fond memories like Homecoming and Swaps. During Homecoming, each sorority competed in a dance competition, and it was always so much fun choreographing and competing in good fun. As for swaps we all dressed-up in costumes. I think my favorite was when two other friends and I dressed up as Alvin and the Chipmunks for our 'rewind- redo swap.' However, I would have to say the best part of attending Alabama was probably experiencing the Alabama Dynasty with three National Championships and also sharing the bond with my Dad."
And those Tide bonds continue for Hannah with the Titans Cheerleaders. "Having other Alabama grads on the team is awesome!" exclaims Hannah. "My best friend on the team is Bri, also an Alabama graduate. We actually worked in the Athletic Office together one summer, but never crossed paths and until Titans, and now she is my best friend. We talk Alabama football all day, every day. Julia, another Alabama graduate, actually helped me prepare for Titans Auditions the first year I auditioned, and Heather is from Birmingham and we have a lot of mutual friends in common. I think it is always great when coming into a new atmosphere to have people you can relate with, and feel comfortable with."
And achieving Hannah's long-time dream to cheer for the NFL to be part of the sorority that is TTC was worth the move to Nashville. "I remember the day I made Titans like it was yesterday," Hannah says. "Final Auditions were over, and they were announcing the team, and I remember a lot of tears, and excitement I couldn't believe I had made it. Your rookie year as an NFL cheerleader makes you grow so much."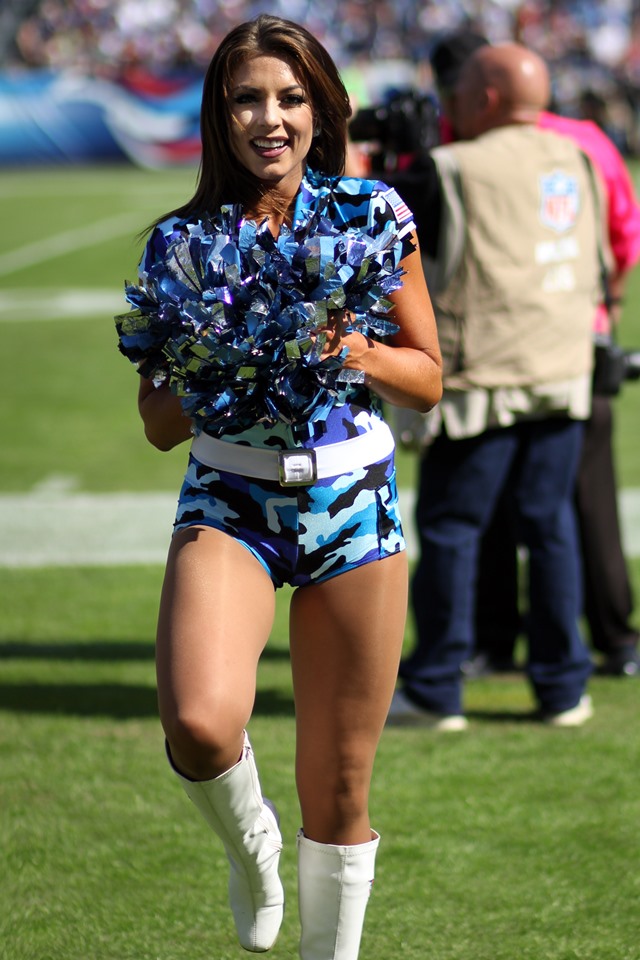 "However, it probably wasn't until my last game where my captain Tandra, who is now retired, said, 'Let's wave a final good bye to all four corners of the stadium.' That was the moment I realized that I had accomplished a dream I had set for myself 10 years ago, and a reason I wasn't ready to leave just yet. I returned for my second year because as a rookie I only was able to dabble in the world of the NFL. There are so many opportunities that as an NFL cheerleader you can experience, and I worked three years for a spot on the team, I wasn't ready to give it up just yet. I also have amazing teammates who have become best friends, and getting to dance with them on the sidelines is something I will forever cherish. Being a part of a team like the Tennessee Titans Cheerleaders is something more than just a job on a Sunday, it is a part of you, and it forever becomes your family. We like to say, #TTC4L."
With her college studies in Communications, Telecommuncations and Film, and Event Management, Hannah has started her career path in Nashville. "I am currently an Executive Assistant for Performance Marketing Software Company, LeadsPedia," Hannah explains. LeadsPedia is software that focuses on Affiliate Tracking, Lead Distribution, and Call Tracking and Routing. When I first started in this position, the performance marketing space was just a different world to me. I definitely did not see myself working at a tech company, but it has allowed me have hands on experience, so I can eventually land my dream job. I currently run all social media accounts, marketing promotions, as well as plan and execute all coordination and organization for the conferences we attend. I think my hard work and determination makes me excel in my position, especially in a start-up environment. I think my bosses respect that they know, no matter any situation they can always count on me to get the job done."
And if Hannah needs another side job, her impersonation of the On-Star lady's voice is amazing. I thought she was lip synching to the real thing (check out the video here). "My On-Star lady voice actually started in college. We were all piled into a car in my sophomore year, headed to a friend's house, and my friend's GPS wasn't working, so I decided I would tell her directions in the On-Star voice as joke. Little did I know I ended up sounding just like her!"
So this is the start of Hannah's professional journey. Where might her path lead to someday? "My dream job would to either work at a network like ABC or NBC. I mean I really want a show with my friend Bri, basically like Kathy Lee and Hoda. I think Bri and I would make an awesome team and we would be really funny. However, you know some dreams don't become reality so my reality dream would to be an event coordinator at a zoo, and then go on to be a production coordinator at National Geographic."
Another important best friend to Hannah is her Aussiedoodle, Walt. Besides being super cute, Walt is a combo platter of two pretty intelligent dog breeds. Is Walt a smart puppy, and what "trouble" has he gotten into because he is a wee bit too smart? "Walt is literally a little fluffy human and besides just being my best friend he is definitely smart," Hannah answers. "Smart is probably an understatement, so we will go with intelligent. For example, in the morning times he takes one shoe and hides it on one side of the room, and the other somewhere else, so I spend extra time looking for my shoes and not leaving for work. He also thinks it is really funny in the morning when I am not awake yet, to go grab his food bowl jump up on the bed and drop the food bowl usually on my forehead. Luckily it is plastic. However, even though some of those things tend to get annoying, I wouldn't trade his intelligence for the world. He knows a couple tricks, like sit, stay, and fetch. He also knows two claps means to not get ahead of me and walk beside me. As well as he uses his paws like hands and will carry around his treats and toys."
Hannah continues, "My most favorite thing he does is in the morning after his walk is morning time snuggles. I'll say "'Walt, it's time for morning time snuggles,; and he immediately jumps up on my bed and we crawl under the covers and we just lay there for ten minutes each morning to just to snuggle. I like to think it's his favorite part of the day too. He truly is my best friend; I couldn't imagine the last year and a half without the little guy!"
Hannah's "dream come true" of being an NFL cheerleader is no doubt one of the multitude of goals she will reach in this lifetime. But her connection to family will always make Hannah's life special, including when she is on the sidelines. "My favorite TTC memory thus far was the Breast Cancer Awareness game this year," Hannah shares. "We did a halftime production with our junior cheerleaders and their survivors. Well, my grandmother is not only one of my heroes for other reasons, but she is also my hero for surviving breast cancer. So, I was able to invite my grandmother, who I call 'Mama' out on the field for the halftime performance. Since I was two years old she has never been able to participate any production with me, and sharing that moment with her meant more to me than words can describe."
Yet another example of how Hannah embodies "Football and Family," and add in Hannah's TTC sisters, and "Friendships" is a third variable in her very successful equation. Like Hannah says, #TTC4L.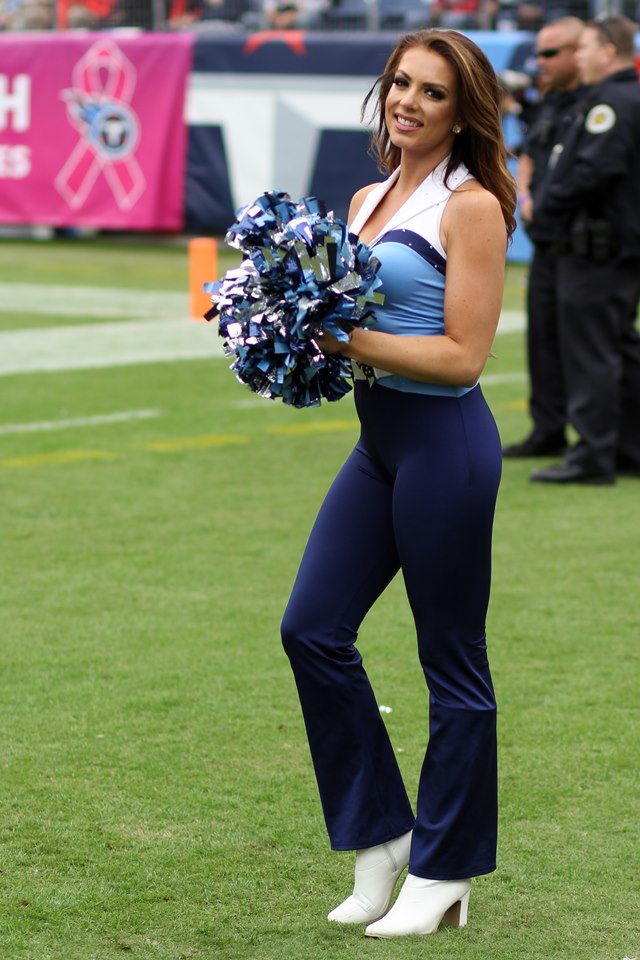 Thanks so much to Hannah for her time and wonderful insights. Of course, thanks to the super amazing Stacie Kinder, Director of Cheerleading for the Titans, and all of the Titans organization, especially Robbie Bohren, Lauren Spencer, and all of the Titans Cheerleaders for their gracious hospitality and support of UltimateCheerleaders!
More photos of Hannah are at this link.