A couple of months old, but still worth posting…sasha
By Jay Betsill
Special to DFW.com
Nov. 2, 2015
DALLAS — The Dallas Mavericks Dancers held their squad photo and cameo shoot at a studio near the 2011 NBA champion's headquarters in the shadows of downtown in Deep Ellum.
This is an important day for the team as the squad photo is the picture that Mavs fans from around the world will see and the photo that the dancers will sign at all of their appearances throughout the NBA season and the next calendar year.
In addition to the squad photo, each of the 20 dancers did their individual cameo photos that will be used in promos on the video board at American Airlines Center and in printed materials including the official game day programs in the Inside Dish section.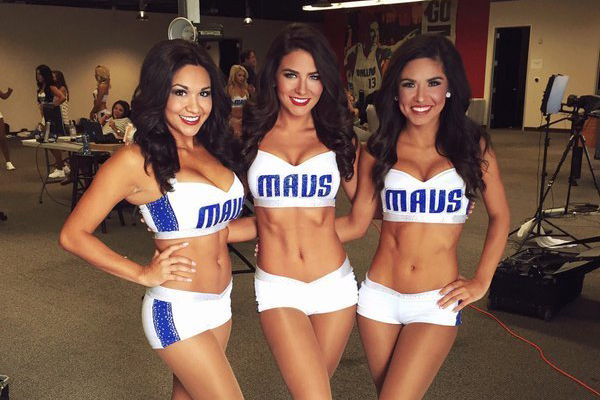 Another significant part of the day comes when many of the rookies don their Mavs Dancers uniform for the very first time.
"Squad photo shoot day was an awesome experience," said rookie Mavs Dancer Meredith. "When I put the uniform on for the first time, it was one of the best feelings I've ever had and I definitely felt like I was a part of the team. I had that 'wow' feeling that I really had accomplished my dream."
There is also the subliminal bonding that goes on as veterans helped out the rookies, many of whom have never experienced a full-scale photo shoot. Whether it is lending a helpful suggestion while working on a pose or simply calming nerves prior to the individual shoots where all of the attention is focused solely on the particular dancer who was out on the seamless background.
"We have a good group of girls this year and I think the best part about squad photo shoot day was that we all got to know each a little more," said six-year veteran Mavs Dancer Emily M. "My first year, I was definitely more nervous, wondering how my hair and makeup looked because I knew how many people were going to see the photo, but throughout the years, I have become much more accustomed to how things go on the photo shoot days.
"Part of being a veteran is actually making sure the rookies feel comfortable and if they need anything, I am here for them," she continued. "We actually had former Mavs Dancer Sequel on hand to help with makeup and uniform fitting and it basically lets the new girls see that team is one big family."
The Mavs Dancers first full team performance for the 2015-16 season took place at the Mavs Fan Jam on the court at American Airlines Center.
The 2015-16 Dallas Mavericks Dancers are: Veterans Emily M., Lauren, Ashley W., Kathryn, Alexis, Amber, Kassandra, Elise, Hayley, Emily V., and Hunter and rookies Ansley, Karielle, Janae, Katelyn, Raegan, Meredith, Lexie, Ashley H. and Sydney.
For more information on the Mavs Dancers, visit mavs.com.