By Jayme Lamm
CBS Local
January 13, 2016 10:53 AM
Ever met someone and within the first five seconds you know their personality, energy and enthusiasm put yours to shame? Like, hardcore shame? Well you have if you've ever met Sarah E. Livesay! Yes, that's how she introduces herself — middle initial and exclamation point included. The exclamation point is even on her driver's license.
"Sarah E. Livesay!" is a second-year Ben-Gal cheerleader and Louisville native who is the living embodiment of an Energizer bunny drinking Red Bull. Her bright smile is the stuff of dentist posters; her personality beats that of your favorite girl-next-door movie character. And she's got dance moves to rival even the best YouTube dance videos. Her love for humans, canines and adventure just makes me want to use heart emojis every time I talk about her.
I left out the looks part, but you can imagine… Actually, you don't have to. Bengals fans will see her in the team's cheerleader calendar in February, not to mention this interview
CBS Local Sports chatted with Ben-Gals powerhouse, Sarah E. Livesay!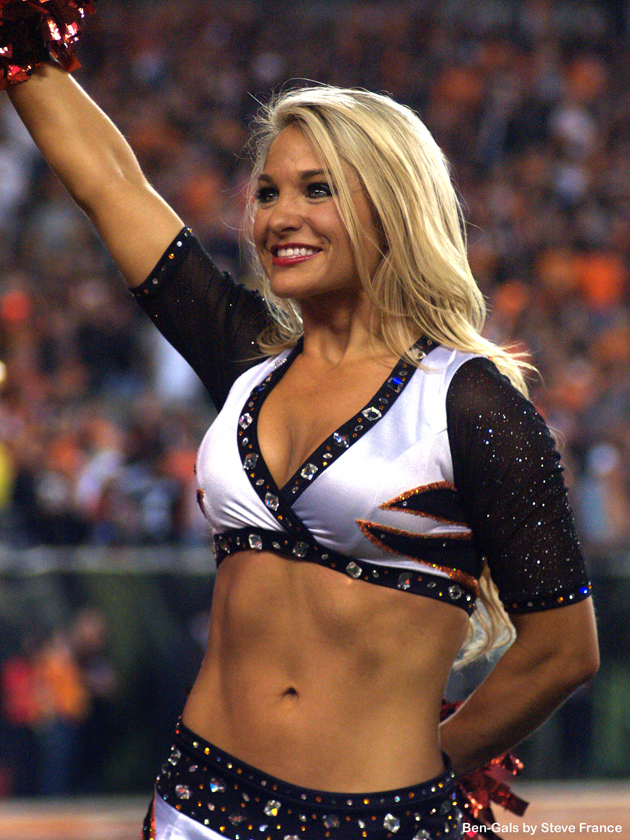 Sarah Livesay, Cincinnati Bengals Cheerleader (Photo Credit: Steve France)
Sarah E. Livesay!: You may be asking why I have that 'E' in the middle or why I put an exclamation point at the end of my name. It's because my girlfriends from home call me 'Sarah E.' and I thought that exclamation point was cool when I was in middle school and it just stuck with me. I even wrote it on my AP tests in high school, and it's currently how my driver's license is signed. My girlfriends from Cincinnati call me Liv, Liv-Liv, Liveables, or Livers … how bad is Livers? In the Bengals organization I am known as "Sarah L."
CBS Local Sports: Give me details about your day-to-day life?
SL: I am a Managed Print Consultant at Modern Office Methods in Cincinnati, OH. To put it plainly, I'm in sales and sell a service to manage desktop printer fleets within an organization. This is a headache for a lot of companies to do themselves, so I do it for them. I always start my day with a cup of coffee and then hit the road to meet with my current and prospective clients. Every day is a new adventure in this industry, and I love that it keeps things fresh and exciting. After work I go running or head to practice. I also have a dog named Gabbie, or "Ben-Gab," who I love spending time with. If I have a girl's night during the week, Gabbie is always invited too.
CBS: Have you ever gone onto the field and forgotten your routine?
SL: Oh goodness, luckily no! I have blanked on certain parts but never on the whole thing. However, at one of the games, I started out doing a completely different dance than the rest of my sideline and I was really getting into it. We were pretty far into the dance when I realized I was completely off. That was embarrassing!
CBS: If you had a reality TV show what channel would it be on?
SL: Wow, this is a hard one because I don't watch much TV. I guess I would pick CBS, NBC or ABC because those are pretty much the only channels I watch and they keep things classy. Haha!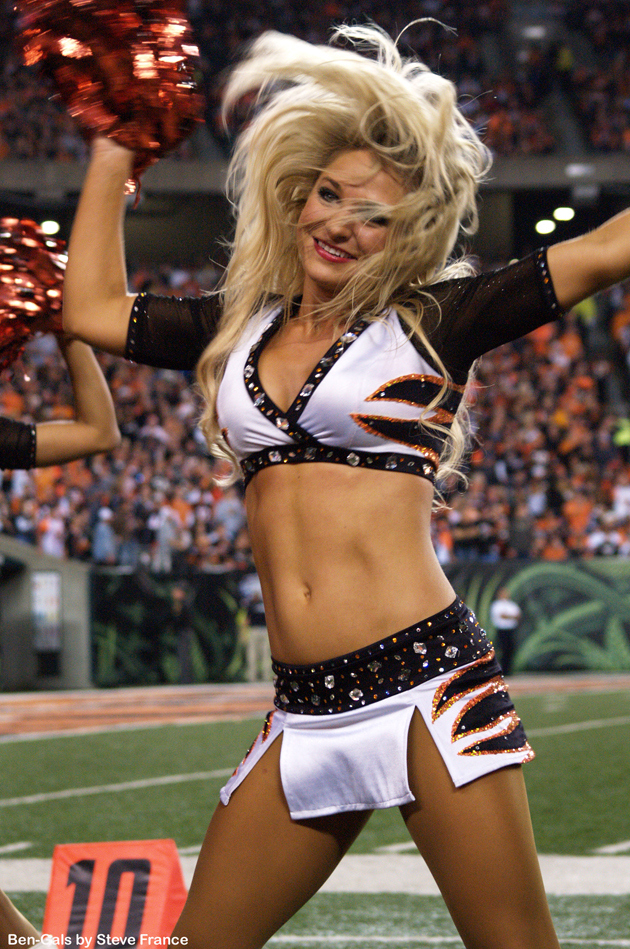 Sarah Livesay, Cincinnati Bengals Cheerleader (Photo Credit: Steve France)
CBS: Miley, Taylor or Beyonce?
SL: Oh man. This is a tough one too. I would say a mixture of Taylor and Beyonce! I have always been a Taylor fan and have been to several of her concerts. For casual listening I would pick Taylor but when I'm in the mood to dance or on the way to practice, Beyonce! Beyonce's music is just easy to get into no matter how fast or slow the beat is. I went to Beyonce's concert last summer and walked away wanting to be her.
CBS: What song instantly puts you in a good mood?
SL: Any song that Phoebe sings on the show Friends. Especially "Smelly Cat" and the song about a little black curly hair she found in her bed. Those songs crack me up.
CBS: If I gave you two plane tickets anywhere in the world — where are you going and with who?
SL: I would go to Bora Bora and take my boyfriend, Derek. I always see the most amazing pictures of that place on TV and in those magazines in the seat back pocket on planes, but I've never seen it for myself. I lived at the beach in South Carolina for a little over two years and am definitely a beach kind of girl. Bora Bora would be the ultimate beach experience.
CBS: Favorite thing about your city?
SL: I love that there is always something to do here. If you like sports you can go to Bengals, Reds, Cyclones, University of Cincinnati or Xavier games. We also have so many local restaurants to try. There is always a concert at Riverbend or an event going on in Washington Park. I also love taking my dog to "Yappy Hour" at the park. Cincinnati is just a very up-and-coming, happening place.
CBS: When I say the letter "T" what's the first word that comes to mind?
SL: Twitter! I have no idea why, and it really wasn't even a word until 2006.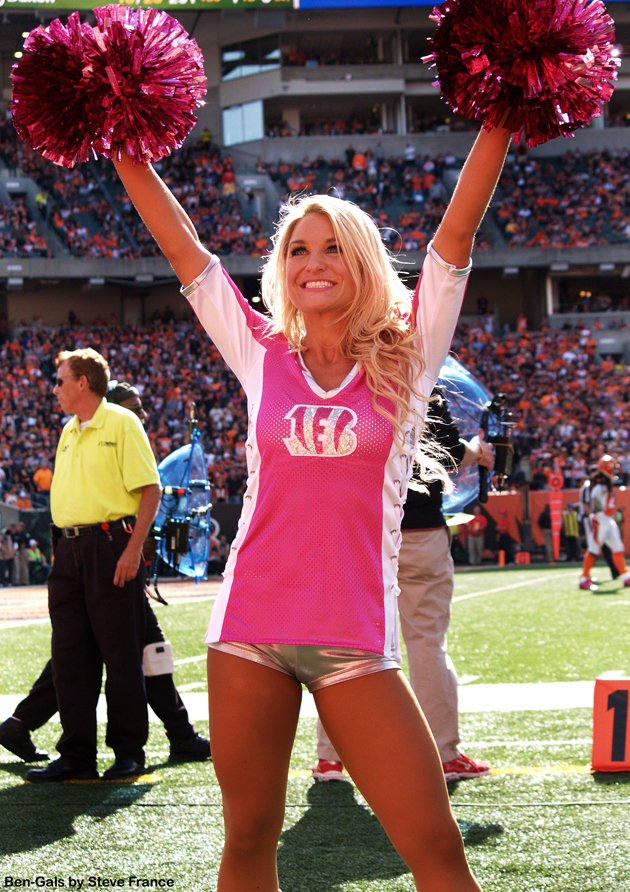 Sarah Livesay, Cincinnati Bengals Cheerleader (Photo Credit: Steve France)
CBS: App you use most?
SL: Instagram – I like to post pretty pictures and keep up with bloggers. I don't have a lot of time to shop so this is one way I can keep up with what the new trends are and also shop online. It's also a good way to keep up with my friends and family who live in different cities.
CBS: If you could go to dinner with any celebrity/athlete, who and why?
SL: Cameron Diaz because I think she would be a lot of fun. I've been told that I resemble her so I would love to get a real life "look-alike" pic although I'm 7-inches shorter than her.
CBS: During the off-season, what does your perfect Sunday look like?
SL: I would start by sleeping in as late as possible. I would do brunch with the girls and probably order a breakfast burrito. In the afternoon I would go to the movies and see a comedy or go for a run. On Sunday nights I like to order thin crust pizza with my boyfriend and be lazy.
CBS: Heels or flats?
SL: HEELS, HEELS, HEELS! I am 5'2 so I love wearing heels! In sales it's always good to have a sturdy pair of heels for client meetings. In my closet right now I have three pairs of black heels that are all different styles. I also have a pair of blush patent leather pumps. Also, I have six pairs of boots or booties in my closet and every single pair has a heel. My rain boots even have a wedge on them.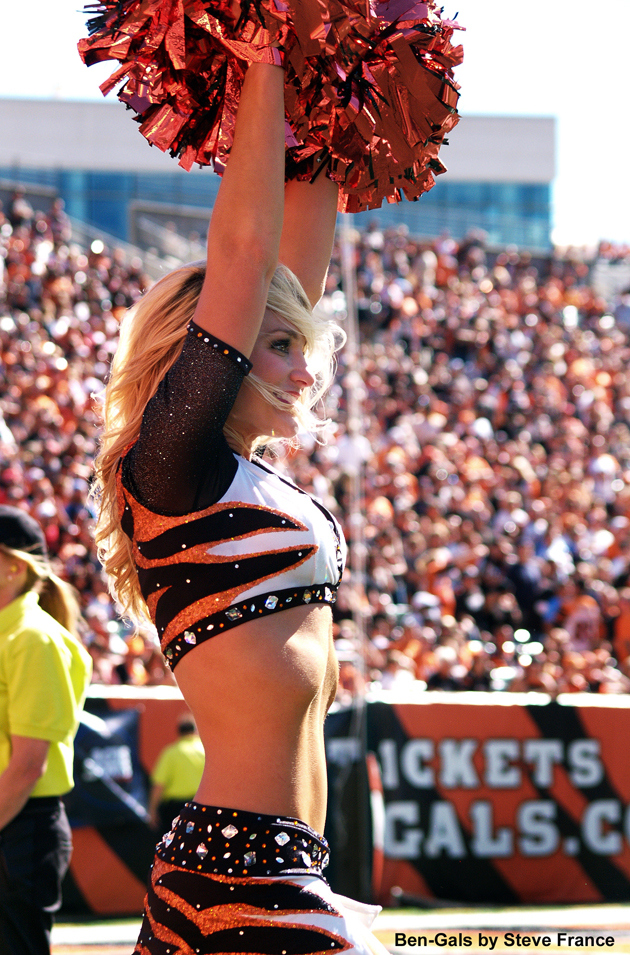 Sarah Livesay, Cincinnati Bengals Cheerleader (Photo Credit: Steve France)
CBS: Best advice you've ever been given but ignored?
SL: Don't get a dog! I just have to laugh this one off. Adopting my dog, Gabbie, was probably the best choice I have ever made. She is a three-year-old Boxer Mix (or that's what the vet said), but she looks like a "mix of perfection" because there is no telling what DNA is in my dog but it's perfect! Gabbie has brought me so much happiness, and I'm able to give this little once-stray, then foster, a forever home where she is so loved. Gabbie and I absolutely love playing, and I love teasing her. I have an old Halloween mask I put on and chase her around the house with. Don't worry! She loves it.
CBS: What's your one (top-secret until now!) beauty hack?
SL: If you like to wear fake eyelashes, always use black glue! It blends in better with your eye liner. If you use white or clear glue it doesn't look as smooth against the eyelid. When you put the glue on the eyelash, wait one minute before putting it on your eyelid. This will help it adhere faster and not move. I know a lot of people say to wait 30 seconds before applying but waiting an extra 30 seconds works better for me.
CBS: Tell me something about you people would find completely interesting?
SL: Are you ready for this? I had pet rats in the past. I know it sounds so weird but they are way nicer and smarter than gerbils and hamsters, and they don't bite. RIP Sunny, Midnight, Salt and Pepper.
CBS: A quote or mantra you're totally vibing on right now?
SL: Just say NO! I tend to overcommit to things and end up with too much on my plate, so I am working on saying "no" more often and making more time for myself.
CBS: Fill in these sentences:
CBS: I wish more people in this world would be…
SL: Happy.
CBS: I can't get enough…
SL: JIF peanut butter. (Neither can Gabbie)
CBS: Yoga pants are…
SL: Super comfy and cute too.
CBS: The single coolest moment as an NFL cheerleader was…
SL: Being picked as the Cheerleader of the Week for our home opener this season.
CBS: What I love most about myself is…
SL: My positive spirit.
Follow Sarah L! on Twitter @sarahelivesay and Instagram @sarahe20.