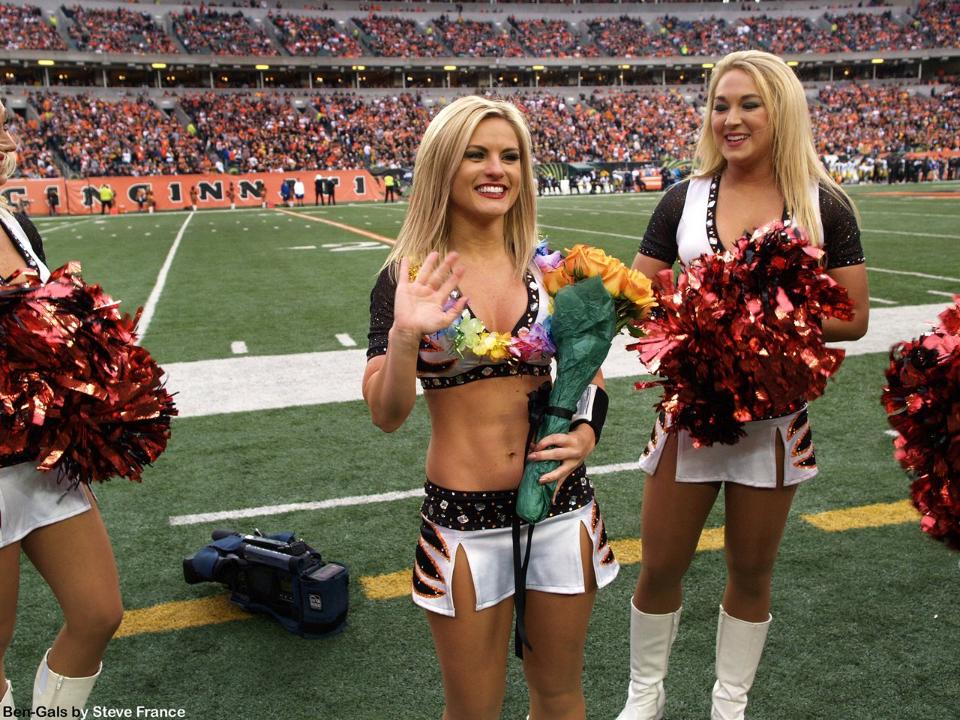 The Ledger Independent
January 21, 2015
Cincinnati Ben-Gals cheerleader Tina Rigdon will be heading to Honolulu, Hawaii Monday to cheer in the 2016 NFL Pro Bowl, but don't think it will be all fun and games while there.
In fact, the six days she will be in Hawaii are already packed full with rehearsals, public appearances, NFL promotion events and visiting military service men and women, leaving little time for leisure.
Tina doesn't mind the fact she won't have a lot of down time during this once in a lifetime experience. Being a veteran cheerleader with the Cincinnati Bengals, she understands the importance of her selection to represent her team and the duties that come with it.
The Pro Bowl will be played on Jan. 31. One cheerleader was selected from each NFL team, however, five NFL teams don't have cheer squads, so rather than 32 cheerleaders, she is one of 27.
Her duties include a lot more than just learning one or two dance/cheer routines for the game, and she will spend upwards of six hours a day practicing.
For starters, her wardrobe is to represent her team colors at all times, from her evening attire to her bathing suit. She will take four suitcases on the trip: two will be carry-on items because they will contain her Ben-Gals cheer outfits, and they can't be checked luggage. She is to take one white and one black dress, with the coordinating jewelry for each to be in the Bengals colors; she is also required to take one dress in the team colors.
"We have to act very professionally while we're out," she said. "We always visit the troops, that's always pretty big."
She will learn three "rows" right off, which will determine her placement within the squad on the sidelines. After that, she will learn two dance routines, which will be practiced everyday. In between those practices, she is on duty for all but about two hours of her day, with her last events in the evenings wrapping up around 9 o'clock.
She's also been asked by her coaching staff to make a daily video diary, which will be posted to the Bengals' website.
"I'm surprised by how much practice time we are having. But they do treat you so, so good," she said, referring to her trip to Japan in January 2015. During that trip she was one of four NFL cheerleaders selected to meet and greet U.S. Army service men and women during a nine day promotional tour.
The process to be selected for the Pro Bowl is done on a point scale in which each member of the squad and the coaches cast a vote for their top three choices of the 24 women on the squad, she explained. The number one spot earns three points, the second place spot earns two points and the third spot earns one point. The point system is part of the overall process which also includes scores on leadership skills, mentoring service, speaking and presentation skills.
"They look for everything," she said of the criteria.
The announcement of her selection was made during the Dec. 13 home game against the Pittsburgh Steelers. She said now that she is captain of her particular squad, she has other duties throughout the game, which kept her from watching the announcement on the scoreboard near the end of the game.
She said as the football players and coaching staff went into the tunnel after the game, she was congratulated by Andrew Whitworth and one of the coaching staff.
"It was like wow, he knows who I am," she said of Whitworth's acknowledgement of her selection.
In addition to the fun and prestige of cheering at the Pro Bowl, Tina will also receive an engraved ring with her name, the date of the game, etc. She said it isn't quite as fancy as the ones given to players, but it is special nonetheless. She said her toughest choice is whether she wants the ring in gold or silver.
In regard to her future with the Ben-Gals, she said it is tradition for a Pro Bowl cheerleader to return to her squad the next year, so yes, she plans to return for the 2016-2017 season. Beyond that, she said she'll wait and see what the future holds. She said she is the oldest cheerleader on the Pro Bowl squad at the age of 37, with the average age of the others being 25.
But if there is one thing for certain about her experience as a Ben-Gals cheerleader, she has developed a tight network of girlfriends over the years.
"It is definitely a unique sisterhood, some of my closet friends have come from this experience. And now I will be making new friendships," she said.