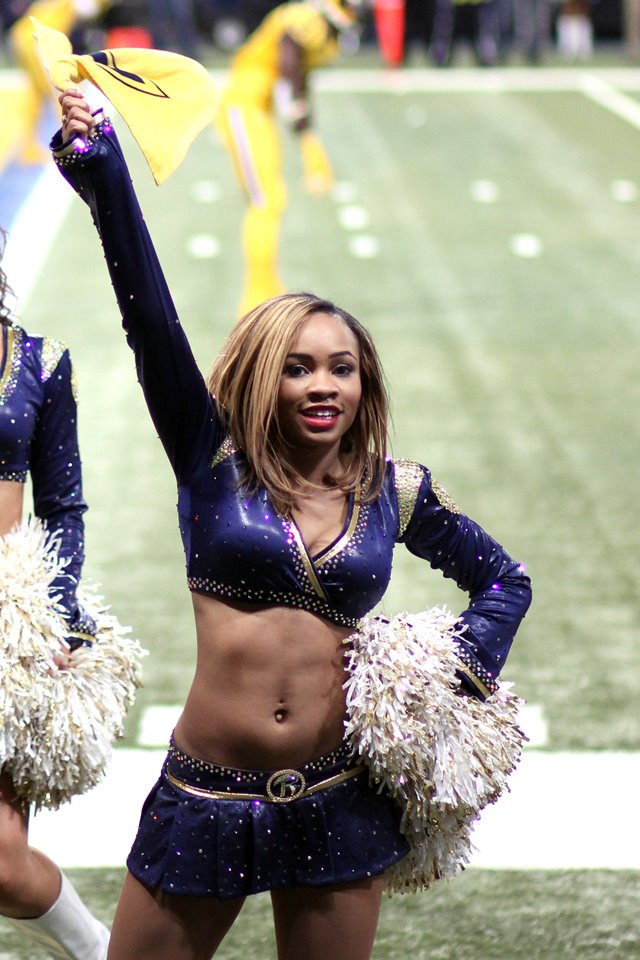 A few days before the NFL approved their move to LA, the Rams website featured Rams Cheerleader Kenisha in their "From the Top" series. Kenisha is full of fun and energy, and as she mentions below about what her team means to her, "Everything. They are my friends. They've helped me through things. They're a very special part of my life."
From the Top with Kenisha
Jacob Born
Corporate Communications Intern
stlouisrams.com
Kenisha started dancing when she was nine years old. She fell in love immediately, enjoying every visit to her dance studio in O'Fallon, Mo. She continued dancing through high school and went on to coach youth cheerleaders of the Mid-Rivers Football Association.

After graduating from Fort Zumwalt North High School, Kenisha attended University of Missouri-Columbia, where she was a member of Main Attraction Dance Team. After two years on Main Attraction, Kenisha became a member of the Mizzou Golden Girls, the university's official dance team. Kenisha recently earned her degree in business administration from Mizzou this past spring. Though she was finished with school, she hadn't quite graduated from dancing just yet.

Coming back to St. Louis, she auditioned for the St. Louis Rams Cheerleaders. She made the team and the rookie hasn't looked back since. In addition to being a Rams Cheerleader, Kenisha launched her career at Boeing where she works as a procurement agent.

Favorite memory as a Rams Cheerleader?
Running out through the tunnel is awesome. It was cool to have the pyrotechnics, too.

What food item would you bringing to a tailgate?
I'm bringing cupcakes.

Last movie that made you cry?
Straight Outta Compton.

Favorite movie?
The Notebook. I watch it monthly.

Celebrity look-a-likes?
I'm going to go with Beyoncé.

Favorite emoji?
The smiling one with the little eyes and all its teeth are showing. I'm always super excited.

Dream vacation?
I would go to a beach with no cellphones or internet. Just the water and the waves.

Favorite Disney Princess?
Princess Tiana from The Princess and the Frog.

Go-to karaoke song?
Beyoncé's "Single Ladies." But I do have a boyfriend.

Favorite community outreach event or activity?
I danced at Mizzou and we hosted a junior cheerleading clinic, where we would work with young girls for a month. We would teach them to dance and also give them some mentoring. I really enjoyed watching them grow.

Favorite cartoon growing up?
SpongeBob SquarePants.

How do you stay healthy?
I work out five days a week and I try not to eat carbs.

What's the first thing you would do if you won the lottery?
I would start my own business.

Most random item in your bag/purse?
I have a mascara brush, but it's without the mascara.

What do your teammates mean to you?
Everything. They are my friends. They've helped me through things. They're a very special part of my life.
Here are some photos of Kenisha from the Rams last home game in St. Louis.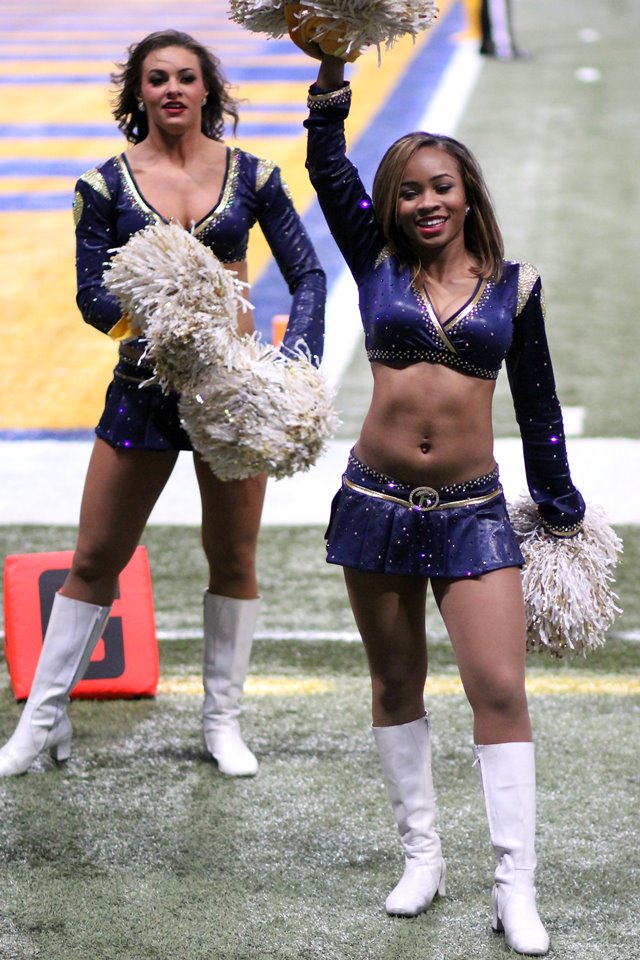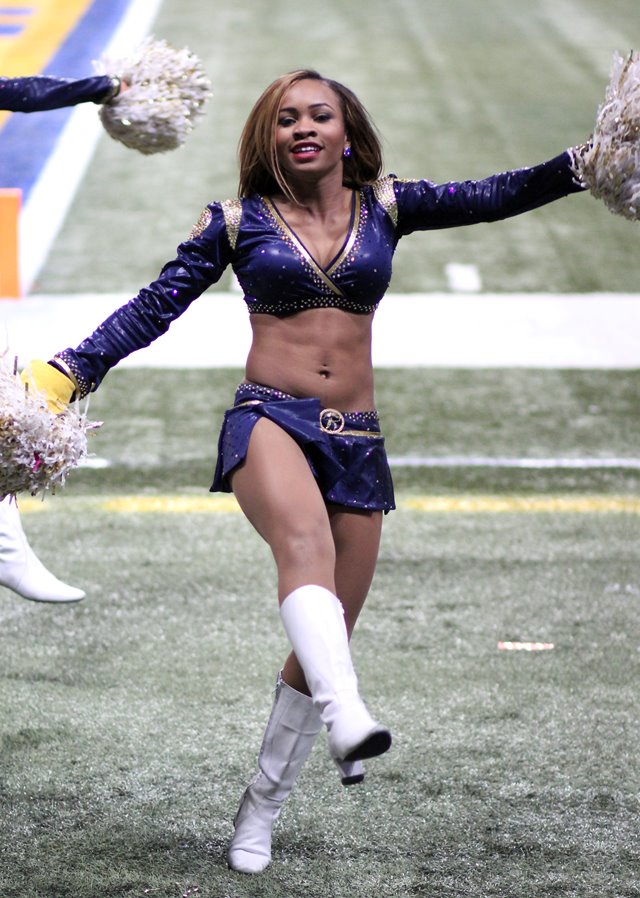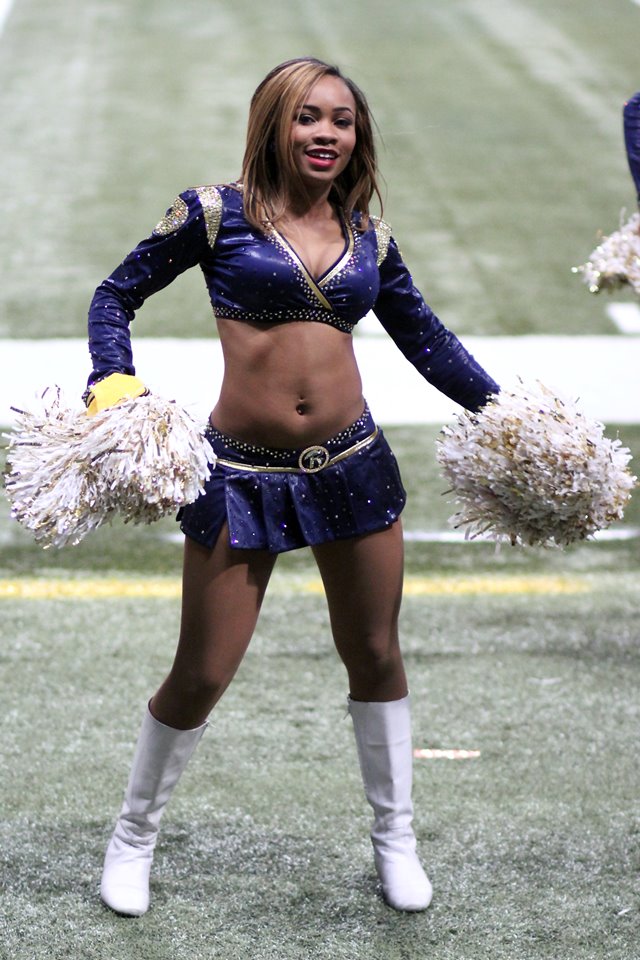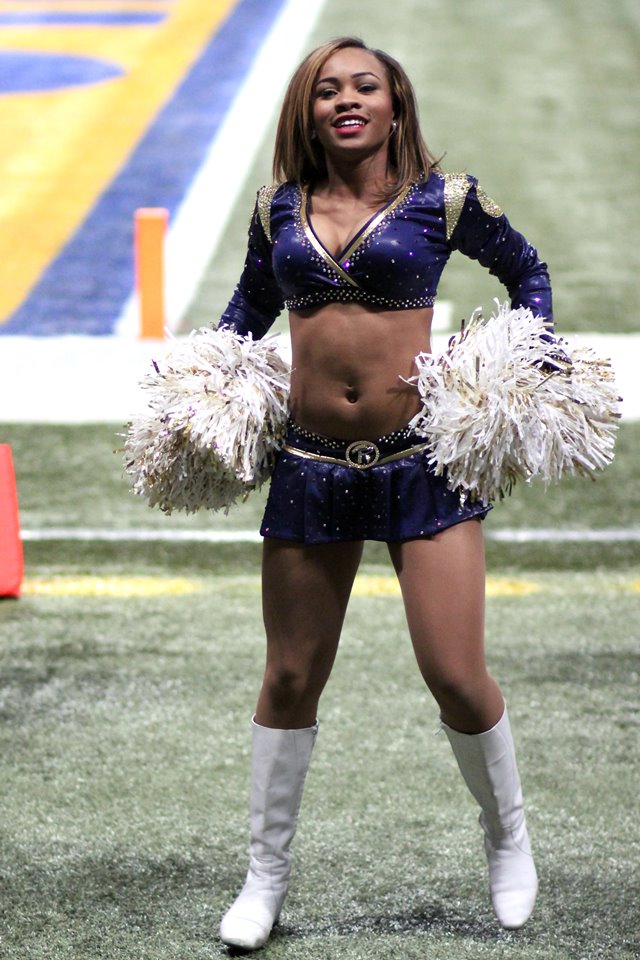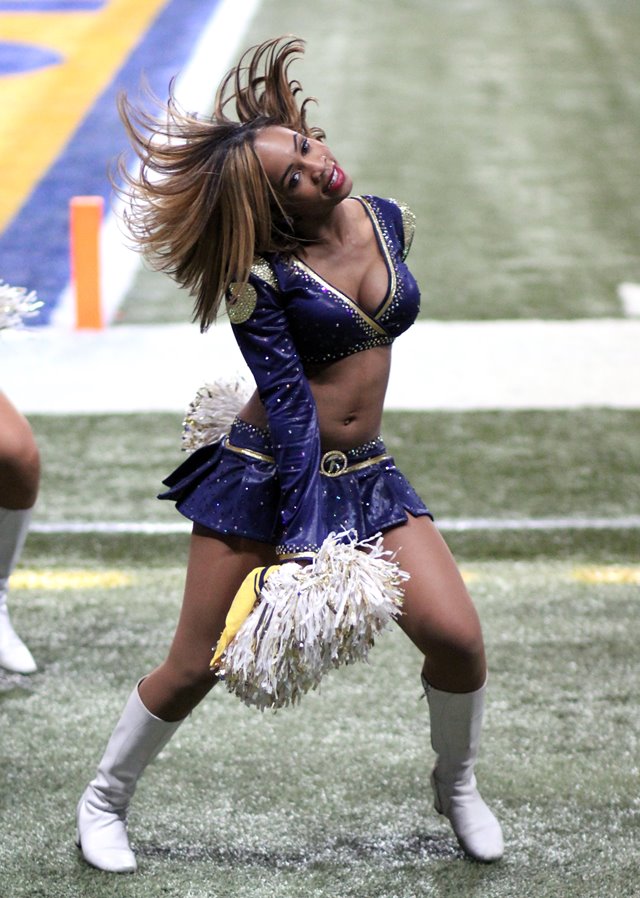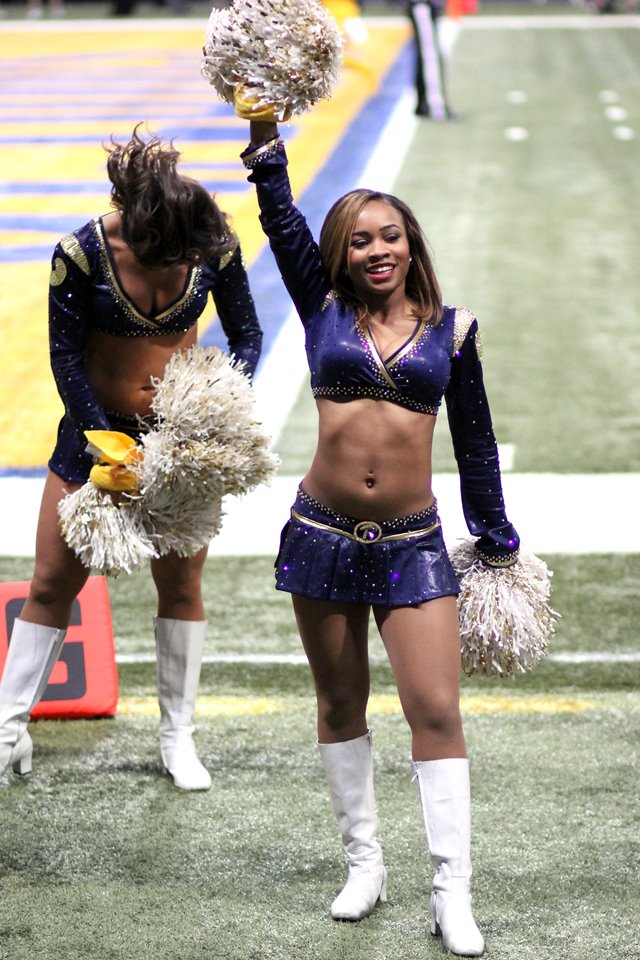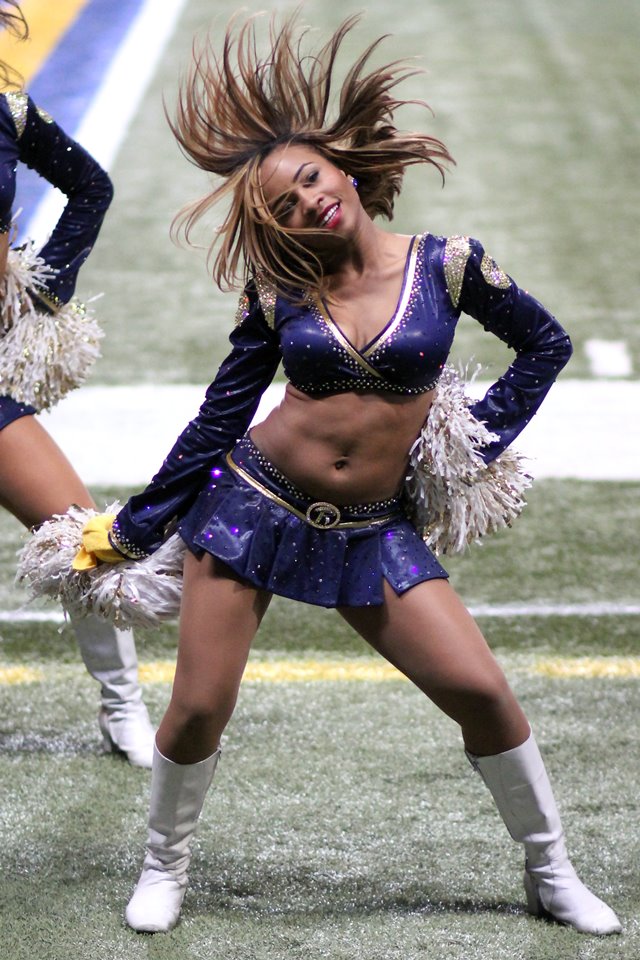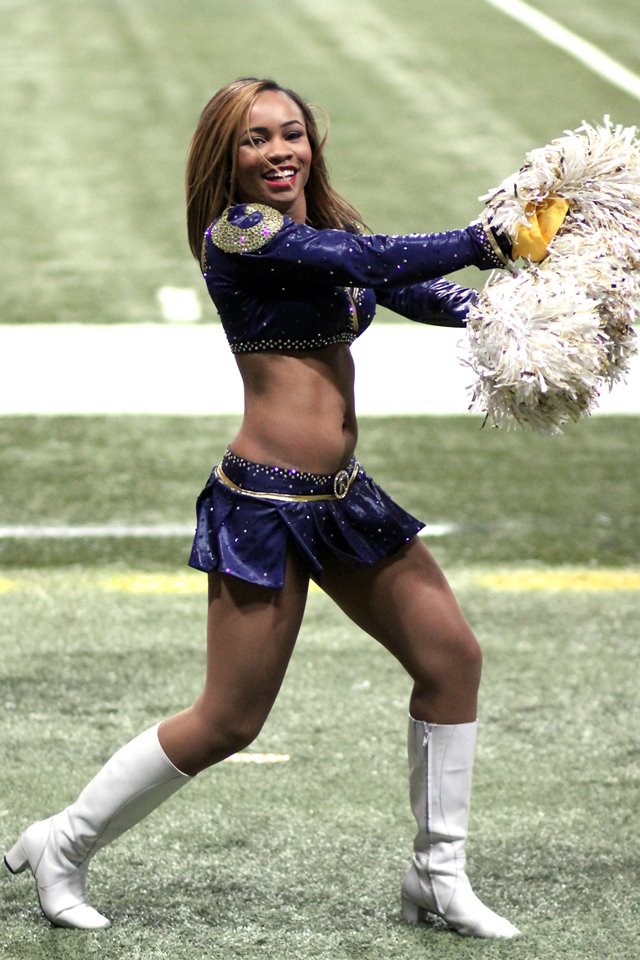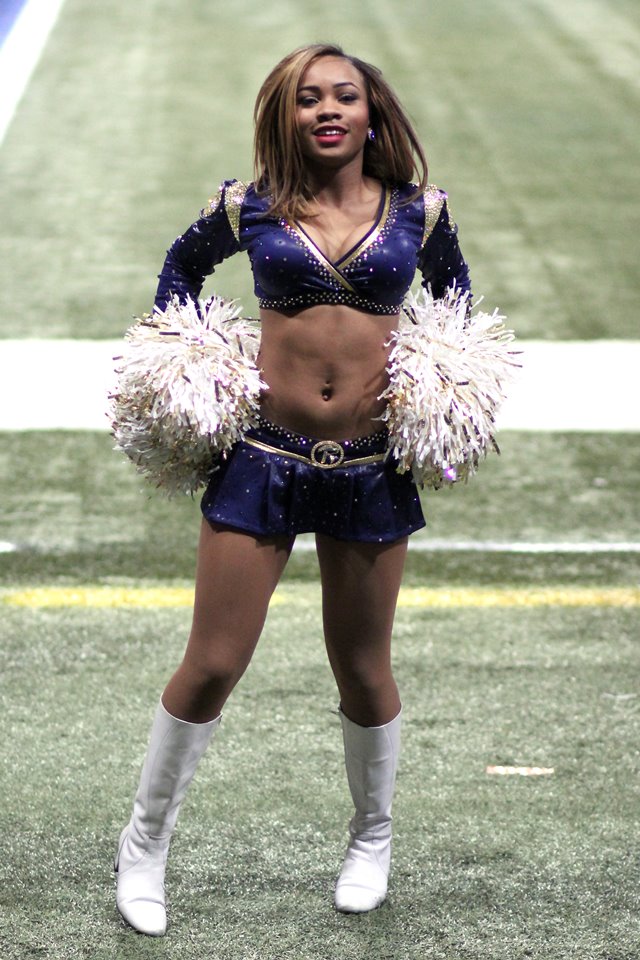 More photos of Kenisha are at this link.