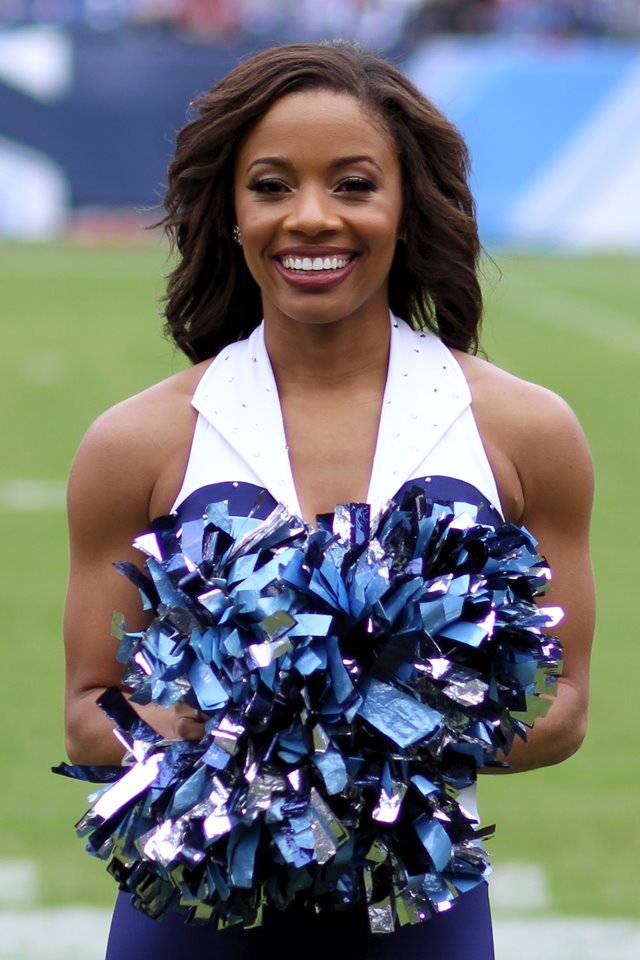 What makes a winning team? When a team member speaks glowingly about their squad in terms that there is no competition within it, and a strong camaraderie of friendship, saying of each of their members, "You want to see everyone succeed, and get opportunities, not just necessarily yourself or your friends, you want to see everyone do well."
That description of the Tennessee Titans Cheerleaders came from second-year member Bri as she joyfully described her team last October. And this winning attitude may be also derived from Titans Cheerleaders being part of winning college programs in the past. Bri was danced at University of Alabama, as did another Titans Cheerleader Julia, and Hannah and Pro Bowler Heather also attended Bama, the team consistently at the top of the college football world over the last decade. Her hometown is in Texas, but Bri is an Alabama fanatic with all her heart.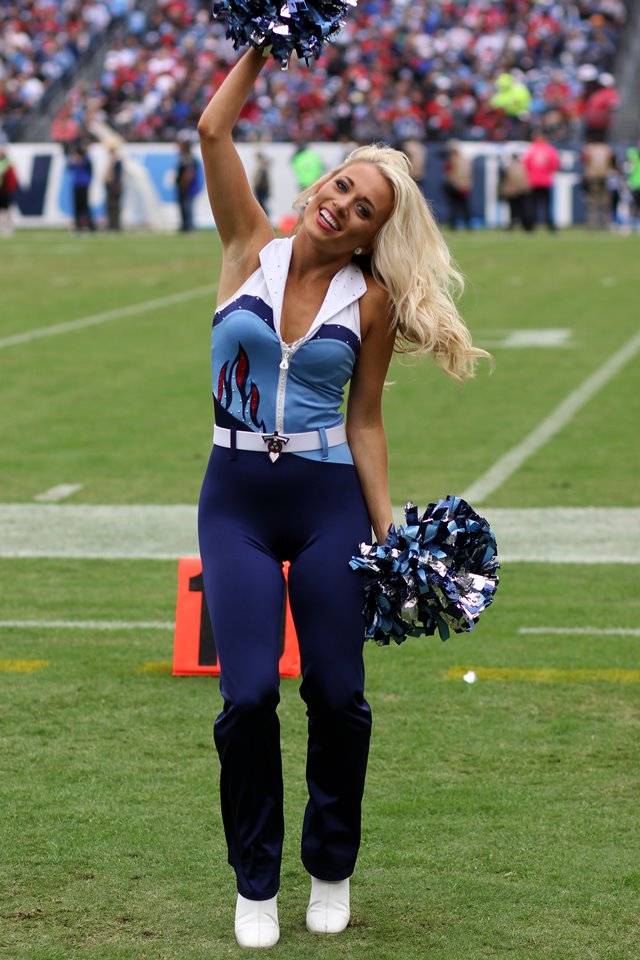 Rookie Kellee also brought a winning history to the Titans Cheerleaders, as she danced for the Oklahoma State football teams that achieved great success with QB Brandon Weeden and wide receiver Justin Blackmon. "I was there those years so that was really fun," Kellee recounted. "My last year we went to the Fiesta Bowl. It was the year we almost went to the national championship; I would have loved to have cheered at the national championship."
"That was the year we kicked you out of the national championship," Bri, playfully chimed in, remembering 2011-2012 one-loss Bama was BCS #2 and the 11-1 Cowboys were #3. With deadpan comic perfection, Kellee replied, "I don't want to talk to you."
But Bri and Kellee were not only TTC teammates, but both proudly on captain Jessi's line. "We're the best line and everyone knows it," they joked. "We only have six members, so we're the short line and the small line, but I like our small line."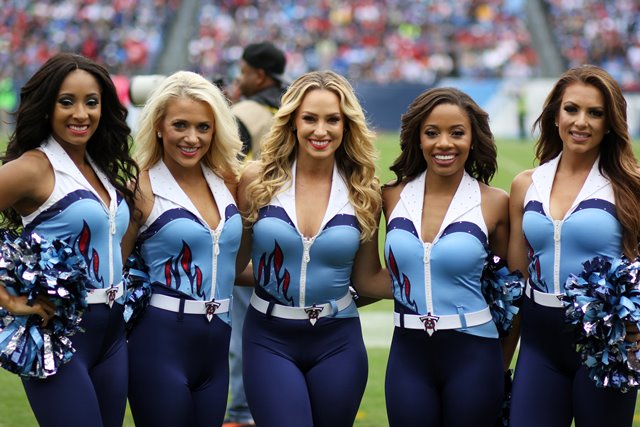 At the Halloween home game, Bri was happy with her costume, but a bit perplexed. "I'm a Greek goddess, but I think the people that made the costume are a little confused about their history and culture though, because it came with a snake headband. That's Egyptian, not Greek. So it's like a combo of the two I guess. My mom said, 'I don't think that's right,' and I said, It's not."
Kellee's costume channeled Where's Waldo? "I really like it. It is comfy, a cotton shirt and cotton shorts. Kellee joked, "I thought, why I don't just go hide during the game?"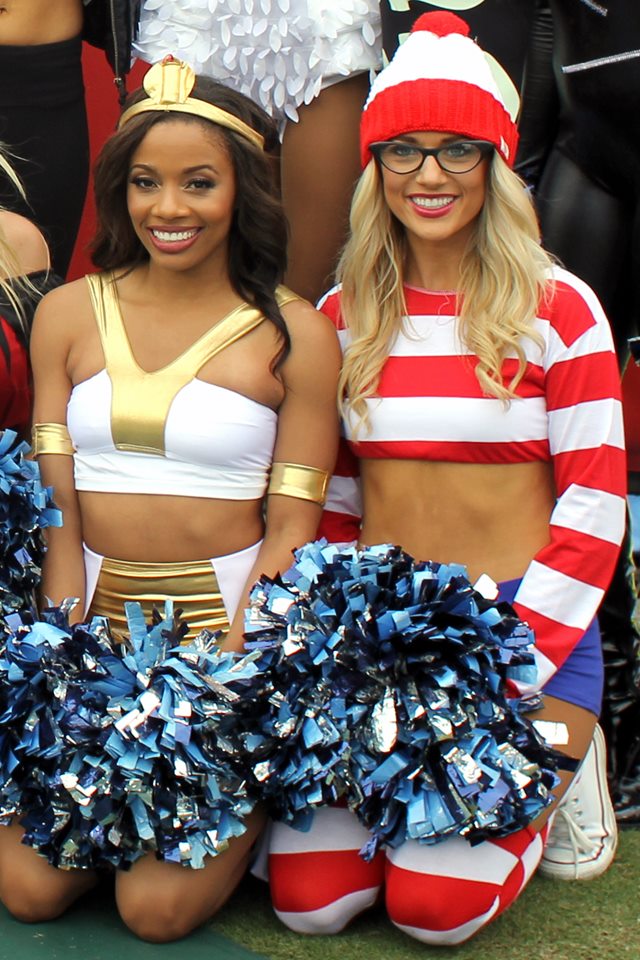 In the tradition of the Titans Cheerleaders representing the US from coast to coast, Kellee moved from Oklahoma, originally from the Tulsa area, to Nashville. "I love Nashville, it's a really easy transition from Oklahoma. People are really nice, and it's not too big." Kellee was working for an insurance agency in Nashville, with a dream job to own her own event planning company.
Bri works as a human resources analyst for a company that does onsite wellness and healthcare for larger businesses. Her dream job is to be Director of Human Resources and a dance coach. Bri coached at one point of her life and would like to go back to coaching.
So the Titans Cheerleaders know how to cheer for winners from their college days, so they'll be ready when the Titans ascend in the NFL hierarchy. So the Titans are not in the Super Bowl yet, but that does not mean they stood still on Super Bowl Sunday. The TTC covered the world, spreading cheer to those who could not be in the US for the game. TCC's Anne was at Camp Zama, a United States Army post located in the cities of Zama and Sagamihara, southwest of Tokyo. Jocelyn was at Andersen Air Force Base in Guam, Brooke visiting troops in Australia, Monica doing the same in Korea.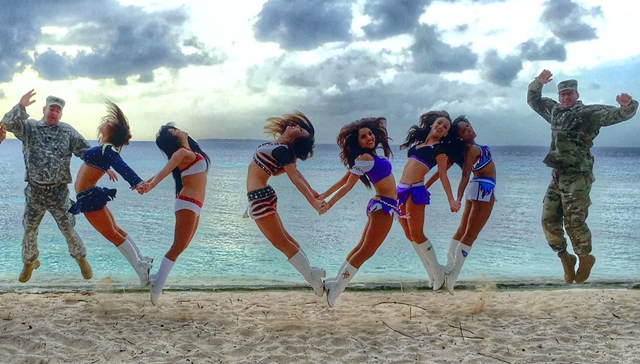 After a stop in Singapore, Bri went to be part of the troops Super Bowl festivities in Diego Garcia. Where in the world is Diego Garcia? It is an atoll located south of the equator in the central Indian Ocean. Like her Titans Cheerleaders teammates, Bri took her winning smile and winning attitude to support the troops stationed a long way from home for the big game.
And with the Super Bowl in the books, it is time to think about next season's NFL cheerleading auditions! Starting with the Titans Cheerleaders' VIP Training Workshop on February 28th to Pre-Audition Clinics on April 3rd to preliminary auditions on April 9th, Director Stacie Kinder's 2016 squad will be named before you know it. Audition info is at this link.
More photos of the wonderful Bri and Kellee from back in October are below, and a few more at this link.