Professional cheerleader, world traveler and small business owner. Erika Salazar, third year member of the Ladies of Ontario Fury, tells us how her passion for dance led to a business opportunity.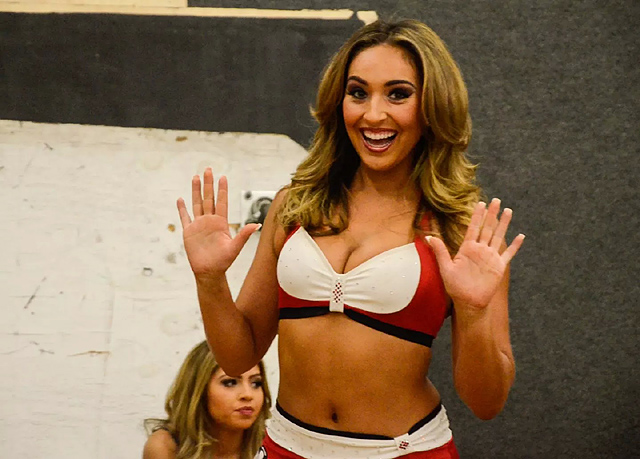 "Andiamo" when translated from Italian means "let's go". My business was born out of my passion for beauty, fitness, fashion, dance and travel. Andiamo Tanning is a mobile spray tanning business that provides our clients with custom airbrush tanning to create the perfect long lasting tone of glow on the go for every body and skin type. As a mobile tanning service, we come to you and provide our tanning services in the privacy and convenience of your own home or business. All of products are 100% natural and filled with anti-oxidants, perfect for all skin types!
I've been dancing for over 16 years and beauty is a must in our industry! We all know how washed out we can look on the field when those stadium lights come on or how pasty our skin may look during an appearance. I understand how busy our schedules can get and that many of us don't have time to lay out and get that summertime bronze. Fortunately, I am here to provide that golden look in under 5 minutes, year round! Audition season is here and we want to look our best in front of the judges and have that perfect glow on our big day!
Andiamo Tanning will be providing services to those in the West Coast region this season! If you are auditioning in Los Angeles, San Diego, San Francisco, Seattle or Phoenix, Andiamo will come to you and provide that special tan you desire. For 2016, we are offering a special starting group rate of $35 per person with the following minimum persons:
Los Angeles/Orange County – no minimum
San Diego – minimum of five girls
Oakland/San Francisco – minimum of 10 girls
Phoenix – minimum of 10 girls
Seattle/Washington state – minimum of 15 girls
Gather your gals and let's achieve that flawless audition tan! Book me for your tanning appointment!
Please visit my facebook page for more information: https://www.facebook.com/Andiamotanning and check out my instagram page at: https://www.instagram.com/andiamo_tanning/
Erika Salazar
Certified Spray Tanning Technician
(562) 447-4969